Babes Bridge
Babes Bridge is mentioned in the Annals of the Four Masters.  It was the only bridge that survived a great flood in 1330 that washed away all the Boyne bridges from Trim to Drogheda.  It linked Donaghmore to the southern side of the Boyne.  It had eleven arches and one survives.  It is just past Rowley's Lock on the Ramparts, Navan.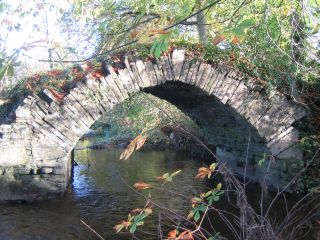 Photo: © Navan & District Historical Society
The bridge dates to the time of King John at the beginning of the 12th century, having been associated with a Norman John le Baub, who owned the land and provided 6 acres towards its maintenance.
In 1463 the Statute Rolls of Ireland recorded "there is a bridge in the said county called Babesbridge, which is a great ease to all the commons of the said county, and through default of repair, the said bridge is ruinous and likely to fall speedily, unless it be now remedied."
Repairs to the bridge were apparently neglected and in 1450 the matter came before the parliament of Ireland:  "Also whereas there is a bridge called Babe's bridge over the Boyne in the Liberty of Meath, and from ancient times 10 acres of land were devised for the repair of the said bridge, which 10 acres are called Babesland, and the 10 acres of land are in the hands of the king by reason of the seizure of them. ...Wherefore it is ordained that the Treasurer of Ireland ... or the farmers of the 10 acres deliver the issues and profits ... accruing to the Abbot of Navan and the Parson of Ardmulchan and that they lay out the said issues and profits upon the repair of the bridge without rendering account thereof to our lord the King."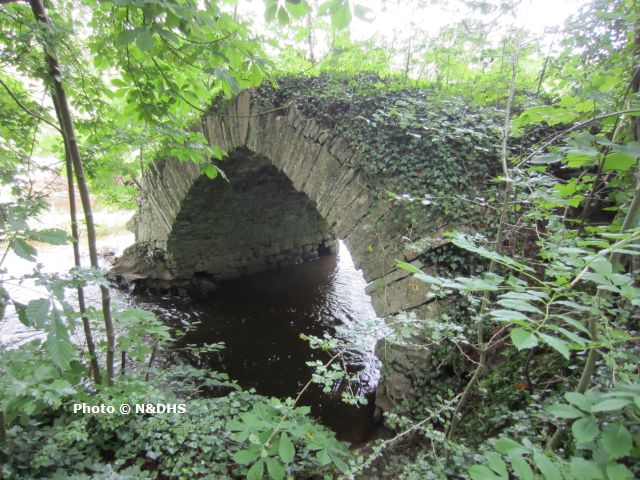 This attempt to by-pass authority ws not successful and 13 years later the matter came before Parliament at the request of the Commons of Meath and is recorded in the Statute Rolls for 1463.  These record only 6 acres of land as being left for the repair of the bridge, and commit the custody of these lands to the parson of Dunmoe and the vicar of Donaghmore, these 2 persons to render an account to the Abbot of Navan.
Temporary custody of the lands was given to the parson of Dunmoe and the vicar of Donaghmore so that the bridge could be repaired.

It was the traditional haunt of some horse stealers in the  early 1700s, and was also known as Robbers' Bridge. Sir William Wilde, writing in the 19th century, says that this tradition was derived from "some noted horse stealers, in the early part of the last century, having made it their last resort."
The bridge was underpinned by the OPW in 1988.

*******
Sources: The Beauties of the Boyne and Blackwater, William Wilde
Buildings of Meath, Kevin V. Mulligan, The Fieldgate Press 2001
Yellow Furze Memories, Conor Brennan, incorporating Ardmulchan by Elizabeth Hickey

Photos: © Navan & District Historical Society

*******

Archaeological Inventory of County Meath, compiled by Michael J. Moore, (Dublin 1987), p. 182
1829 - FERGANSTOWN AND BALLYMACON
OS 25:7:2 (59.5, 42.8) Not marked OD 100-200 N 8905, 6990
Bridge - References to a bridge at Ferganstown go back to fourteenth century.  One arch survives on S bank of Boyne (OPW file). SMR 25:17