The Navan Silver Band
is the oldest musical organisation in the town.
It started off as the Navan Boys' Band which was founded
in 1941 by Monseigneur Kenny and Martin Ryan.
It was later called St. Mary's Brass Band, St. Mary's Silver Band and finally the Navan Silver Band. (left) St. Patrick's Day Navan 2013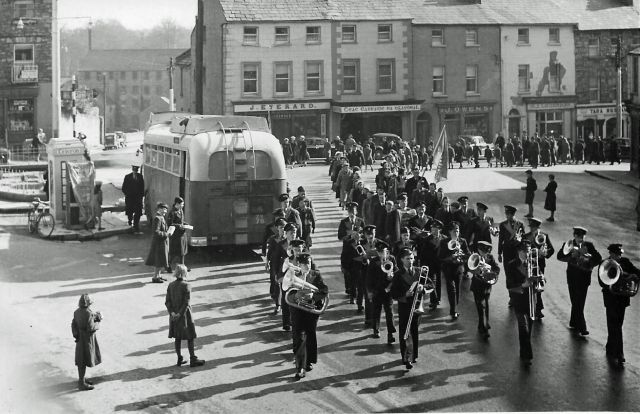 (above) The Silver Band in Market Square, St. Patrick's Day 1954, Photo: Michael McGoona
Front Row: Michael McGoona, Jim Walpole, Willie Byrne, Leo Casey
Second Row: George Murphy, Walter Barrett, Thomas Walsh, Frankie Nugent
Third Row: Matt Moran, Frankie (Budgie) Byrne, Martin Mockler, A.N.Other
Fourth Row: --, --, (lad with no cap) Joseph Clarke, Gerry McGillick (?),
Fifth Row: Jackie Tobin, Des Smyth, Marlow Casey, Vincent Blake on the bass drum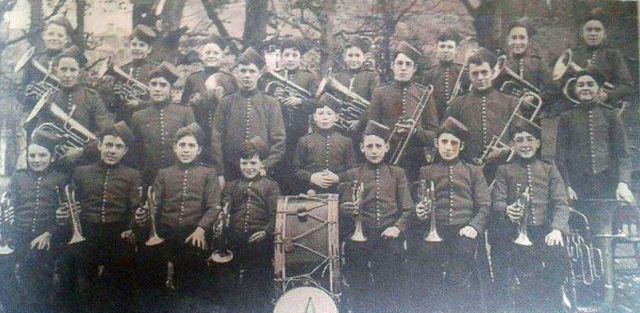 Navan Boys' Band 1945

The Band at first wore a bell boy's cape and hat, similiar to that worn by the Artane Boys' Band. The Band rehearsed in the Banba Hall for many years.  An early highlight was a trip to Lourdes in the 1940s.
Below is a photo of St Mary's Brass Band taken in 1956.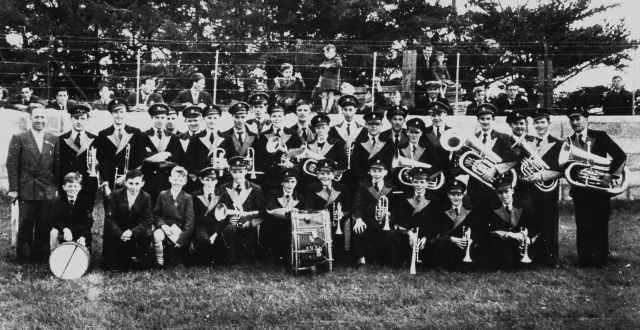 St. Mary's Brass Band 1956
Back: (l-r) Paddy Wall, Jackie Tobin, Willie Byrne, Brendan Blake, Jimmy Walpole, Tommy Blake, Marlow Casey, Des Smith, Michael --, Mattie Moran, Eamonn Blake,  ---, Gerry McGillick, Frank Garry, Martin Mockler, Tommy Walsh, Frankie Nugent, Eddie Connolly, Vincent Blake, Michael McGoona, and Leo Casey.
Front Row: (l-r) - Brecknell, Joe Clarke, Jim Byrne - Reilly, Michael Meegan, Tommy Foster - Walter Barrett, - Callaghan, Mattie McGoona, "Budgie" Byrme.
(Above) The Navan Silver Band on Flower Hill 1963/4 having
won 1st prize  in the Band Competition in Tanagh Cootehill.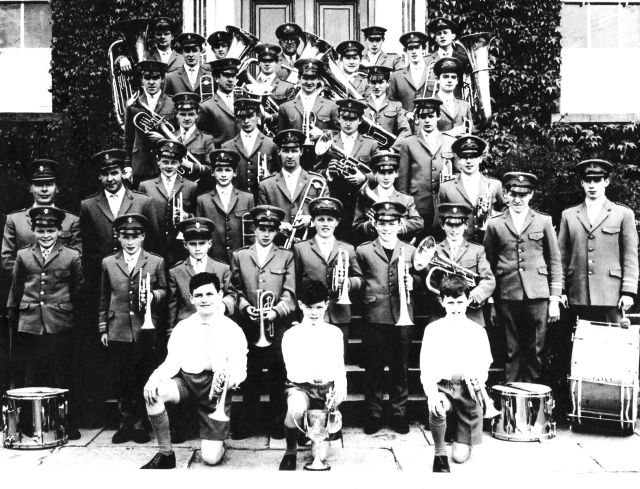 (Above) Navan Silver Band outside the Parochial House
1968 Band Championship Winners
Back: (l-r) Arthur Brecknell, - Gorman, Paddy Murtagh, Adam O'Connor Christy Kearns Sr., Michael McGoona,   - - ,   Jimmy Clarke, Jimmy Carroll.
4th Row: (l-r) Tony Carroll, Matthew Reilly, Christy Kearns Jr., Michael Madden, Paul O' Malley.
3rd Row: Ken Laverty, Tony Kavanagh, Fergus Muldoon ,Mark Malone.
2nd Row: Jack Regan, Vincent Blake,  - - , Terry O' Dea, Jimmy Walpole, David Guerin, Francis Duffy.
1st Row: Robert Callaghan, Sean Lynch, Johnny McEvoy, Brendan Rennicks, Paul Dunphy, Ken McGoona, ------,  Michael Callaghan, Brendan Reilly.
Front: - Grimes, Martin McCormack and Seán Boyle.
From Hugh Coyle (former member of St. Mary's Silver Band)
"I remember this event. It was a 'Battle of the Bands' (1974)- a challenge soccer match between St. Mary's Silver Band, Navan and St. George's Brass Band, Dublin. Both bands were conducted at the time by Mr. Jack Regan who organised the event. The match was played on Parkvilla's pitch at Claremont."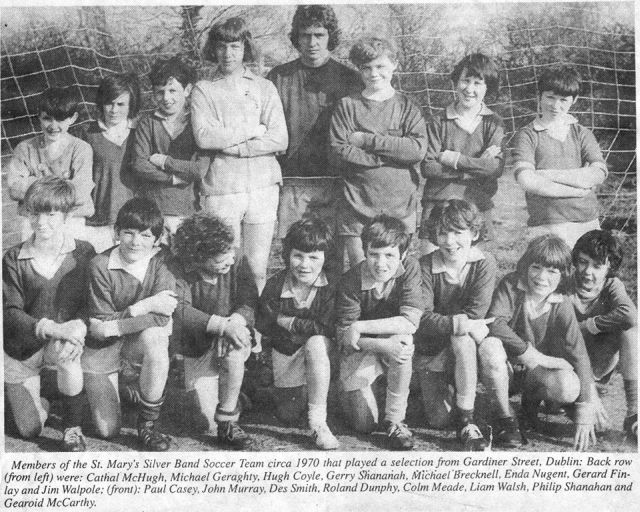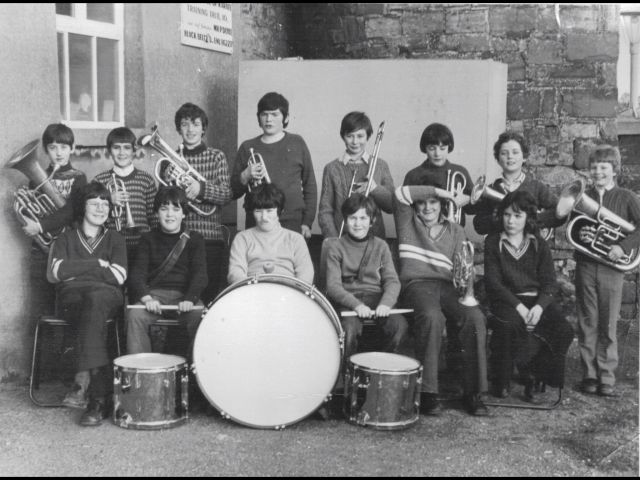 (Above) St Mary's Junior Silver Band Navan
taken outside the Banba Hall, Fair Green, Navan, on 21st February 1976.

Back Row: (l-r): Sean Harding, Gabriel McEvoy, Colm Meade, John Murray, Donnacha Geraghty, Cathal McHugh, Desmond Smyth and Francis Nugent.

Front Row: (l-r): Philip Shanahan, Alan McHugh, Jim Walpole, John Loughlin, Arthur Brecknell and Liam Walsh.
The big highlight of 1988 was the Band's participation in the St. Patrick's Day Parade in Dallas, Texas.
Early in the 1990s, the Co.Co. provided a site for  Band Hall, near where the Credit Union is today.The Band sold the site and bought a new one at New Bridge near Spicer's Bakery.  The Band still operates from this premises at New Bridge with Stephen Murray as its Musical Director. Previous musical Directors were Victor Malrish, Jack Regan and Paul Byrne.
The band provides musical training at the highest level and over the years many of its members have played in Army and Garda bands and Orchestras around the world. The Navan Silver Band was National Champion four times between the 1980s and 90s and has won solos and quartets at the highest level.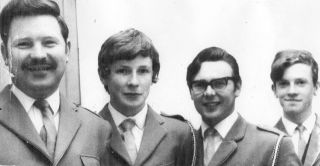 The Winning Quartet Wexford c.1980
(l-r) Michael McGoona, Seán Lynch, Francis Duffy and Michael Brennan.
Sources: Michael McGoona and Francis Duffy.
Photos: Michael McGoona, Gabriel McEvoy and Hugh Coyle.