De La Salle.
The De la Salle Brothers ran the Abbey School since 1917 and later Scoil Mhuire. The De La Sallle Brothers left Navan in 1976.
Following the departure of the De La Salle Brothers from Navan  and their resultant loss to the club Paddy O'Brien was instrumental in keeping the club going with the help of a very loyal committee, continuing to further hurling and football in the town, with very good results.
The De La Salle Club,  was the nursery for Navan O'Mahonys, and it was agreed in 1989, that the two should amalgamate.  Conscious of the fact that De La Salle was unique in so far as they had no grounds of their own and no training facilities to cater for their players, Paddy O'Brien spearheaded the amalgamation of the De La Salle club with O'Mahonys and was successful in getting the unanimous support of the committee and all the members for this move.  He was anxious that the outgoing De La Salle committee should form the first O'Mahonys Juvenile Committee with full autonomy so the O'Mahonys Juvenile Section started with outstanding success in January 1989.
De La Salle Team 1938.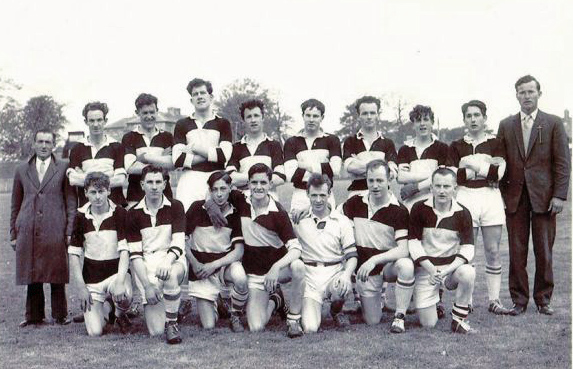 Back Row Left to Right.
Pat Reilly, Turlough O'Dea, Paddy McLarney, Freddie Reilly, Danny Gibney, Willie? Murray, J. Naughton.
Middle Row Left to Right.
T. Mulvaney, Michael Sheerin (Fr.),  ? Geraghy, Frank or John Finley.
Front Row.
? Twoomes, Frank Lallaway, Jackie Allen, Leo Finlay.