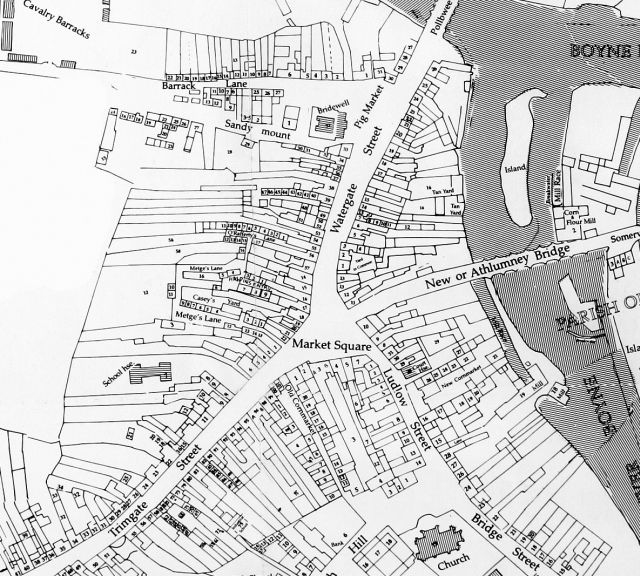 Barrack Lane was one of the poorest streets in Navan in the 19th century and early 20th century.  It ran from the old Cavalry Barracks on Abbey Road down to Watergate Street.  It was made up of a series of 2 roomed cabins, originally thatched.  (The area today is occupied by St. Ultan's Tce).  Barrack Lane and Sandymount were cleared and demolished in the 1930s.
The house valuations at the turn of the 20th cent. were from 10 shillings to £6.
Number 1 to 22 Barrack Lane are in line with where St. Ultans Terrace now is.  Where the car park is today were numbers 25 to 28.  Opposite the shops on Abbey Road was number 24, the Cavalry Barracks.  This went down as far as the River Blackwater.  This was the site of St. Mary's Augustinian Abbey which got its Charter on 20 April 1189.
In 1850 Philip Hazelwood was the main landlord.  At the back of St. Ultans Terrace was Patrick Bradley's corn mill on the river bank.
Below are the people living in Barracks Lane as recorded in Griffith's Valuation of Ireland carried out between 1848 and 1864
1.     Patrick Bradley                 15.   Michael Neill
2.      Rose Thompson                  16.   Patrick Brady
3.      Laurence Kenny                   17.   Edward Murray
4.      John Kelly                            18.   Michael Mathews
5.      John Carr                             19.   Henry Metge

6.      Mary Beggan                        21.   Patrick Mahon
7.      Patrick Curtis                       22.   John Nevin
8.      Peter Gough                         23.   Patrick Lynas
9.      Thomas Geragthy                 24.   Board of Ordnance Cavalry Barracks
10.    Bernard Rogers                     25.   Charles Winter
11.    Joseph Gough                       26.   Christopher Carolan
12a.  Thomas Donnelly                  27.   Cath. Smith and another
13.    Michael Mathews                  28.   Christopher Meehan
14.    Anne Gough
And the residents in the 1911 Census were:
1.   Michael Rogers
2.   Richard Moore
3.   Maryanne Mahon
4.   Margaret Creegan
-    Michael Crosbie
5.   Laurence Galligan
-    Mary Carpenter
6.   Christopher Lynch
7.   Patrick Heely
-     Christopher Sherlock
8.   Francis Quail
9    –
10. Christopher Gough
11. Patrick Dunphy
12. John Mahony
13. Ellen Reilly
14. Ellen Matthews
15. Thomas Millar
16. Rose Geraghty
17. Patrick Fitzsimons
18. Maryanne Cox
19. Edward
20. Military Barracks