O'Growney, Fr. Eugene (Priest, Patriot, Scholar)
Eugene O'Growney
was born 25 August, 1863,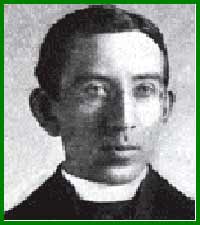 at Ballyfallon, Athboy, County Meath;
He died in Los Angeles, 18 Oct 1899, aged 36.
Neither parent spoke Irish and it was
little used where he was born.
In fact, he was ignorant of the existence of a language of
He entered St. Finian's in 1879.  He was presented  the senior grade of the Intermediate Examination in 1882.  There was no mention of Irish in this report.  It probably wasn't on the curriculum.
His interest in the language began there continued at Maynooth, where from his entrance in 1882 he devoted himself to the study of the Irish language, antiquities, and history.
He spent his holidays in the Irish-speaking parts of the country where he acquired his knowledge of the spoken language.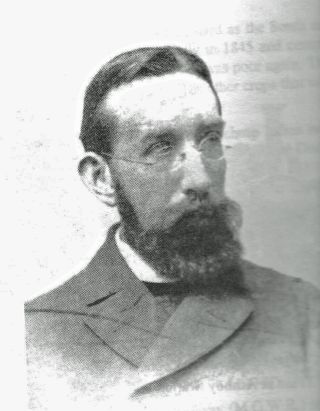 Ordained in 1888, in 1891 he was appointed
professor of Irish at Maynooth,
and at about the same time became
editor of the Gaelic Journal.
At the insistence of the Archbishop of Dublin
he began his series of Simple Lessons in Irish, (Cleachte Beaga Gaeilge) first published in the Weekly Freeman, which have done more than
any other book in the last two centuries to familiarize thousands of Irish with the language
of their ancestors.
He was one of the founders of the Gaelic League, organized in Dublin in 1893  "for the purpose of keeping the Irish language spoken in Ireland", and later became its vice-president, which position he held until his death.
"An earnest and tireless worker, his services to the Gaelic League outweigh those of all his fellow-workers to the present day, not that his scholarship was above criticism, but because he came at the moment when a man of his kind was needed."
(The Catholic Encyclopaedia).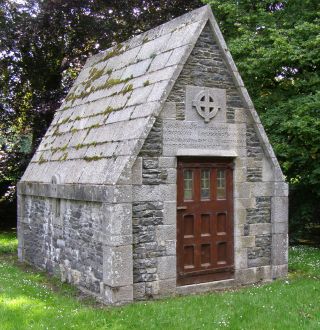 In 1894, failing health sent him
to Arizona and California,
where he died aged 36, and was
buried in Los Angeles.
Four years after, with the aid of
the Irish in the United States his body
was brought back to Ireland and
buried at Maynooth.
The funeral procession in Dublin was four miles long.
The men of Meath were given the honour of carrying the coffin from the pro-Cathedral to the hearse.
(above) O'Growney Mausoleum Maynooth. Photo N&DHS
Sources:
The memorials of Father O'Growney have been collected by
O'Farrelly, Leabhar an Athar Eoghan, The O'Growney Memorial Volume, Dublin, 1904.
A Short History of Rathmore and Athboy Noel E. French 1995
*******
Eoghan O'Gramhnaigh
Agus leacht á nochtadh aige i mBaile Átha Buí i nDeireadh Fómhair 1956 dúirt a chomharba i Maigh Nuad, an tAthair Donnchadh Ó Floinn: 'Ba é an tAthair Eoghan Ó Gramhnaigh Eoin Baiste na nGael ag siúl roimh an Tiarna chun go dtabharfadh sé dá mhuintir eolas a slánaithe'. Ní raibh an sagart seo ag cruinniú 31 Iúil 1893 nuair a bunaíodh Conradh na Gaeilge ach aithnítear é mar dhuine de na bunaitheoirí. Agus cé nach raibh de shaol poiblí aige in Éirinn ach trí bliana cuirtear é ar chomhchéim le Dubhghlas de hÍde agus Eoin Mac Néill (féach mar shampla F.S.L. Lyons, Ireland since the Famine, 1971 lch 227: 'Three stood out above all others'). Ba é an mairtíreach ba mhó riamh é ag Conradh na Gaeilge agus chuir siad a bhás, agus aistriú a choirp abhaile ó Mheiriceá, chun lántairbhe do chúis na teanga. Bhí curtha ar fáil aige na leabhairíní ba mhó a chabhraigh ní hamháin le foghlaimeoirí ach leis na Gaeilgeoirí a bhí ag iarraidh scríobh agus léamh a fhoghlaim, na Simple Lessons úd. Tar éis siléig na gcianta ag an Eaglais Chaitliceach Rómhánach is aige a bhí an post ba mhó sa tír a d'fhéadfadh, mar a mheas daoine, fónamh don teanga, ollúnacht na Gaeilge i Maigh Nuad.
Tá eolas ina thaobh in Leabhar an Athar Eoghan: the O'Growney memorial volume, [1904] in eagar ag Agnes O'Farrelly [Úna Ní Fhaircheallaigh], in Eoghan Ó Gramhnaigh: beathaisnéis, 1968 le Seán Ó Ceallaigh, in aistí le Donnchadh Ó Floinn, Mairéad Ní Choinmhidhe agus Seán Ó Ceallaigh in Irisleabhar Mhaigh Nuad 1963, in uimhir speisialta de An Sagart in 1963, agus in aiste le Pádraig Ó Fiannachta in 'Maigh Nuad agus an Ghaeilge', Léachtaí Cholm Cille XXIII, 1993.
I mBéal Átha Faithlinn, Baile Átha Buí, Co. na Mí, a rugadh é 24 Meán Fómhair 1863, dar le John Brady in A short history of the parishes of the Diocese of Meath 1867–1940 No. 9. Tá glactha leis an dáta sin ag Ó Ceallaigh agus Ní Choinmhidhe. 25 Lúnasa a dúirt Micheál Ó hIceadha , Laurence Brannick, Eoghan Ó Neachtain agus Úna Ní Fhaircheallaigh in Leabhar an Athar Eoghan. Is é an t-eolas eile atá ag Brady gur baisteadh é 25 Meán Fómhair, an Eugenius Growney seo, 'filius Jacobi Growney et Margarita Growney (olim Smith)'. Treadaí ag an tiarna talún, Abraham Colles, ba ea Séamus Growney féin agus a athair roimhe ach ar ball d'aistrigh sé go dtí an Driseoig, míle ó Bhaile Fallúin, mar stíobhard ar eastát eile de chuid Colles. Ba's Cill Scíre, Co. na Mí, don mháthair. Bhí ar a laghad beirt chailíní (Molly agus an tSiúr Veronica) agus triúr mac (Críostóir, Pádraig agus Eoghan) acu agus ba é Eoghan an dara duine díobh. I ndiaidh bunscolaíochta i mBaile Átha Buí chuaigh sé isteach i gcliarscoil Naomh Finnín san Uaimh mar scoláire lae sular thosaigh sé i Maigh Nuad 1 Meán Fómhair 1882.
Cheana féin bhí spéis mhór aige sa Ghaeilge agus bhí sé ag iarraidh foclóir a chur le chéile. Luaitear fáthanna éagsúla leis an spéis seo: go bhfaca sé an teanga i gcló in Young Ireland; go bhfaca sé sean-Bhíobla Gaeilge sa chliarscoil in 1877—ach deir Mairéad Ní Chonmhidhe in Irisleabhar Mhaigh Nuad 1963 gurb é a bhí ann cóip d'eagrán 1822 de theagasc críostaí Uí Dhuinnshléibhe; gur bhuail sé lá le Johnny Gantly, cainteoir cumasach Gaeilge a bhí ina thraenálaí capall.
Dhéanadh sé a dhícheall i Maigh Nuad caidreamh a dhéanamh le Gaeilgeoirí ar nós Sheáin Maolmhuire Uí Raghallaigh agus Risteaird de Hindeberg agus le leithéidí Peter Yorke agus Lorcáin Uí Chiaráin. Ar an nGaeilge is mó a bhí aird aige agus ba leor leis pas a fháil sna hábhair eile. Bhí an teanga ag an bpointe ab ísle brí sa choláiste. Ní raibh aon duine i gcathaoir na Gaeilge le fada. Thug sé ar na húdaráis cead a thabhairt Irisleabhar na Gaedhilge a ligint isteach sa choláiste agus meastar gurbh eisean faoi deara go mbíodh dosaen cóip á gceannach. I dTeach Bhríde a bhí naonúr de lucht a léite agus beirt i dTeach Cholm Cille. Is caol díreach chuig a sheoladh i mBaile Átha Buí a chuirtí cóip Eoghain ar dtús agus ansin go Teach Sheosaimh, Maigh Nuad.
Chaith sé cuid de shaoire 1885 in Inis Meáin le Yorke—ba é an ceantar Gaeltachta ab ansa leis é agus is iomaí cuairt a thug sé air. Bhí sé i gceantair eile Ghaeltachta in 1887 agus d'éirigh cairdiúil leis an Athair Maurus Ó Faoláin i gCnoc Mhellerí. Daoine eile mór le rá ar chuir sé aithne orthu agus é ina mhac léinn go fóill ba ea Seán Pléimeann, an tAthair Donncha Ó Murchú agus Micheál Ó Foghludha sa Rinn [feic faoi Ó FOGHLUDHA, Áine]. Chuir sé cumann Gaelach ar bun agus is as sin a d'fhásfadh Cuallacht Cholm Cille. Solus na Gaeilge an t-aon duais a ghnóthaigh sé le linn a théarma i Maigh Nuad. Gan cabhair ó aon duine d'fhoglaim sé freisin Gearmáinis agus Nua-Ghréigis.
Scríobh sé marbhna ar an Athair Uilleog de Búrca um Shamhain 1887. As sin go 1889 bhí a chuid aistriúchán ar amhráin agus a iarrachtaí tosaigh ar phrós i gcló in Tuam News. Bhí cuid de na haistriúcháin sin go ceann i bhfad ar na hamhráin ba mhinice a deirtí ag ócáidí ghluaiseacht na teanga, go háirithe 'Caitheamh an Ghlais' agus 'An tAm fadó' ('Auld lang Syne').
Chaith sé an bhliain dheireanach mar ábhar sagairt ina mhaor staidéir i gColáiste Fhinnín. Shíl sé riamh gurbh in í an obair a rinne buandochar dá shláinte. Oirníodh é 24 Meitheamh 1889 agus bhí sé tamall ag obair sa Mhuileann Cearr sular ceapadh é ina shagart cúnta i mBaile na Carraige san larmhí. Le linn dó bheith ansiúd bhí an t-alt 'The National language' i gcló aige in Irish Ecclesiastical Record, Samhain 1890. Toghadh é ina bhall de Chomhairle Aontacht na Gaeilge in 1891 agus i Meitheamh na bliana céanna chuir sé aithne ar Eoin Mac Néill. Ba é a mhol do Mhac Néill dul go hInis Meáin. D'éirigh sé cairdiúil le Dubhghlas de hÍde in 1892.
Chuaigh sé i bhfeighil eagarthóireacht agus bainistíocht Irisleabhar na Gaedhilge Meán Fómhair 1891. Le bliain roimhe sin bhí ábhar i gcló aige san iris. Uair sa ráithe a bhíothas á foilsiú ach rinne sé míosachán di i Márta 1894. Bheartaigh sé prós na hirise bheith níos simplí agus níos cosúla le caint na ndaoine. Dúradh gur ghairid go raibh léitheoirí na Gaeilge níos líonmhaire ná ag aon am le 200 bliain.
Ar 15 Deireadh Fómhair 1891 ainmníodh é d'aon ghuth ina Ollamh le Gaeilge i Maigh Nuad. Tá cuntas ar an gceapachán ag Damien Ó Muirí in 'Maigh Nuad agus an Ghaeilge', Léachtaí Cholmcille XXIII, 1993. B'éigean dó dul i ngleic le faillí seasca bliain, gramadach agus léitheoir a chur ar fáil (i gcló in Leabhar an Athar Eoghan), agus déileáil le mic léinn nach raibh meas acu ar an teanga. Ach luaitear i measc na mac léinn a thug aird air Seán Ó hEidhin, Liam Ó Beirn , agus Brian Ó Críocháin .
Tharla é in Albain ag an am, ní raibh sé i láthair ag an gcruinniú ag ar bunaíodh Conradh na Gaeilge ach is duine é den bheirt a luann Mac Néill sa chiorclán a chuir sé amach 12 Meitheamh 1893. Bhí sé in éineacht le de hÍde agus Micheál Cíosóg i nGaillimh 25 Eanáir 1894 chun an chéad chraobh den Chonradh a bhunú ann. Nuair a fuair Euseby Cleaver bás in 1894 ba é Ó Gramhnaigh a toghadh mar Leas-Uachtarán ar an gConradh ina áit.
Ba é an tArdeaspag Liam Breathnach a d'iarr air ceachtanna simplí a scríobh don Weekly Freeman agus chuir sé tús leo ansin agus in Irisleabhar na Gaedhilge in 1893 faoin teideal 'Easy lessons in Irish'. D'éirigh sé an-tinn i nDeireadh Fómhair 1894 agus d'iarr saoire bliana chun teacht ar a shláinte arís in iarthar Mheiriceá. D'fhág sé Éire 10 Samhain 1894. Scríobh sé an chuid is mó de leabhar a II de na Simple lessons idir Cóbh Chorcaí agus Nua-Eabhrac, a shroich sé 16 Samhain. Ba é a scríobh leabhar a III freisin ach ba é Eoin Mac Néill a chuir leabhair a IV agus a V ar fáil. Dúirt Micheál Ó hIceadha i dtaobh na gceachtanna sin in 1899: 'Their publication, on the whole, was probably the greatest individual service ever rendered to the Irish language movement.... They have made more readers of Irish, introduced far more people to the study of the Irish language, than all the other works that have ever been published' (Leabhar an Athar Eoghan l.135).
Dúirt Donnchadh Ó Floinn fúthu in Irisleabhar Mhaigh Nuad 1963: 'Ní furasta do mhuintir an lae inniu an fuadar agus an flosc chun léinn a shamhlú a tháinig faoi gach aicme daoine in Éirinn de thairbhe na leabhairíní beaga glasa úd a cheap an tAthair Eoghan. Cléir is tuath, íseal is uasal, fir léinn agus lucht ceirde bhídís gach duine agus a leabhar beag glas ina phóca aige...'. Deir Pádraig Ó Fiannachta: 'Díoladh leathchéad míle cóip agus is dócha dá réir sin gur bhain ceathrú milliún duine feidhm astu. Dineadh cine liteartha athuair de Ghaeil a bhí neamhliteartha ina dteanga féin go dtí sin'.
Thug sé faoi deara uair nach raibh aon cheacht díobh i gcló san Weekly Freeman agus scríobh sé chuig Eoin Mac Néill: 'Probably the snows on the Rocky Mountains are responsible for the delay. How little we can foresee ! Who would imagine that snow on the Sierra Nevada would ever interfere with the Gaelic Lessons in The Weekly Freeman?'.
Continued - click the link right to continue reading: Fr. Eugene O'Growney (cont.)