Wakeman, William Frederick
Mr. William Frederick Wakeman (1822–1900)
William Wakeman was born in Dublin in 1822, the son of a bookseller and publisher with an address in D'Olier Street[i].  At around the age of 15 years he became a pupil of Dr. Petrie, who later helped him gain employment with the Topographical Department of the Ordnance Survey where he worked as a draughtsman, producing many pencil or ink sketches under Mr. Petrie. He also worked with Mr. John O'Donovan, with whom he travelled around the country making these drawings, measurements and recordings for the Ordnance Surveys of the time. Many of these drawings are now held in the Royal Irish Academy in Dublin[ii].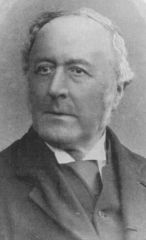 William Frederick Wakeman (1822–1900)
His connection to Navan began when he was offered a job as an art teacher in St. Columba's College, which at that time was situated in Stackallen House.  He lived in Navan while he worked as a teacher there for about 4 years.  He used plenty of his free time in the vicinity to record local antiquities and archaeology[iii], and during this time he wrote and illustrated his "Handbook of Irish Antiquities" in 1848[iv].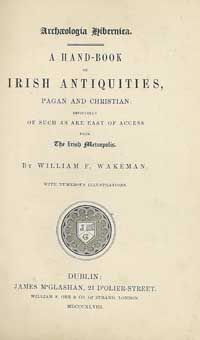 Mr. Wakeman also saved the Navan Market Cross fragment from being lost forever. He describes in a letter to Sir William Betham the circumstances of finding it:
"85 Lwr. Camden St. Dublin, December 3rd 1849.
Sir,
Had I been aware of your intention to notice the stone which formed the subject of your interesting paper read before the Academy on Friday evening last, it would have given me great pleasure to have afforded you information relative to its history, and the circumstances which induced me to have it forwarded from Navan to Dublin. The stone, which appears to have formed a portion of the market cross of Navan, had been removed from its original place, wherever that was and was used as a building stone in a comparatively modern wall, connected with a miserable back lane, branching from the street called Trim Gate Navan. Upon removing the stone from its position in the wall, for the purpose of drawing it, I found that it had formed the portion of the shaft of an old cross, and as the inscriptions upon its sides contained names of considerable historical interest, I begged the fragment from the owner of the wall in which it had been, and caused it to be removed to the rooms which I then occupied in Navan. I subsequently learned that two similar stones, which had evidently formed portions of the same cross were known to exist. They are used as supports for casks in a public house in Trim Gate, Navan and are sculptured and inscribed. I used every endeavour to be allowed to make drawings of them, and even offered to pay for any trouble caused in removing the casks, but was at first flatly and at length insolently refused. Under these circumstances and believing that were I to leave the stone which I had already secured in Navan, it would be lost or broken up, or perhaps 'thrown in the Blackwater', as at least one monument of 'the Novan' has been, I caused it to be removed to the Academy as the best place for its preservation which I could think of.
I remain, etc, etc, W. F. Wakeman[v]."
The cross fragment appeared in the 'George Petrie Catalogue' which was compiled by Mr. William F. Wakeman in 1867.  Wakeman also saved another artefact from Navan, the Roman statue, saved from the river Boyne, believed to be of Hercules, but now thought by the museum to perhaps be a representation of a Lar (Lares were important deities for households in the Roman Empire[vi]).  He presented it to his friend Dr. Petrie in order that it be preserved and he then deposited in the Royal Irish Academy.
Also, while living in Navan, Mr. Wakeman spent a little time painting a scene of the market in full swing on the Market Square.  Although it is not dated we can take it to be approx. 1850'ish when he was resident in the town.  The cover of Vol 2 of the Navan & District Historical Society's Journal shows this very watercolour and it is really a beautiful depiction of Navan.  The reverse of the painting reads as follows: "The Market Place, Navan, a sketch made upon the spot by W. Wakeman"[vii]. In 2010, the painting was sold in Whytes Auction room in Dublin and it was bought by the National Library.  Mr. Wakeman wrote a large volume of papers and books, indulging his passion for archaeology and history, and recording a vast range of wonderful records of places and artefacts from all around the country. He died in Coleraine on 15th of October 1900.
---
[i] http://www.askaboutireland.ie/reading-room/environment-geography/physical-landscape/the-wakeman-drawings/william-frederick-wakeman/
[ii] http://www.askaboutireland.ie/reading-room/environment-geography/physical-landscape/the-wakeman-
drawings/william-frederick-wakeman/
[iii] A Letter from W. F. Wakeman to James Graves 1882.
[v] On an Inscribed Stone Found at Navan (Continued) William Betham, W. F. Wakeman Proceedings of the Royal Irish Academy (1836-1869), Vol. 4, (1847 - 1850), pp. 421-422
[vi] http://www.museum.ie/en/list/documentationdiscoveries.aspx?article=1c9dc3df-a916-4711-abe1-f69e9ca0d4ef
[vii] http://www.whytes.ie/i6Main.asp?Auction=20100315&Lot=98&IMAGE=098