Navan's Market Square has been the hub of the town for many centuries.
Below are some views of the Square over the years, the top four probably from the end of the 19th century early 20th century. The one one with the bus is St. Patrick's Day 1954 with the Silver Band out in force, and the more recent ones are from 2007 and 2011 respectively.
The Market Cross (which dated from c.1585) once stood on the spot occupied in succession by a weighing shed, a pump and a telephone kiosk. It was uprooted during Penal times. A fragment of it is now on display in the Solstice Arts Centre.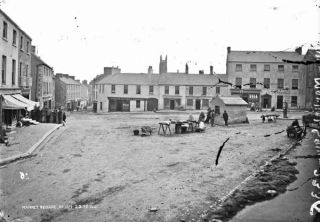 t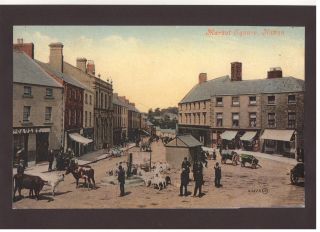 Market Sq. late 19th century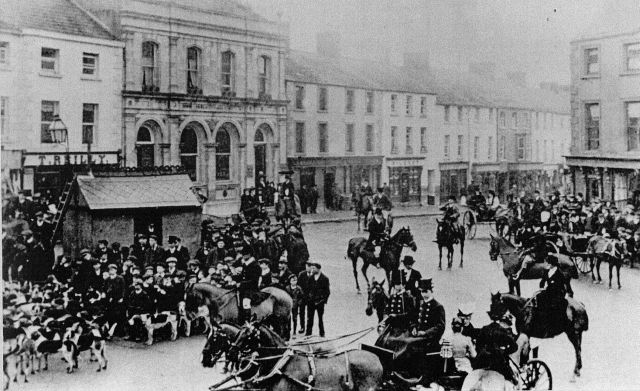 St. Patrick's Day 1954 The Silver Band  in the Square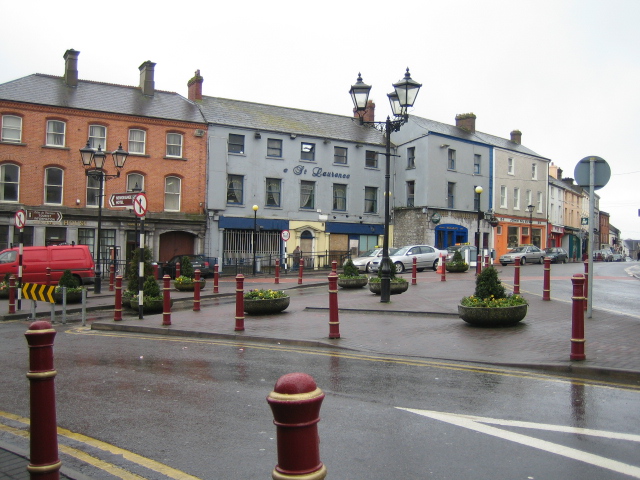 Market Sq 2007              

Photo: © N&DHS
Market Square  2011               

Photo: © N&DHS
Navan was a noted commercial and market centre from the 17th century
onwards.
Here in the Square a weekly market was held which was supplied with vast
numbers of bacon, hogs and porkers, butter in large quantities and country merchandise in great abundance.
The town was the corn depot of Meath.
There was a  stone cross in the centre of Market Square. All buying and selling was done in the vicinity of the cross. For many years, all funerals through the town carried the coffin around the area where the cross stood. The location of the Market Cross is where the pump is situated in the photo 2nd from the top above.
Navan still has the characteristics of a typical Norman town, which consists of three
streets meeting together at a market square. The three streets are still intact.
Trimgate, Watergate and Ludlow St. which was once called Dublingate meet at the
The squalor of the town in the late 19th century elicited the following editorial from the locally produced Meath People:
"The Market Square has some kind of attention given to it by the officers of the Town Commissioners, and owing to their fortunate situation other portions keep themselves: for on the one side, the flood sweeps away everything from the Post Office to Mrs Morans, and on the other, there is an all purifying torrent from Mr Nicholas Russells to  the bridge over the Blackwater.
But traverse Trimgate St. or Academy St. not to speak of the minor streets, lanes and alleys and you have the accumulated filth of all the higher parts of the town as well as of their own natural creation.
It is a literal fact that from the Commons Road down to the Railway Bridge there are fully two inches of horse manure, saturated hay  and sludge of every description, covering the streets from one side to the other to the great enjoyment of pigs and geese, but to the wrongful inconvenience of those who are necessitated to tread up on it - for no one walks out who can possibly keep within doors.
In minor streets there is a dung heap at every door as  a matter of course, and the leading ones - drays and jaunting cars with springs down and shafts up - have their nightly stands opposite the houses of their respective owners."
Another Navan Protest (1918)
Another great demonstration of protest against the British Government's proposal to enforce conscription in Ireland was held in Navan.  The public were wholly unaware of the intention to hold the meeting, until it was announced from the altars of the churches in the county on Sunday morning: but even at such short notice a gathering of upwards of 5000 people assembled in the Market Square from practically all parts of Meath.
Source: The Meath Chronicle Centenary Publication p. 87
Market Square in the 1940s
[This information was compiled by Frank Lynch (postman) from Finian's Tce.]
1.    John Smyth's Shoe Shop / Finnegan's Betting  Shop
2.    Brady's Tea Room and Pub.
3.    Delaney's Newsagent
Metges Lane: Martin's Guest House / Shane MacNamee Radio and Television / Sheridan's Builders Yard at end of lane.
4.      Miss Pollard, Ladies Hairdressers,
5.      John Smith's Shoe Shop
6.      Flood's Ice Cream Parlour
7.      Bob, Bobby and peter Byrne Hairdresser
8.      McCawley's Shoe Shop / Michael McDonagh Radios, TVs, Bicycles.
9.      Reilly's Butchers / T. Clowry Butcher
10.    Reilly's Private Residence (passway between butcher and pub)
13.    Meath Chronicle Stationary Shop
14.    Miss Davis Ladies Wear
15.    McKeevers Drapery / Melville's Drapery / Maloccas Cafe
16.    Steps to Health Chemist
18.    Loughran & Woods Ladies Wear
19.    Owens, (delivered milk throughout the town)
20.    Mattie Loughran, Butcher
21.    Spicer's Bakery Shop
22.    Munster & Leinster Bank
24.    Fitzsimons Grocery and Pub
25.    McEvoy's Pub (since 1873)
26.    Conaty Bicycle Shop / Michael Dunne Hardware
27.    Keappock's Fish & Vegetable Shop
Old Cornmarket:
In this area Padian & Finnegan's Betting Shops / UDC Weigh Bridge / Gussie Curis' Forge.
The Market Square in 2004
Nos 1 & 2  Market Sq.(2004) Rebuilt in 2004 reasonably similar to what it looked like
formerly. It was JL Finnegan, Bookie, and Kealy and Walsh Grocers. There was a pub
at the back. Nina McKenna had the first hairdressers in Navan upstairs.
No. 3. Market Sq. (2004): Newsagent. Was run for many years as a newsagents by
Peter Delany and Gerry Delaney.
N0. 4  Market Sq.(2004):   Navan Safety. This was the family home of Steens.
Ambrose Steen
was the state solicitor.
There was a long garden, which stretched back
as far as the multi story car park.
It had a tennis court and cricket
was played in the garden.
The Steens were noted for looking after
injured and shell shocked World War 1 veterans among whom there were Captain Bigtoe, Petes Cahill and Petes Mullen.
Later it was occupied by Shane MacNamidhe and family.
No. 5  Market Sq. (2004) Holly's Kitchen. This was John Smith, Boot and Shoe shop.
No. 6. Market Sq. (2004): Stanley Racing. Pat Flood had a café called The Soda Fountain.
No.7  Market Sq. (2004): The Flower Stand. Robert Byrne had a Barber's Shop here.
No.8 Market Sq. (2004): Reilly Estates. This was McCauley shoes followed by
Kelly and  McDonagh electrical.
No.9 Market Sq. 2004: Sullivan Property Consultants. This was Reilly, Butchers followed by Tommy Clowry, Butcher.
Reillys had a house on the lane beside the shop.
No.10.  Market Sq. (2004): Smyths Pub. This pub is in the Smyth family for over seventy years.
No.11 Market Sq. (2004): Bank of Ireland. It was built as the Hibernian Bank.
Nos.12&13 Market Sq. (2004)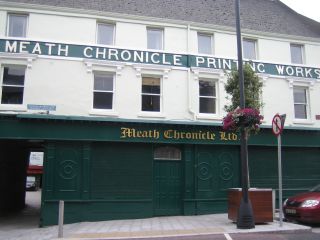 The Meath Chronicle Ltd.
on the right of the premises.
(right) Meath Chronicle 2011
No.14. Market Sq. (2004): ACC Bank. Thomas J McKeever had a drapery  shop                                                                 

Photo: © Navan & District Historical Society
No 15 is signed on this building which is not correct.
No.15 Market Sq. (2004): ACC Bank. This was the location of Timmons Apothecary known  as Steps to Health.
No.16 Market Sq.(2004): Everards Pub. Bridget Teresa Everard had a Pub and  Grocery which passed to her nephew Willie  Curry; now run by his son Jim Curry.
No. 17 Market Sq. (2004): Green Chilli restaurant. Pat Loughran had a Ladies Drapery under the name Loughran and Woods.
No.18 Market Sq ( 2004): Martinas. Alice Owens had a shop that sold milk and delph.
No 19 Market Sq. (2004): Bon Appetit. Matthew Loughran
had a butchers shop.
He  sponsored a banner which was strung across the street for
religious processions
and was always  referred to afterwards by the
title of the banner – The Lamb of God.
No.20 Market Sq (2004): Coopers. It was Spicer's bread shop.
No.21 Market Sq. (2004) Clonard House. This was the Munster and Leinster Bank.
No.22 Market Sq. (2004): St. Laurence. It was Crinions Hotel with Grocery and Bar on the left side.
No. 23. Market Sq. (2004): The Square Pint. This was Bennett's pub which can be
identified on an old photograph and was subsequently owned by Pat Fitzsimons who was a chairman of Meath County Council.
No 24 Market Sq. (2004): John McEvoy. Originally a pub, Patrick McEvoy bought this premises in 1873 and it has been in McEvoy family ownership ever since. Today it deals in small household goods.
No. 25 Market Sq. (2004): Phone Shop. Peter and Henry Conaty had a bicycle shop here.
No. 26 Market Sq.(2004) Irish Nationwide. Joseph Keappock had a fish shop and his sister Eileen sold sweep tickets.
Excavations Market Sq. 2003

http://www.excavations.ie/report/2003/Meath/0010472/
County: Meath   Site name: 22 Market Square, Navan
Excavations.ie number: 2003:1435        License number: 03E1493
Author: Stuart D. Elder, The Archaeology Company, Birr Technology Centre, Mill Island, Birr, Co. Offaly.
Site type: Urban
ITM: E 686980m, N 767810m
Latitude, Longitude (decimal degrees): 53.652824, -6.684252
Testing was undertaken on the site of a proposed hotel and nightclub redevelopment, extending from behind No. 22 Market Square, Navan (a protected structure), towards Church Hill. The requirement for testing was part of a further information request from Navan Town Council, which made specific reference to the impact of the development on the suspected line of the medieval town wall.
The site had been cleared of most of the standing structures and demolition debris prior to excavation of the trenches, but a standing building to the extreme south end of the site precluded testing in this location. To the north of the development site, another standing structure and demolition debris precluded testing up to the rear of the protected structure. The discovery of a basement in the central area of the site also precluded testing in this location.
Despite these restrictions, three long north-south trenches and a short east-west trench were opened across the site. During testing, two wall foundations were discovered towards the southern end of the site, in Trenches 3 and 4, and a possible rubbish pit was noted in Trench 1, at the western side of the site.
A programme of monitoring or testing was recommended for all groundworks not covered by the testing programme at the southern entrance and the north-eastern part of the site.