Crebh Nuachongbail Revived
Meath Chronicle, 13 February 1909

On Sunday night a successful meeting to revive the Navan Branch of the Gaelic League was held in the Boy's School.  The Rev. Thomas Shaw, CC, presided, and amongst those present were: Rev F. Flynn, CC; Messrs. James Quigley, County Surveyor; Seaghan Mac na Midhe, President Coisde Ceanntair na Midhe; - Ua Baoghil, Organiser to Coiste Gnotha; P Halpin, J J Gallen, Secretary County Committee of Agriculture; S. Murray, UDC; P Reilly, Manual Instructor County Committee Technical Instruction; M Gaynor, J Rourke, H Conaty, - Fallon, J Farrell, etc.
The Rev Chairman having briefly opened the proceedings, the election of officers and Committee was proceeded with.
The Rev J.J Poland, Adm., was, with acclamation, chosen for the office of President. Mr. P Halpin was elected Vice President, and Mr Fallon, Assistant Teacher, was appointed Hon. Secretary, Mr. Mac na Midhe declining the office. Rev T Shaw, Rev E Flynn, Messrs. McNamidhe, J Dowd, J Quigley, J Rourke, and M Gaynor, were elected to serve as a Committee.
It was decided to hold classes on Sunday and Thursday evenings in the Boys School, Messrs McNamidhe and Dowd volunteering their services pending the appointment of a paid teacher.
Mr. MacNamidhe proposed the adoption of a resolution demanding that Irish be made a compulsory subject for matriculation at the National University, and calling upon the Meath County Council to refuse a rate in aid unless this condition be fulfilled.
The resolution, seconded by Mr. Farrell, and supported by Messrs. O'Boyle, Quigley, and S Murray, was unaminously adopted.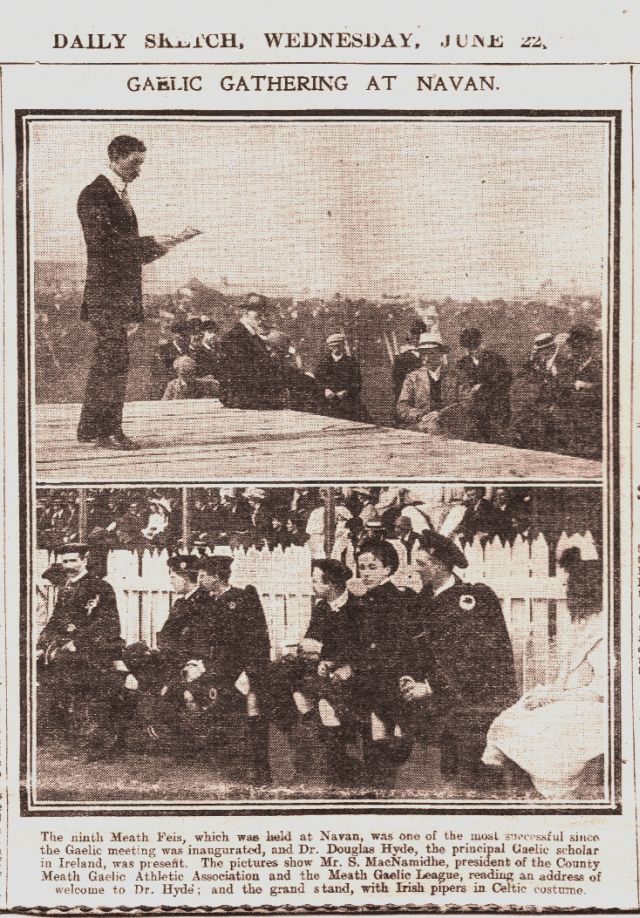 Pictures courtesy Kevin MacNamidhe P5TV
The photograph above shows Seán MacNamidhe introducing Dr Douglas Hyde at the 9th Meath Feis on the 19th June 1910 in Navan Showgrounds.
The bearded man sitting on the platform is Count Plunkett.