Ludlow Street was once called Dublingate Street as it led down to the gate in the town walls on the road to Dublin.  After the Cromwellian dispossessions in the mid 17th century, the Nangle Estate came into the hands of  John Preston.  John's daughter Mary married Peter Ludlow, who was M.P. for Meath in 1719 and 1727.  Peter Ludlow was created Baron Ludlow of Ardsallagh in 1735, and Viscount Preston of Ardsallagh and first Earl of Ludlow in 1760.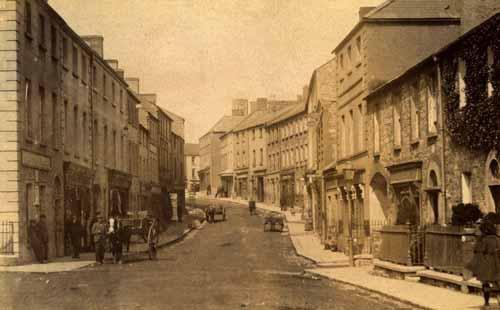 (Above) Ludlow Street - mid 19th century (photo courtesy C. Ryan)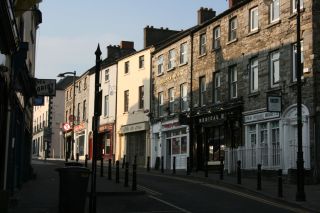 Ludlow St. in 2011 (above) looking towards Market Sq.  The stone building in the rightforeground with the white door marks the location of the old Tholsel or Market House. Photo: © Navan & District Historical Society
Ludlow Street was once called Dublingate Street
In the 1700s the name of this street changed to Ludlow St. after Lord Ludlow, one of the local gentry descended from Cromwell's General of the same name.
He had married into the Preston Family, who had replaced the Nangles as Barons of Navan after the Cromwellian dispossessions.
No 12 Ludlow St. - Reel's Shop (The Oriel Cafe marks the site of the Dublin Gate, and the
southern limit of the medieval town).
Photo: © Navan & District Historical Society
The Last Picture Show
(below left) The old Palace Cinema Ludlow St. 2004 (Photo Brendan McNally)
and (below right) its reincarnation as the Palace Nightclub (photo 2012)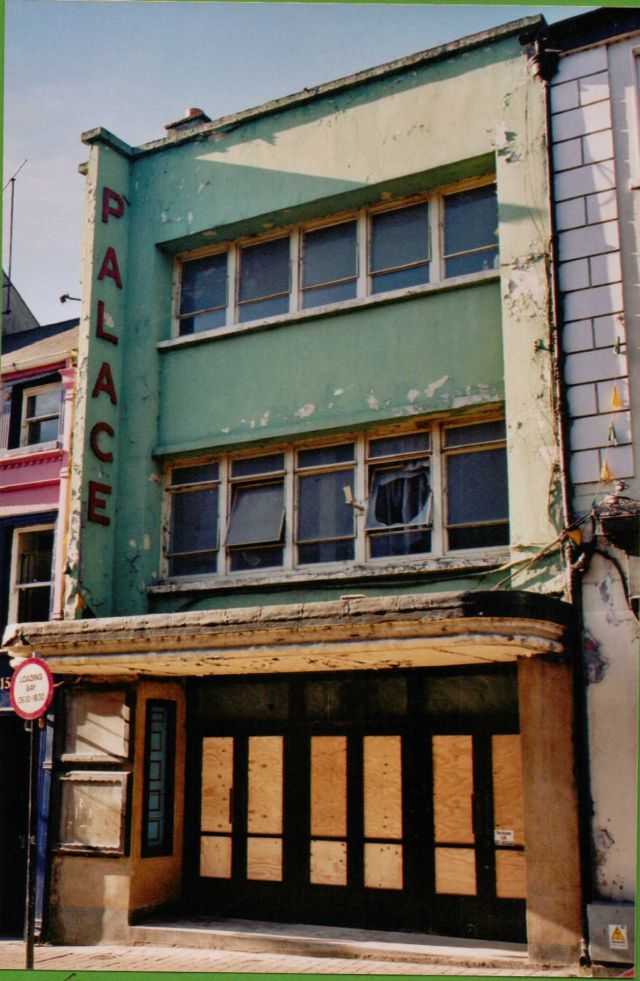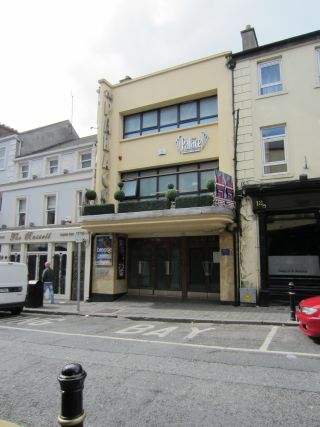 *******
Ludlow Street in the 1940s
The information below is from Frank Lynch (postman) late of St. Finian's Tce.
1. Tara Restaurant
2. Medical Hall, Finnegan / Barry Reilly
3. Noonan Solicitors
4. Old Court House
5. Katie Lallaway Private Residence. [Tubberourm - alleged home of Collier the Robber]
6. Tuites Butcher
7. Vaughan's Pub.
8.   New Cornmarket - [a number of people lived in this area , including people by the name of Hand.  There were some small workshops, and the local Electricity Turbine was housed here also.]
9. Berminghams / Marmions Pub
10. John Nolan Chemist
11. Finnegans Grocery, Pub and Undertaker
12. Foundry Lane On this lane Jody Clarke & Manus McNamee had a furniture factory. Also Nash's Foundry (owned by Joshua Elliott) made fork heads here.
13. Martin Healy's now the Oriel
14. Barney Allen Bicycle Shop and hackney hire.
15. Finucane's Menswear.
16. Gilsenan's Meal Store
17. Palace Cinema
18. Finucane's General Household Goods
19. McKenna's Private Residence and Guesthouse
20. Nicky Naulty Music Shop
21. Minnagh's Ladies' Hairdressers
22. Cooke's Tailors
*******
Ludlow Street in 2004
[John O'Grady]
1. 2004: The Poppy Seed. This was the Tara Restaurant owned by Pat Fitzsimons and he lived here.

2. 2004: Medical Hall. This chemist shop was owned by Willie Finnegan.

3. 2004: Cowan Insurance. Tom Noonan, solicitor lived here. The hall door is still there.

4. 2009: Last occupier was Reilly, Solicitors. It was vacant in 2013. This was the site of the Toll House or Tholsel where dues were paid. It also served as a Market House and was the centre of the town's trade. It was demolished in 1800. The present building was the Town Hall, Gaol and Courthouse. It was the Trustee Savings Bank before the present occupiers took it over.  A carved stone with the inscription; " Edmund Manninge was overseer of this work in the year of Our Lord 1632. On whose soul the Lord have mercy," is still located within the building.
Petty and Quarter Sessions were held in the Courthouse. Meath County Council met there up to 1912. There were stocks outside to hold criminals and villians awaiting trial. They are now in front of the Town Hall in Watergate Street. Some of the thick barred gaol windows still remain.

5. 2004:  Sean McGrane (right) This was formerly Tuite's butchers.

6. 2004: Pub This is called Marmions colloquially called Johnny Merrymans and was owned by John Vaughan.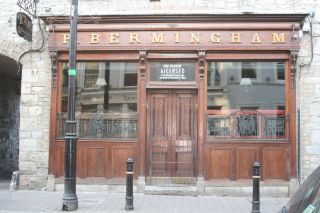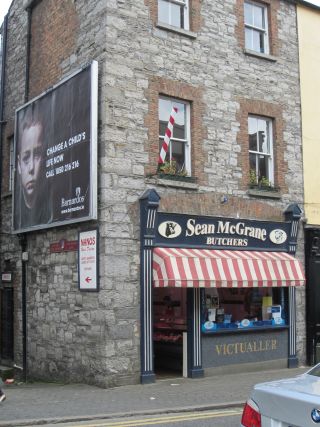 Photos: © Navan & District Historical Society
7. 2004: P. Bermingham Pub (above). The shop front had been featured as a good example of shopfront preservation.
With a licence dating back to 1884, Birmingham's is the oldest existing pub in Navan. Patrick Bermingham was born in Dublin and apprenticed in the city's Broadstone Bar. In 1884, he moved to Navan, and purchased the two room bar and grocery, returning to Dublin every week to collect fresh Guinness kegs from St. James Gate. The bar's interior, a Victorian treat, made his pub one of the most popular places when Navan's great Leinster Fair, held every 14th November, was among the great agricultural shows in Europe.
Bermingham died at the age of 35, and for the next 60 years, his sister Jane ran the bar.  In 1917 she adopted a five year old cousin John Marmion, who grew up in the pub, working behind the grocery counter from an early age.  On Jane's death in 1948 he succeeded to the business.  He died in 1985 and in 2013 the pub is owned by his widow Margaret Kerley and son Michael.

8. 2004: Shoe Repairs. Was Tom Brady's barber shop followed by Hells Kitchen owned by Lynches. It was well known as a source for smuggled cigarettes. It then became Ma Murphys, which was the first chip shop in Navan.
(Continued on next page)
9.   House of Prayer
Una and Mary O' Sullivan had a chemist shop.

10. 2004: Brady's Pub This was previously Finnegan's pub.

11. 2004: Navan Travel This was a private house occupied by the Waters family.

12. 2004: Reels sweet shop. The Reels have been here for over sixty years and before
that Martin Healy had a sweet shop here. This is the location of Dublingate.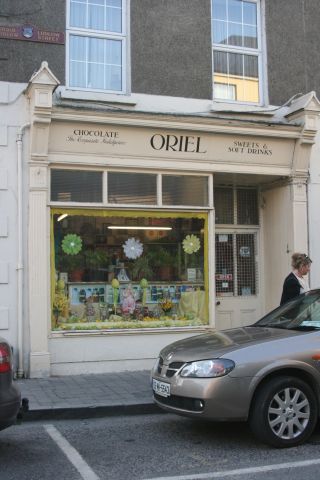 Photo: © Navan & District Historical Society

13. 2004: Style f2f. Allens had a garage. There was a petrol pump on the street.

14. 2004: Meath Youth Federation. Finnucans Drapery boot and shoe was here.

15/16. 2004: Vivaldi restaurant. Michael Gilsenan who was a rate collector had a flour and meal shop.

17. 2004: Palace Cinema now Palace Nightclub

18. 2004: Adam and Eve's restaurant. This was Finnucans drapery shop. It was called the Irish Woollen Warehouse Ltd., General Woollen and Linen Drapers.

19. 2004: Amanda's Ethnic Food Store. This was McKenna's pub. Two sons in the RAF were killed in the second world war. Jim McMahon who was from Monaghan then had a wool and drapery shop. This shop never did well because of local folklore following a suicide in McKennas time.

20. 2004: Nicky Naulty had a music shop and sold music sheets. Mr. Silverman
a traveling Jewish salesman from Dublin went from house to house in
Navan. He had an arrangement that customers could pay weekly at this shop.

21/22. 2004: Tourist Information. This was Cooke's who were tailors. It then became Dungans sweet shop (The Mecca).

Reilly, Solicitors, was part of Spicers in Market Square.
*******
The Tholsel. The Old Tholsel, Toll House, or market house (described by Isaac Butler as "a low mean building") was demolished about 1800.
In that year, Earl Ludlow and the Deputy Portreeve applied to the Grand Jury for funds to build the Sessions House, and in the following year Courts were held in Arthur Murphy's House, (Meath Grand Jury Records). We may perhaps assume that the Court House was built upon the same site, for high up on the south wall is a carved stone, which commemorates an earlier building. It states that; "Edmund Maninge  was overseer of this work in the year of Our Lord 1632. On whose soul the Lord have mercy."
The Tholsel was the centre of the town's trade. In 1757 Patrick Rooney, the Deputy Portreeve, was given a lease for ever of the cellars under it, and liberty to erect butcher's stalls around it, the sale of meat elsewhere being forbidden.
Corporation Minutes, 1st November 1757: The lease passed to his widow, and then to the Aylmer family, £5 per year compensation being paid when the building was demolished.
Corporation Minutes, 29th September 1802: Patrick Rooney was evidently a zealous official, who was being rewarded for his services. The Corporation recorded its thanks to him on his retirement from office, "for his constant attendance on the business of this Corporation, and for his prudent, wise, and active behaviour in his office and for suppressing all kinds of riots and disorders."
Corporation Minutes, 24th September 1760: Previous to the establishment of this market, the streets had been obstructed by the numerous butchers' blocks, and bulks (stalls), and also by all the "idle carrs" found in the public street after sunset. Owners of these were to be fined 6 pence, or else the "carrs" were to be sold to pay the fine.
Corporation Minutes, 5th February 1746: Custom dies hard, and up to the beginning of the 1900s butchers' stalls were still erected in Market Square twice weekly, together with those of butter, fowl, eggs, clothing and quack medicines.
***
Recent Excavation in Ludlow Street
http://www.excavations.ie/report/2003/Meath/0010470/
County: Meath   Site name: 17 Ludlow Street, Navan
Excavations.ie number: 2003:1433        License number: 03E0997
Author: Rosanne Meenan, Roestown, Drumree, Co. Meath.
Site type: Urban
ITM: E 686786m, N 767627m
Latitude, Longitude (decimal degrees): 53.651212, -6.687225

This licence was issued to cover groundworks on the site formerly occupied by the Palace Cinema, Navan, inside the walled town and zone of archaeological potential. The only excavation work necessary was for the foundation of a fire escape which lies in an adjoining property. The excavation for the foundation pad took place at the extreme western end of the south wall of the cinema building. Black garden soil to a depth of 2.5m was removed. A large quantity of bottles and black crocks was contained within the soil. The bottles were mainly for stout, several marked 'Saorstát Éireann'. There was no evidence during monitoring for the survival of medieval material or for any material earlier than the 1930s.
http://www.excavations.ie/report/2000/Meath/0005592/
County: Meath   Site name: 13 LUDLOW STREET, NAVAN
Excavations.ie number: 2000:0767        License number: 00E0354
Author: Martin E. Byrne, 31 Millford, Athgarvan, Co. Kildare.
Site type: Urban medieval
ITM: E 686786m, N 767627m
Latitude, Longitude (decimal degrees): 53.651212, -6.687225

Monitoring of demolition and foundation works at the rear of 13 Ludlow Street was undertaken in compliance with a condition included in the grant of planning with respect to the development of the site, which is located to the south of Market Square. The southern boundary of the development is believed to preserve the line of the medieval town wall, and the line of Ludlow Street may be of medieval origin.

A well was uncovered during the course of monitoring. It was roughly circular in plan, measuring 0.8m x 0.9m, and was at least 8.9m deep. It is probable that this feature is post-medieval in date.

Underpinning works along the southern boundary wall did not reveal any material or features associated with the town wall. The general topography of the area is of sloping ground, from west to east, towards the River Boyne, as preserved by the surface of the nearby Church Hill. Removal of part of the rear boundary wall indicated that the levels across the site had been reduced by up to 1.3m at some time in the past, probably associated with the present buildings, which were constructed in the late 18th century.

No additional features, structures or finds of archaeological interest or potential were revealed during the programme of archaeological monitoring.