O'Connor, C. Y. (Engineer)
Charles Yelverton O'Connor 1843-1902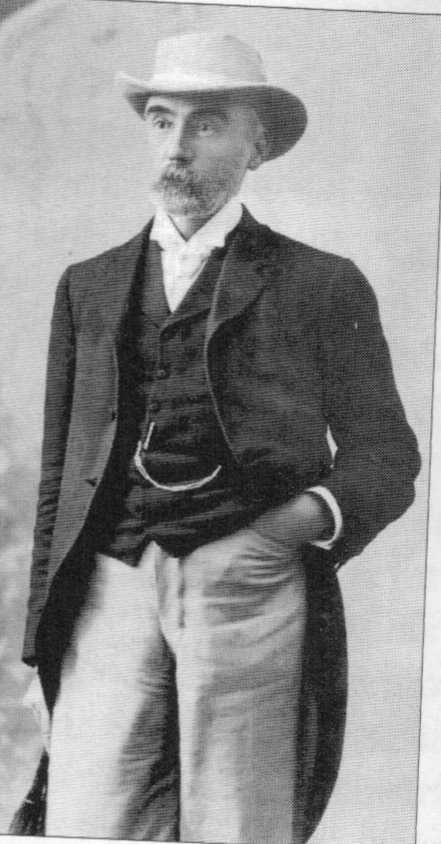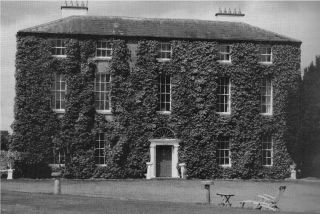 C.Y. O Connor (above) Gravelmount House Castletown K.P.
Charles Yelverton.O'Connor was born in Gravelmount House Castletown K.P. Co. Meath on 11th January 1843.  He was the 3rd son born to public spirited  and compassionate parents John and Elizabeth O'Connor.
He was educated at the Waterford Endowed School, and was articled at the age of 17 to John Challoner Smith's railway company.  As railway building projects declined in Ireland in the 1860s, Charles decided to leave for New Zealand and sailed on the "Pegasus" on the 24th Dec 1864.
There he was employed as an assistant engineer on the construction of the coach road from Christchurch to the Hokitka goldfields.  Gradually promoted, he was appointed in 1870 engineer of the western portion of the province of Canterbury.
From 1874 to 1880 he was district engineer for the combined Westland and Nelson districts.   During his time in New Zealand he worked on the first roads through the Southern Alps, and developed the ports of Greymouth and Westland, by protecting their westerly aspects with massive breakwaters.  In 1883 he was appointed under secretary for public works for New Zealand, and he held that position until May 1890, when he was made marine engineer for the colony.
In April 1891 O'Connor was appointed engineer in chief to the state of Western Australia and in that capacity he was responsible for all new railway work.  He replaced narrow light rail with 60lbs track allowing for safer and heavier rolling stock; reduced the gradient from 1:15 to 1:50 and extended the rail line to Southern Cross and on to Kalgoorlie, prompting one of the world's greatest gold rushes.

In the short period of eleven years he under took two works of the utmost importance to the colony, namely Fremantle Harbour and the Coolgardie Water Supply Pipeline, besides constructing all new railways.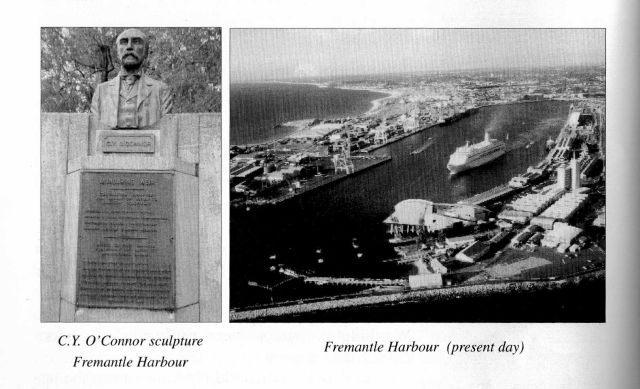 The Pipeline Project was proposed by C.Y. O'Connor in 1896 to pump water through a series pf 8 pumping stations from a dam in the Darling Ranges near the west coast across 528 kms of rising ground to supply the goldfield reservoir at Coolgardie with 5 million gallons of water per day.
The grand ceremonial opening of the Goldfields Pipeline Scheme took place on Saturday the 24th January 1903 in Coolgardie and later that afternoon in Kalgoorlie in temperatures of 44C in the shade.  Men of high position from all over Australia were there for the water turning on ceremony - except the man who had planned it all.
Nine months prior to the grand opening, beset by criticism of the Scheme, and the strain of overwork, he had ridden into the  sea at Robb's Jetty Fremantle in March 1902 and shot  himself through the head.
C.Y. O'Connor was an honest man and uncorruptable. He was compassionate and fought for the rights of workers, and he was a devoted family man.  He had enormous determination, and upheld the honour and inegrity of his profession right to the end.

A bronze statue of O'Connor by Pietro Porcelli was erected in Fremantle in 1911.
Sources: C.Y.O'Connor The Man for the Time, Cyril Ayris, Perth 1996

C.Y.O'Connor His Life and Legacy, A.G.Evans, 2001
*******
Gravelmount House
Gravelmount House is equidistant from Navan, Kells and Ardee.  The late Georgian house is a three storey over basement.  The central door leads to a large hall.  To rear is a single storey stone cut courtyard.  In the 1700s Gravelmount was the seat of the Weldon family, one of whom married a daughter of Lord Kenmare.  Nicholas Weldon of Gravelmount married Lucy Gorges of Kilbrew, she had previously been married to Lord Howth.  William Weldon of Gravelmount had an only daughter, Helen, who became the third wife of John Nugent, heir to the title Earl Nugent of Westmeath in 1748. On 30 April 1776 William Weldon renounced the Catholic Church and became a Protestant at the parish church of St. Peters.  William died after 1802. J.H. Weldon held Gravelmount in 1812 and also had a city residence at 42 Lower Gardiner Street, Dublin.
In the 1830s the house belonged to the Rev. R. Langfield and was occupied by John O"Connor.  In 1837 it was described as a spacious and handsome house with the demesne comprising about 160 statute acres and the grounds were tastefully laid out.  John O'Connor inherited an estate at nearby Ardlonan.  O'Connor, son of Rev. George O'Connor of Castleknock, was a graduate of Trinity College and bred horses at Gravelmount.
Charles Yelverton O'Connor was born at Gravelmount, Castletown on 11 January 1843, the youngest son of John and Elizabeth (nee O'Keefe) O'Connor.  He was educated at home by his aunt initially.  In 1850 the family moved to Waterford, where Charles was educated at the Waterford Endowed School.  He was apprenticed to John Chaloner Smith, a railway engineer.
At the age of 21 he emigrated to New Zealand.  In 1866 he was appointed assistant engineer in Canterbury Province and following steady promotion he became Under-Secretary of Public Works in New Zealand in 1883.  He married Susan Letitia Ness and they raised a family of seven.  In 1890 was appointed marine engineer for the whole of the colony.
In April 1891 O'Connor took up the position of Engineer-in-Chief of Western Australia.  He was responsible for the construction of Freemantle Harbour and the Goldfields Water Supply Scheme.  O'Connor proposed the development of the harbour at the entrance to the Swan river despite opposing expert opinion.  Work began on the new harbour in 1892 with the first overseas passenger ship berthing in 1897 and the works being completed in 1903.  In 1897 O'Connor was invited to London where he was made a companion of the Order of St. Michael and St. George by Queen Victoria.
O'Connor was engineer-in-chief of the railways, and new lines had to be built.  The number of miles of railway was trebled in the first five years he was in office.  O'Connor constructed the Goldfields Water supply system which carried water 330 miles from Perth to Kalgoorlie.  A gold rush in the barren desert area of central Western Australia caused a population explosion, necessitating a water supply be provided.
O'Connor's proposals were attacked by the press and many Members of Parliament.  He was accused of corruption.  The attacks in the press resulted in O'Connor committing suicide.  O'Connor took his own life on 10 March 1902 by shooting himself, while riding his horse into the water at a beach south of Fremantle.  The beach where O'Connor died was named after him and a statue of O'Connor was erected in the water there.  Less than a year later the Goldfields Water Supply was commissioned.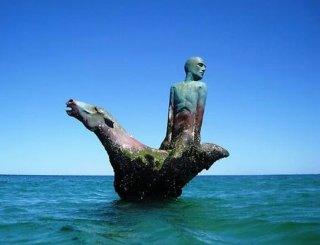 The sculpture commemorates C. Y. O'Connor, who shot himself at the beach on 10 March 1902.  It consists of a bronze statue 30 metres off the beach in the ocean. The statue is of a man sitting astride an unsaddled horse.
In 1901 William Hopkins lived at Gravelmount. John Rankin McKeever moved from Wilkinstown to Gravelmount and about 1907 he married his wife, Barbara.  John Rankin McKeever died in 1940.  His memorial plaque in Kilshine church was moved to Kells church when Kilshine was closed.
Source: meath-roots.com
&
http://monumentaustralia.org.au/themes/people/government---state/display/60580-c.-y.-o%60connor