Mill Lane
Also sometimes called Gas House Lane (because it once contained Navan's Gasworks) runs from its narrow entrance at Pollboy, along the River Blackwater as far as William Morgan's Mill (later Elliott's Sawmills) which was located near where the new bridge at Abbeylands stands today.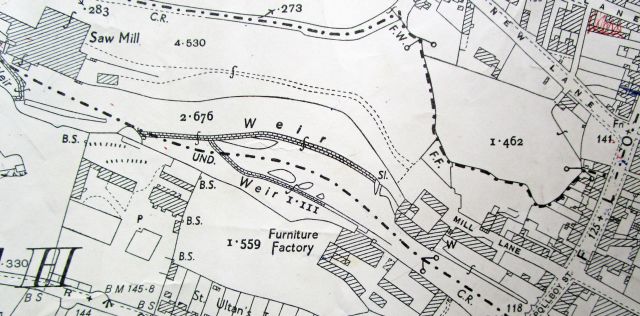 As its name suggests it is associated with the substantial mills which were powered by the fast flowing waters of the R. Blackwater.  There have been mills on the Blackwater since medieval times, associated with Navan Abbey.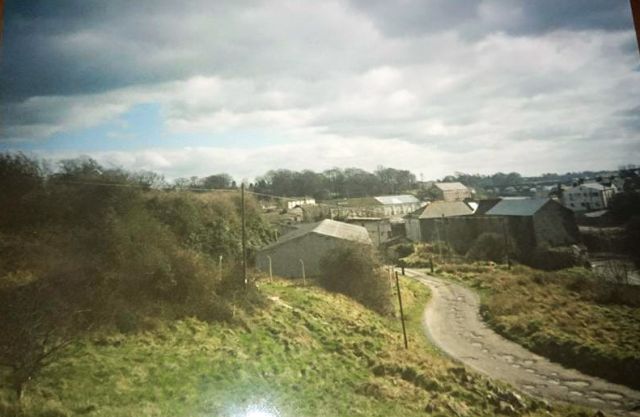 Mill Lane looking towards Pollboy.  The R. Blackwater can be seen in the right centre.
The River Blackwater, for the last 1000m or so before its confluence with the River Boyne, flows through a rapidly descending rock ravine.  This gradient of approximately 1:40 supplied the necessary "head" of water to drive the water wheels of at least 4 mills over a series of weirs.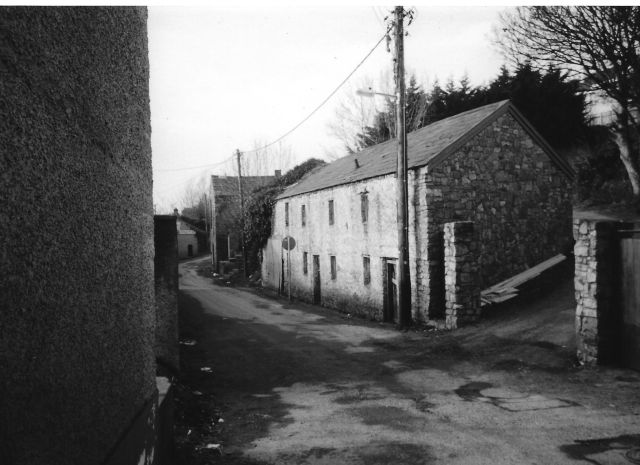 Mill Lane in 2001 (Photo Vincent Mulvany)
James Morgan's Mill (later Darker's Factory) shown as it was, in the beautiful line drawing by Navan's Patrick Reel below.  It was a substantial L shaped building 4 storeys high.  The mill race passed through the building, and then under the road, entering the R. Blackwater at Pollboy Bridge. The mill wheel was approximately 3m in diameter.  In 1837, the mill which was both a corn mill and a distillery, produced over 30,000 gallons of whiskey annually. (Lewis Topographical Directory of Ireland, 1837, p. 421)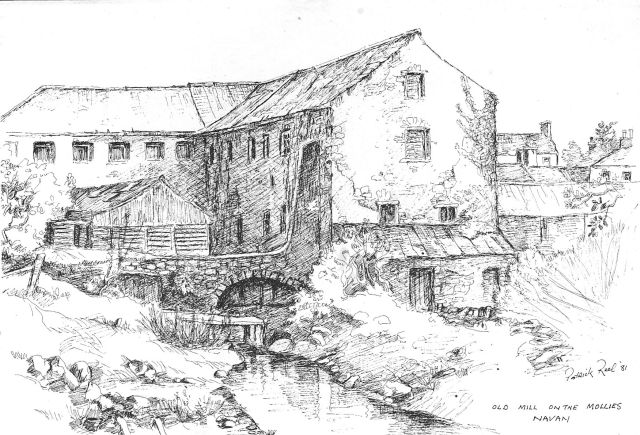 James Morgan's Mill / Darker's Furniture Factory on the Mollies down Mill Lane
(Picture courtesy of Patrick Reel)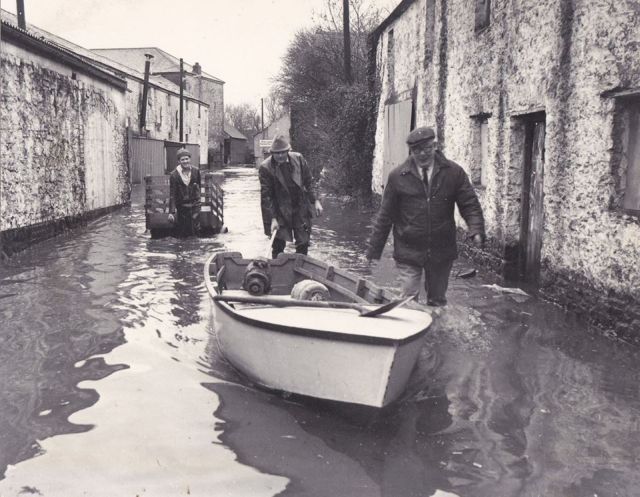 Mill Lane Jan 1979. Harold Darker (right) Tom Dunne (centre) and Jim Healy with the trailer, heading down Mill Lane to Darker's factory to rescue the machine motors from the flood. (photo courtesy Jim Healy Dunderry)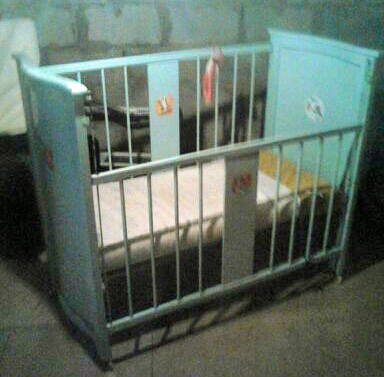 (left)
A cot made in Darker's factory on Mill Lane
(photo courtesy Alan Murtagh)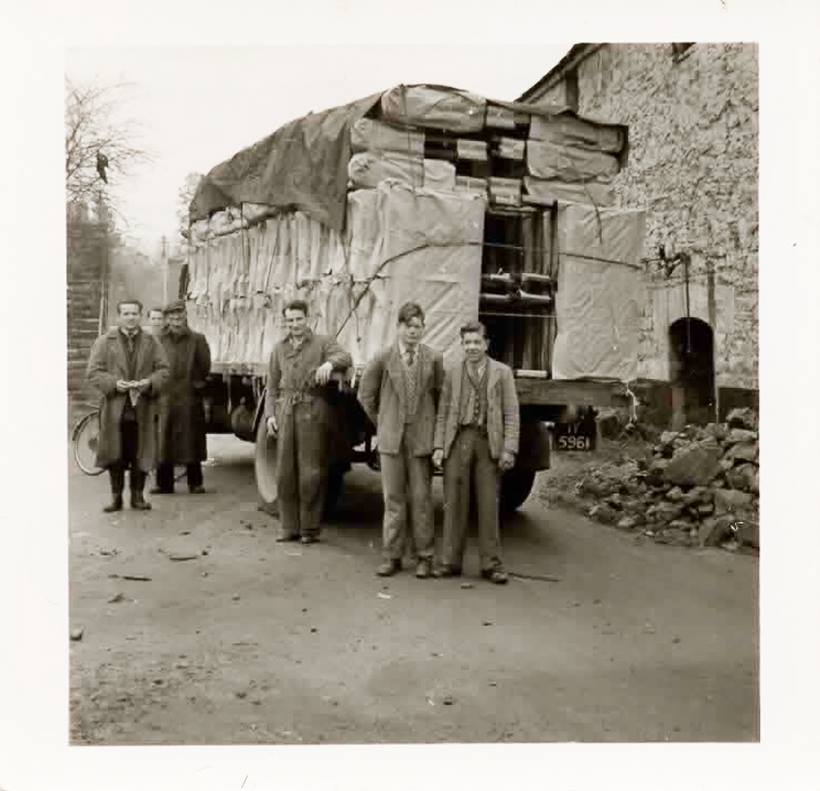 (above)  Outside Darker's Factory on Mill Lane - possibly a consignment of cot mattresses arriving.  Date uncertain - possibly 1940s-50s.  Two people are identified Frank Hosie from St. Patrick's Tce, standing in the centre, and on his right John Cunningham from Parnell Park.
(Photo courtesy Seán Alexander)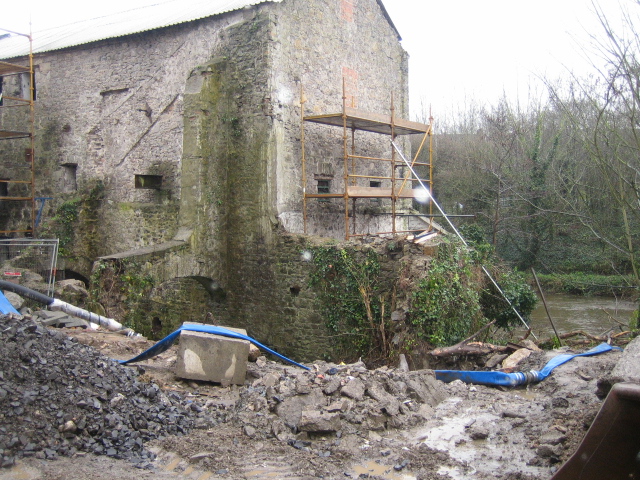 Urban Renewal Mill Lane 2006
In the first decade of this century, the typically industral function of Mill Lane was changed to that of residential as the old mills were converted to apartment blocks.
The conversion of James Morgan's Mill, later Darker's Furniture Factory into apartments is pictured above and below here. (photos N&DHS 2006)
Wlliam Morgan's Mill (later Mortimer's Mill and ultimately Elliott's Sawmills), pictured below, was located at the end of Mill Lane.  It was a good quality stone building in its time, but today all that remains is its burned out shell which can be seen beside the new bridge at Abbeylands.  It is marked as a Saw Mill on the O.S. map above, but originally it was a corn mill.
William Morgan's Mill, later Mortimer's Mill and finally Elliott's Sawmills as it is today (2014)
*******
Recent Excavations

http://www.excavations.ie/report/2004/Meath/0012425/
County: Meath   Site name: DARKER'S MILL, MILL LANE, NAVAN
Excavations.ie number: 2004:1303        License number: 04E0043
Author: Rosanne Meenan, Roestown, Drumree, Co. Meath.
Site type: 19th-century mill
ITM: E 687132m, N 768519m
Latitude, Longitude (decimal degrees): 53.659166, -6.681743

There were initially two separate planning applications for this site, which had originally comprised an early 19th-century mill building with two associated buildings, on the north bank of the River Blackwater.  The buildings were most recently used as a furniture factory.  The writer carried out an assessment of the westernmost building (upholstery factory) in November 2003 (Excavations 2003, No. 1437, 03E1751); the standing building was inspected as part of the assessment.  Archaeological material was not identified during the assessment.

The writer was asked to carry out a similar assessment of the mill building and a small gate lodge. This was carried out in January 2004.   The standing buildings were examined and two test-trenches were excavated.  During the summer of 2004 a fresh planning application was made in which the two sites were merged to form a single development.  The two trenches were excavated in the courtyard formed by the L-shaped mill building and the gate lodge.  Trench 1 revealed that the there was a layer of modern dumped material in the courtyard to a depth of 1m overlying bedrock.  Excavation of Trench 2 attempted to establish the line of the tailrace but this was not exposed there.

Material dating to a period earlier than the construction of the mill was not exposed.
Source: An Exploration of Milling along the River Blackwater in Navan, R.J. Farrelly - unpublished thesis submitted for Certificate in Local History NUI Maynooth. 2005
Photos©N&DHS