Trimgate Street is one of Navan's original 3 streets (the other 2 are Watergate St. and Ludlow St. which was once called Dublingate St.) Most of it was contained within Navan's medieval Town Walls. The gate on the road to Trim was just where Ryan's Pub and Dunnes Stores are today, and the stone wall behind the bar in Ryans is a remaining part of the old wall.
The big tree on the right in the photograph below marked the entrance to the old Preston School.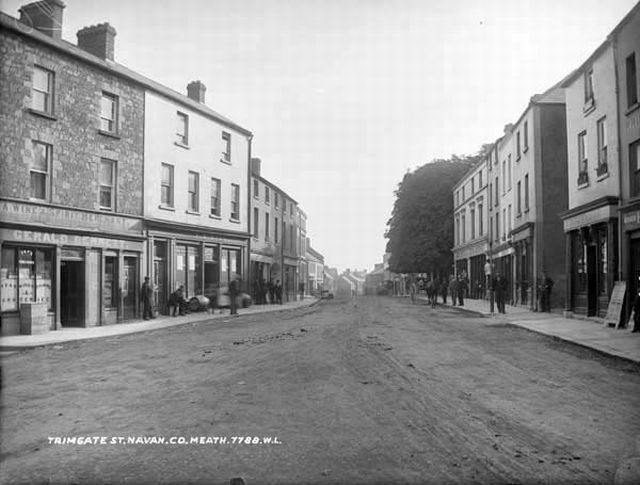 Trimgate St. early 20th century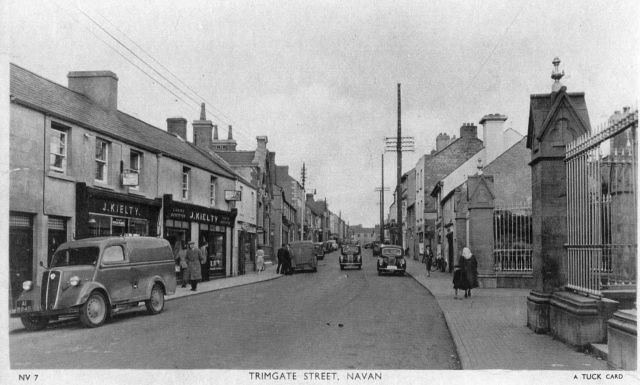 Trimgate St. 1950s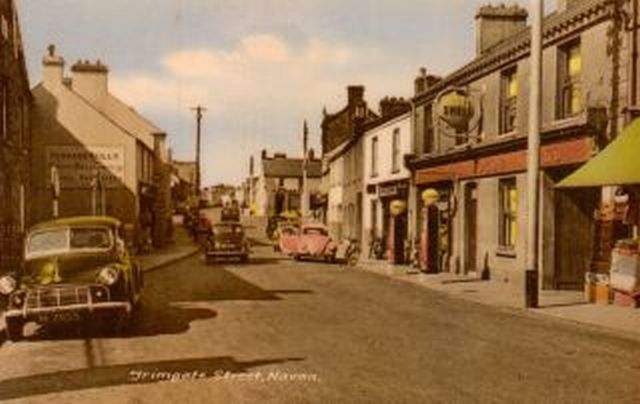 Trimgate St - the Swinging Sixties?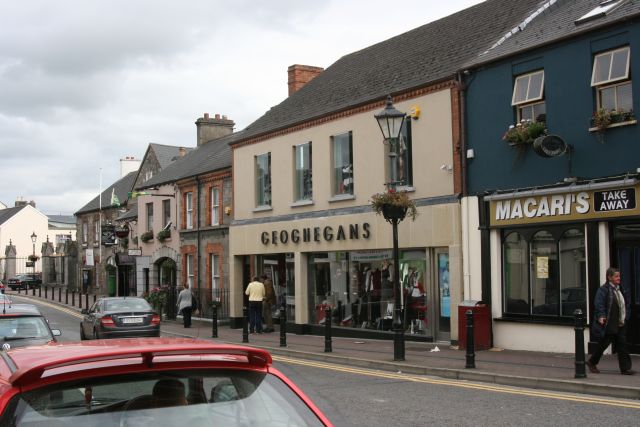 Trimgate St. 2010
Photo: © Navan & District Historical Society
Trimgate St. in the 1940s
This information comes from Frank Lynch, originally from St. Finian's Tce.  via Rose Smyth
Those marked with * had thatched roofs
1.      Tierney's Newsagent
2.      Tierney's Tobacconist
3.      O'Hagan's Fish and Fruits
4.      O'Hagan's Pub
5.      Loughran's Hardware
6.      Loughran's Pub
7.      Bank of Ireland
8.      Finnegan's Butchers / Mayfair Bakery
9.      Melady's Saddlery
10.    Donoghue's Greengrocer
11.    McQuillan's / Boyne Stores / Burke & Locke Furniture Store
12.    Bernard Reilly Shoe Shop
13.    Buchanan Butchers
Laneway to Bakery Lane -  McDermott Egg and Poultry
14.    Arcadian Cafe
15.    Hennelly's Chemist / in the archway O'Rourke's / Maggie Rerynolds*
16.    Duffy's * (Ice Cream Parlour)  / Tom Dunne (shoes)
17.    O'Rourke * (sweet shop) / Gohery's Tea Rooms  / John Nolan Chemist
18.    Fitzsimons
19.    Dottie Rice * / Hugh Morgan
20     St. Mary's Catholic Church
21.    Catholic Young Men's Hall
22.   Tom Reilly Pub and Undertaker
23.    Quinn private residence / McGuiness Greengrocer / Geoghegans
24.    The Vogue  Ladies Hairdresser / now The Loft
25.    Gibney private residence  (now the Loft)
26.    Spicer's Bakery and Shop / Burke and Locke
27.    J.L. Finnegan now Paddy Fitzsimons
28.    Kavanagh 's Pub
29.     Nellie Mullen Guest House
30.    Duffy's Private Residence / now Dunnes Stores
31.    Murphy's Newsagents / Fitzpatricks
32.    Gerry Highland Garage and Petrol Pumps
33.    Kearney Bicycle Shop / Keoghan & Carty / Menswear / Steen Solicitors
34.    Kielty's Sweet Shop
35.    Kielty's Drapery
36.    Gallaghers
37.   Post Office / now McDonalds
38.    Lawlor's Bakery
39.    Turner's Grocery Store
40.    J. Russell Plumber
41.    Hackett's Grocery
42.    Duffy's Butchers
43.    Cowley's Private Residence
44.    The Magnet Sweet Shop / now  Fish Shop
45.    Dick McCabe's Shoe Shop
46.    Joe Wood's Drapery
47.    Tehan's Household items
48.    Lily Coogan's Ladies Fashions
49.   Preston School - now Kennedy Rd.
50.    James Sheridan Hardware / Connolly  Brothers / now A.I. B.
~~~~
Trimgate St. 2004
1/2. 2004: Tierneys Newsagents. A plaque on the wall states that this is the longest continuous operating newsagents in Ireland - operating since 1896. Mick Tierney had a specialized cigarette and tobacco shop.

3/4. 2004: First Active and The Tailtean John O' Hagan had fish, fruit and vegetable shop.

5. 2004: Chris Curtis Henry Loughran, hardware, which was part of the pub next door.

6. 2004: Henry Loughran pub. This pub has been in the Loughran family for over a hundred years.

7. 2004: Department of Education This building was purpose built as a Bank of Ireland branch with living accommodation for the manager.

8. 2004: Coldrick Jewellers Todd Finegan & Sons, Auctioneers Valuers & Livestock Salesmen. The Mayfair owned by John Finegan and Nancy Finegan was a confectionary shop which did its own baking. Prior to this it was a butcher's shop with open front owned by Jack Finegan.

9. 2004: Tunny Optician Ann Melady, saddler shop.

10. 2004: Bernies Diner and Deli. Jack Finnegan operated a pork butchers shop. Previous to that Nancy Donohoe had a shop that only sold apples.

11. 2004: Boylans Shoe Emporium. Peter McQuillan and after that Boyne Stores had a grocery, bar and snug JL Finnegan previously owned it.

12. 2004: DCH Shoes. It as a shoe shop owned by Bernard Reilly.

13. 2004: Hugh Maguire Victualler. Previously Jimmy Buchanan, butcher.

14. 2004: The Pepper Pot. Was the Arcadian Café with accommodation at the back along Bakery Lane.
15. 2004: Men's for Men. F. Hennelly, Chemist. On the right of this shop there is a door, which was a lane, called Maggie Reynolds Lane. She was one of the last women in Navan to wear a shawl.

16/17. 2004: Cordners Shoes. Edward Duffy and Pete Duffy had a sweets and ice cream shop. They were known as the Dagler Duffys. Number 17 2nd Floor. Celtic Jewellers." We are manufacturing jewellers so we can offer you jewellry at wholesale prices."

18. 2004: Nolans Pharmacy. Billy Fitzsimons had a sweet shop and was the first to sell HB ice cream in Navan. Christina Gohery had tea rooms and a confectionary shop.

19. 2004: Michael Francis and Kids Stuff. Hugh Morgan had a toy shop. Previous to that Ellen Rice,  Brigid Rice and Anne Rice known as the Dotie Rices had a sweet shop. She sold aniseed balls at seven for an old penny. It was a hiding place during the Black and Tan era. It was called the Gaelic Hotel.

20. St. Mary's Catholic Church. A local sculptor, William Curry from Bridge Street sculpted the Cross in front of the church. On one side is a figure of the Crucifixion and on the other is the Stabat Mater. This Cross is rather distinctive because sculpted at the bottom of are some of the implements used in the Crucifixion. The gate at the entrance came from Dangan Castle Summerhill.
21. Community Centre. Originally Dean Cogan's CYMS. This was the site of Bradys pub and two small houses.
22. 2004.
Ryan's Pub
. It was previously a pub owned by Bernard Reilly and before that Thomas C. Reilly. This is the site of Trimgate and the Old Wall of Navan. There is a plaque on the wall to commemorating the rebuilding of part of the wall in 1796.
23. 2004: Private house. The last occupier was Larry Geoghegan. Previous to that it was occupied by Mary Anne Quinn and John Quinn. John Quinn was the accountant for Spicer's and chairman of Meath County Council.
24. 2004: Geoghegan's. This building is new and was a greengrocers. It was occupied by Joseph and Maureen McGuinness.
25. 2004. Takeaway and Hugh Hennelly, optician and The Loft. James Gibney and Eadie Gibney had a dairy, which sold milk direct from cans.

26. 2004: Albany Home Decor John Spicer & Co. Ltd. had a bread shop here.

27. 2004 P. Fitzsimons, pub. This pub was previously owned by JL Finnegan.

28. 2004: Paddy Power  Bookmaker. It was Kavanaghs Pub. The arched gate was the entrance to stables at the back.

29. 2004: The Hat Gallery was a private house occupied by Maria Healy and Ellen Mullen.

30. 2004: Elegant Gifts. This was a private house occupied by James and Margaret Duffy.

31. 2004: Dunnes Stores. This was known as Murphys paper shop owned by Millie and Danno O' Mahony. It was known later as Fitzpatricks paper shop.
32. 2004: Oxfam and Panache. Hyland's Garage and shop. It had a petrol pump on the street and was the first shop in Navan to sell records. (see picture above)
33. 2004: The Gate Restaurant and MJs. It was James A Kearney's bicycle shop and later was Keoghan and Carty, drapery.

34/35. 2004: Jack Kiernan, shoes. John Kielty had a lady's and a gents shop. It was then taken over by Burke and Locke, furniture and household goods. They were the first in Navan to offer hire purchase.

36. 2004: Corona Silver. Patrick and Margaret Gallagher had a stationery and sweet shop.

37. 2004: McDonalds .It was built in 1908 as a post office.

38. 2004: Minx, Town Jewellers and Gardeners Choice. James Lawlor operated a bakery, flour and confectionery business.

39. 2004 Discland and Chartbusters. This was a high class grocers called Turners. Frances Darker was a niece of the Turners and married Harold Darker who was from Flower Hill, Navan.
40. 2004: Grange Saddlery. It was occupied by the Murray family. The business was Russell and Murray, plumbers.

41. 2004: Butterfly Boutique.

Patrick Hackett had a grocery shop.  Billy Murphy, who later opened a grocery shop on the Commons Road served his time as a grocers assistant

here.



42. 2004: David's. It was Duffy's Butchers.

43. 2004: Connolly's Seafood. The house was occupied by Cowleys who kept lodgers. Billy Fitzsimons had a sweetshop called The Magnet. The premises was also used occasionally by a travelling optician.

44. 2004 Tara Cleaners. Dick McCabe shoe shop. Dick McCabe went across the street every day to the Bank of Ireland, locked up the shop and left his two employees standing outside until he returned.

45. 2004: Specsavers. Francis Loughran and Joseph Woods had a drapery shop.



46 . 2004: Demolished. It appears to be a house in the archway of no. 45 occupied by Seosamh and Maire O' h-Uaidhaig.



47. 2004: Tehans hardware which is here over seventy years.

48. 2004: Lily Coogan. It is in this name for over fifty years. (closed 2014)

49. This was the site of the entrance to the Preston School now demolished.

50. 2004: AIB. James Sheridan had a pub, grocery and hardware which was afterwards owned by Patrick Markey who married a Sheridan. Ultan Brady served his apprenticed here. Patrick Markey who was captain of Bellinter Golf Club (now Royal Tara) in 1943 was noted for his mannerism of whistling inwards.
~~~
Recent Excavations: Trimgate St.
http://www.excavations.ie/report/2007/Meath/0018331/
County: Meath   Site name: 19 Trimgate Street, Navan
Excavations.ie number: 2007:1354        License number: 06E0389
Author: Stephen J. Linnane, Archaeological Consultancy Services Ltd, Unit 21, Boyne Business Park, Greenhills, Drogheda, Co. Louth.
Site type: Urban, post-medieval

An assessment was undertaken at the rear of Dunne's, Trimgate Street, Navan, Co. Meath, in advance of reconstruction of this part of the store. It had been suggested that the eastern boundary of the site lay along the line of the medieval town wall of Navan.
The proposed build method of the new construction, involving piled foundations and a reinforced concrete floor slab, ensured that the majority of archaeological deposits would survive in situ. Only in the area of a lift shaft would there be significant disturbance and in this area a test-trench was excavated to a depth of 1.5m. The trench did not expose any deposits of archaeological significance, although a coursed limestone wall was exposed, forming the eastern boundary of the site.
The wall was exposed to a depth of 1.5m below current ground level and contained brick fragments within its fabric, was 0.5m wide and was bonded with off-white lime mortar. It seems probable that the wall formed a post-medieval property boundary. The wall will be preserved in situ.


~~~~~~~~~~~~~~~~~~~~~~~~~~~~~~~~~~~~~~~~~~~~~~~~~~~~~~~~~~
Excavations 1999, Summary accounts of archaeological excavations in Ireland, Ed. By Isabel Bennett, Bray 2000.
p.241-2.

703 Trimgate Street, Navan
Urban Medieval N865676. SMR 25:25. 99E0137
The development site is within the zone of archaeological potential in Navan as defined by the Urban Survey for County Meath. The Urban Survey suggests that the eastern wall of this property may be formed by or include parts of, the medieval town wall, and it is possible that the rest of the property west of this wall may lie on top of the town ditch, if such existed. As Trimgate Street formed one of the main axes of the medieval town, there is also the possibility that houses along the street retain features of medieval fabric.

An archaeological assessment was requested by Dúchas, to include (1) a survey of the standing structures and (2) test excavations. A photographic survey was carried out before test trenching. Four trenches tested the area to be developed.  Three of them tested the foundation of the stone wall.  These showed that the present stone wall along the east of the site had been inserted into a layer of dark grey silt loam that in places resembled garden soil.  This material took a dip in trench 1, but a corresponding dip was not observed in Trenches 2 and 3.  A foundation trench for the wall was not observed.  There were no other finds other than two sherds of 19th-century pottery that came from the upper levels of the dark layer in Trench 3.  The dip in boulder clay in Trench 1 was not substantial enough to suggest that it represented the remains of a town ditch.

Trench 4 tested the base of the back wall of the original house that fronted onto the street.  Here, dark silt loam/garden soil was exposed under the concrete and overlying soft brown sandy clay, which in turn overlay a stony layer.

It would be expected that a medieval town wall would be founded on natural boulder clay or bedrock or that it would feature a base batter.  This wall was found to be standing on material containing 19th century material.  There was no evidence to suggest that remnants of an earlier wall existed under the standing wall.
Rosanne Meenan, Roestown, Drumree, Co. Meath.

~~~~~~~~~~~~~~~~~~~~~~~~~~~~~~~~~~~~~~~~~~~~~~~~~~~~~~~
http://www.excavations.ie/report/1998/Meath/0003696/
County: Meath   Site name: 28 TRIMGATE STREET, NAVAN
Excavations.ie number: 1998:518         License number: 98E0162
Author: Rosanne Meenan, Roestown, Drumree, Co. Meath.
Site type: Urban medieval
ITM: E 686532m, N 767419m
Latitude, Longitude (decimal degrees): 53.649386, -6.691123

The site lies just west of the line of the town wall. The wall crosses Trimgate Street in a curved line towards the north-east; it is considered possible that the east wall of Dunnes Stores incorporates the wall (Bradley, 99). One property, Dunnes Stores, separates the line of the wall from the development site, and therefore it was considered possible that a town ditch lay in the area of the development.

While it was not possible to carry out a detailed survey of the standing structures, there was no obvious evidence of medieval or early post-medieval fabric in them, and little disturbance was expected. One trench tested the back of the site for the proposed extension. An overburden of grey, stony material was exposed along the length of the trench; this layer was 0.6m deep and overlay a light brown clay, interpreted as natural boulder clay.

A pit had been dug into the boulder clay. It was at least 2.3m wide at the top and was 0.7m deep, with straight sides. The fill was organic, with wood chippings and fibrous material resembling horse manure. The pottery recovered from the fill was early 19th-century black-glazed ware, and some sherds of bottle glass were also found. The feature was interpreted as a pit into which rubbish had been thrown, probably sometime in the last century, most likely associated with the use of the building fronting onto Trimgate Street. No feature or object of an earlier date was observed during the testing. Reference:Bradley, J. The Urban Survey for Co. Meath.
~~~~~~~~~~~~~~~~~~~~~~~~~~~~~~~~~~~~~~~~~~~~~~~~~~~~~~~~~

Ultan Brady Memories [Boyerstown]
During the summer of 1951 I was on the lookout for work. I tried a few chemists shops for a job as an assistant but my knowledge of chemistry at intermediate certificate would not suffice. Ma was trying for me as well and she got me a job in a hardware shop in one of the biggest merchants in Navan. My starting pay was 7 shillings and 6 pence per week and I had to pay the union 4 shillings per month. I worked hard for it. My working hours were from 9 am to 7 pm four days a week, 9am to 1pm on Thursday our half day and from 9am to 9 pm on Saturday. I had to ride the bicycle three miles home for my dinner and three miles back in one hour.
There was a separate bar owned by the same firm, adjoining the hardware shop. Between the three there, there were thirteen employed altogether. There was a fully qualified hardware assistant over me. The cash office was situated between the grocery, hardware and bar and was serviced by an overhead cable that took in the cup sized and shaped cash boxes that were spring ejected, to the cash office. A ticket with the amount of money to be taken was sent in and the right change sent back. The cost price had to be marked on every item in code so that when stocktaking came around it simplified the job. Our code lettering was "May God help us".
(m was 1, a was 2,........s was 12.  The cost price of an item costing £2-14-11 was marked a/mg/u. Bargaining and discounts were common and the cost price known only to the shop was a guide for the shop assistant.)
That time, publicans bottled all their own beers. The yardman filled the clean bottles, labeled them, corked them and shelved them for a three week maturing period before sale time. There was a snug attached to the bar and four compact private rooms with electric heaters and bell buzzer where the gentry had their drink and chat. These people usually got personal attention from Mr. Markey himself. They left their grocery and hardware requirements with him. Their orders got immediate attention and were put in the gentleman's car, while he enjoyed his restful drink.
The special customers were: Captain Eccles, Dunderry; Mr. Boles, Churchtown, Dunderry; Captain Collins, Durhamstown; Mrs. Foster, Ardbraccan House; Major Metge, Dublin Road; Riddle Martins, Ardmulchan; Blackcastle Estate; Slane Castle; Bective Estate; Balreask Stud; Williamsons of Randlestown; Dr. McCann, Bishopcourt, Ardbraccan, Bishop of Meath.
~~~
Bobby Byrne Memories
One of Navan's oldest residents, 91 years-old Bobby Byrne, 7, Market Square, has fond memories of Trimgate Street and its inhabitants. Bobby was born in the house where he still lives and where his son Robin, runs a hairdressing business.
Bobby's Grandfather, Bob Byrne, whose family had a paper shop and hairdressing business in Dundalk, opened the Navan business in 1897.
Bobby has vivid memories of the Battle of Ashbourne in 1916, when nine commandeered cars returning from the battle pulled up outside his house at a pump, to wash the blood from the vehicles before the bodies of nine dead policeman were ferried to the barracks.
Sometime in 1921-22 Bobby recalls seeing the Black and Tans going down to Bridge Street. They dragged a Mr. Hodgett, who was the postmaster, out of his house. He was brought to the barracks, before he was shot and thrown into the River Blackwater.
Trimgate Street begins at the traffic lights at the junction of Railway Street where O'Flaherty's public house is now was known as Loughran's corner. There was a pub across the road on the Kells side named Glacken's Corner.
Across from Loughrans was James Gibney's restaurant, while Spicer's Corner, which marked the site of Spicer's big bread and meal shop, was across the road from it.
Joseph Finnegan, who had a public house, was next to Spicers. Some of his family are still in business in Navan today in Jim Finnegan's betting office and The Leisure Circle. There was another public house beside it which is now Fitzsimons.
Bobby Byrne remembers that there were two to three private houses owned by a butcher called Duffy and two to three newsagents after that.  J.A. Carney's bicycle shop was where M.J. School Centre is presently situated.
Twenty or thirty tailors were employed in Durr's tailor shop. They were a very musical family. Hugh played the violin and his wife played the piano, while his son was a fine singer. Both Hugh and his son were deeply involved in the National Movement, and spent a number of years in jail in 1918/19.  Steen O'Reilly Solicitors occupy the building presently.
There were two or three shops near the Post Office, which had a big yard.  Lawlor's Bakery was adjacent to that, and Bobby remembers the bread carts trundling by and buying halfpenny loaves.
One of the biggest groceries in Meath was Turner's [now Clarke's Sports Den]. Duffy's butcher shop is now inhabitated by another butcher, Sam Black. The Magnet flower shop was formerly a sweet shop, while Fagan's [now Wood's Drapery] were the biggest drapers in the town. Nearby there was a shop selling antique furniture.
James Sheridan was the biggest hardware and furniture salesman in Meath. He also had a pub and a sports shop. Gibney's at the far end of Trimgate Street was a restaurant and bed and breakfast, which was frequented by cattle dealers.
Tommy Connor, a harness maker was beside it. There were three or four houses next door. John Quinn, a former managing director of Spicer's, lived in one of them.
As long as Bobby can remember Bernard Reilly's public house was always there, Interestingly, there is a piece of the old Navan walls in the gable end of the premises.
The Catholic Young Mens' Society Hall ( link Anthony Cogan) was crowded every night. There was one dance in the hall every year on St. Stephen's Night when dancing shoes and a collar and bow tie were obligatory. Professional operatic companies from Limerick and Waterford would come to the hall for a season of a Gilbert and Sullivan opera. The well-known actor Hilton Edwards was a regular there.
Bobby remembers Eamonn de Valera coming to the hall in 1922 or 23 to conduct a mock PR election. Dotie Rice's sweet and cake shop was situated where the video shop is today. A painter named Blake lived next door. He was the walking marathon champion of Ireland at the time.
Above Blake's was Eddie and Petey Duffy who carried out boot and shoe repairs. James Maguire's café was next [presently The Pepperpot]. The same family also had a paper shop where Mullen's Butchers is now.
P.J..McQuillan owned a big public house, grocery shop and yard next door, while Mrs. Smith ran a vegetable and fruit shop beside that. Her husband Georgie was the local sacristan.
Tunney's Opticians used to be a saddlers and Finnegans had a butcher's shop next door. Loughrans who are still very much resident in the street, were the biggest publicans and coal merchants in the town, according to Bobby. The Leisure Circle was formerly a hardware shop.
There were two sweet shops – Tierney's and Bennetts which amalgamated. The shop is now Joe Tierney's newsagency. "They were wonderful people, and I have lots of wonderful memories," said Bobby.
Trimgate St.
Trimgate Street, Navan revels in its lengthy history, situated as it was within the medieval town walls.  These can still be traced from the Russell Arms Hotel round to the corner of Leighsbrook, around to Trim Gate behind Trimgate Street houses, down to Poolboy bridge. (see map Medieval Map of Navan.)

But the 1641 rebellion brought cannon into major play in Irish warfare.  A combination of artillery and wall decay led to such entries as the minuted wall repairs documented in the town annals of 1745.  On Ryan's Pub premises [the road in front being the actual site of Trim Gate – one of three into Medieval Navan] can be seen an inscription: "This part of the town wall was rebuilt, 19th April 1796. (link Town Wall)

By 1836 Navan was briskly developing.  Trimgate Street was joined with Ludlow Street, the Fair Green and Chapel Lane.  The Royal Irish Academy was the recipient of part of the old Market Cross. Antiquarian Mr. W.F. Wakeman reported finding it "in a miserable back lane, branching from Trimgate Street."   Indeed, Dean Cogan recounts that the stones concerned had been preserved by a  local family.
One side of the cross is inscribed in Irish, commemorating Christ's suffering and His opening of Heaven.  A figure of St. Patrick, with mitre and crozier, is found with the letters S. and  P.
On the second side , a shield and bird, possibly the coat of arms of the Nangle family, is found.  The third side features the "Ecce Homo" crowned with thorns.  A crowned figure, with the Infant Jesus in her arms, features on the fourth side.
St Mary's Church was built under the pastorship of Fr. Eugene O'Reilly during the 1830's.  His marble bust adorns the Altar of Our Lady.
The £250,000 development of Trimgate Street got underway in September 1993 with Meath County Council taking responsibility for the roadworks, and Navan Urban Council looking after the footpaths.
The new paved footpaths, parking bays and ornate street lamps form the most elegant aspect of the improvement, giving the street an almost Victorian look, particularly at night-time.  The new road surface and the skilfully-designed parking bays have pleased motorists, who have come to realize that the design considerably reduces driving speeds, while at the same time controlling parking.
It is easy to forget, as well, the amount of work which went into laying the ESB and Telecom overhead wires underground.
See also: " A Few Memories from behind Navan Shop Counter" , Paschal Marry in Navan its People and its Past 2 Journal of the N&DHS 2013 pps. 165-174  [ Article relates to Geoghegans, as illustrated above.]