Richard Pigott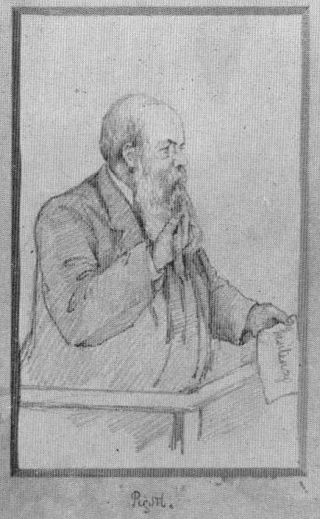 Born in County Meath in 1828, he was a journalist and forger. He worked in The Nation office as an errand boy and found a post as a clerk in Belfast in
The  Ulsterman, a nationalist paper.
Denis Holland, the proprietor of the Ulsterman transferred the paper to Dublin, renaming it The Irishman, presenting it to Pigott in 1865.
Pigott started a weekly magazine called  The Shamrock the following year, and shortly after this another weekly magazine called The Flag of Ireland.

These publications openly supported the Fenian movement and Pigott was imprisoned several times for publishing seditious matter.
He sold his three papers in 1881 to a publishing company owned by the Land League, and then began to write anonymous pamphlets libelling his political associates.
(left) Richard Pigott. A contemporary sketch by Harold Wright
In 1886 he sold information to the Irish Loyal and Patriotic Union, an anti Home Rule organisation, which accused Charles Stewart Parnell and his associates of involvement in murder.
In 1887 The Times newspaper bought these papers from the union and used them to complete a series of articles called "Parnellism and Crime". On 18 April 1887 The Times published a letter from Pigott's collection, which was alleged to have been signed by Parnell condoning the Pheonix Park murders.  Three judges were appointed by parliament in 1888 to enquire into the truth of the allegation made by The Times.  Under numerous cross examinations in February 1889 Pigott eventually broke down and confessed his guilt to the MP Henry Labouchere and then left the country.
The police in Madrid traced him and upon entering his apartment (ironically numbered 13), Richard Pigott shot himself dead.