18th Century Visitors to Navan 18th Century Visitors to Navan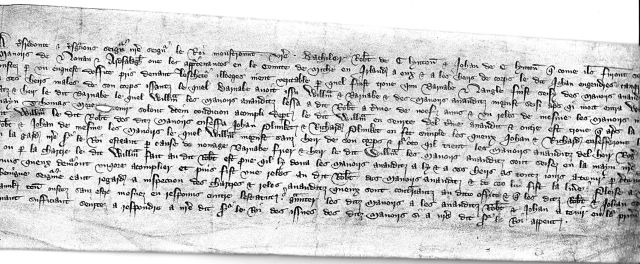 This document is dated 27th January 1367 and in the second line, third word from the left, you will see the name Novan which was an earlier name for Navan. For more about this, go to the The Clinton Petition. The document is shown courtesy of The National Archives, Kew.
The earliest recorded mention of Navan in history was in a charter granted by King Henry II to the Augustinian Monastery in Navan. This charter is dated the 14th of April 1189 and we have a version of this charter on this website. So Navan is a lot older than you may think. St. Mary's Abbey - its Charter and its History
Timeline
405 Niall of the Nine Hostages, High King of Ireland 379 to 405 buried at Faughan Hill, Navan.
482 Battle of Ocha, Faughan Hill, Navan.
653 St. Ultan, Bishop of Ardbraccan, Navan, died.
784 Relics of St. Ultan taken by the Danes.
886 Ardbraccan Church, Navan burnt by the Danes.
980 Mael Sechnaill fought the Battle of Tara against Amlaib Cuaran, Norse King of Dublin.
1007 Mael Sechnaill, the king of Meath convened the great fair of Tailteann or Teltown.
M
1022

Mael Sechnaill mac Domnaill. King of Tara, died.
1031 200 people were burned by the Danes in "the great church of Ardbraccan" and 200 carried into captivity.
1055 Maelbrighde, Professor of Ardbraccan, Navan, died.
1069 The Danes and Irish plundered Ardbraccan, Navan.
1100 Celtic monastic Site at Nuadhcongbhail meaning new dwelling. Navan Abbey was rebuilt at this site. The land was granted to the Abbey by the Lord of Breffney, Tiernan O'Rourke.
1111 Ardbraccan, Navan was a second class monastery for men.
1115 "The great stone church of Ardbraccan with it full of people was burnt by the Munstermen."
1143 Giolla Modhuda, Abbot of Ardbraccan, Navan, died.
1147 Bective Abbey, a Cistercian House founded.
1156 Dermod Mac Murrough and the Danes of Dublin carried off the cows of Ardbraccan.
1170 The abbey steeple, Ardbraccan, Navan fell in.
1189 Charter of John De Courcy to the Abbey of Navan 14th April 1189.
1210 In July,Cathal Crobhderg O'Conor of Connacht, made his final submission to King John at Ardbraccan, Navan.
1367 On 27th January Robert de Clynton, Ardsallagh, Navan, appears before the chancellor and council.
1469 Charter of Edward IV granting borough status to Navan. Abbot Peter was deprived of the Vicarage of Ardbraccan.
1498 A copy of the 1189 Charter dated 4th June 1498 survives.
1536 6th May, Bective Abbey suppressed.
1537 The site of Bective Abbey and its lands were leased to Thomas Argand (1499-1549) who converted it into a Tudor mansion.
1539 On July 19th the possessions of Navan Abbey were surrendered by Thomas Wafre, its last Abbot.
The Insurgent Irish destroyed Navan.History of Meath 1845.
1542 Protective wall and 3 gates built. Part of the wall survives.
1625 Roger Jones became owner of the Abbey lands. Previous owners were Wakely and Savage
1665 John Stearne of Ardbraccan who founded the College of Physicians dies age 45.
1686 Preston School established.
1689 Charter of James II to Navan (revoked after the battle of the Boyne 1690)
1690 Athlumney Castle burned.
1711 Cavalry barracks built on the site of the Abbey of Navan.
1729 Navan to Dublin Road opened.
1754 County Infirmary opened.
1772 The mudwall chapel in Leighsbrook collapsed on Christmas night.
1784 On 15th April a Mr. Rousseau accompanied by a ten year old drummer boy, took off off in a wicker basket attached to a balloon. The pair landed in Ratoath.
1791 The Smyth Crucifix was commissioned by the Catholic merchants of Navane
1794
1800 Boyne Canal completed.
1802 St.Finians Seminary founded.
1818 Navan Fever Hospital.
1832 Cholera epidemic in Navan.
1833 St. Anne's Loreto Convent officially opened.
1836 John O' Donovan surveyed Tara.
1839 St. Mary's Catholic Church completed. Navan Workhouse.
Navan Poor Law Union declared 25 June 1839.
1840 The Earls of Essex became owners of the Abbey lands.
1841 Population of Navan was 5595.
1842 First Admission of Paupers to Navan Poor Law Union 4 May 1842.

1850 Drogheda to Navan Railway line opened.
1851 Population of Navan was 3979. The reduction was a direct result of the famine 1845 to 1848.
1852 Earthquake shakes Navan and the Loreto Convent.
1853 Mercy Sisters come to Navan
1854 Remains of nine people were discovered laid one on top of the other in the Cavalry Barracks yard, the site of the cemetery of Navan Abbey
1856 Navan Gas Company was registered.
1857 Sir Francis Beaufort died.
1862 Navan to Dublin railway opened on 29th August.
1864 Slum Clearance at Brews Hill.
1867 Claytons Woollen Mill comes to Navan.
1875 Charles Stewart Parnell elected MP for Meath.
1895 Navan Pierce O'Mahonys representing Meathreach first All Ireland Final.

1896 First piped water supply in Navan.
1897 Meath Chronicle founded in Kells.
1898 Navan Urban District Council replaced Navan Town Commissioners.
1899 Navan Branch of the Irish National Foresters officially registered.
1902 British Israelites cause considerable damage on the Hill of Tara in their search for the Ark of the Covenant.
1903 James McCann MP founded the "Irish Peasant" a local newspaper in Navan.
1906 Navan Golf Club founded (now Royal Tara).
1903 O'Growney Tce - Navan 's 1st public housing scheme completed

1908 St.Finian's Seminary moved to Mullingar.
1909 New Post Office in Trimgate St. opened.
1911 St Finian's Tce. built
1912 Military barracks, Abbey Road purchased by Dr. Gaughran, Bishop of Meath.
1913 4th June "Batchelors Wedding" bred by Joseph Lowry, Batchelors Lodge, Navan was a runner in the Suffragette Derby.
1914 Inaugural meeting of Irish Volunteers (Feb.) in Navan [old Foresters' Hall, Church Hill]

1914 Many hundreds of Navan enlist in the British Army to fight in WW1.
1916 Two men from Navan die on the 1st day of the Battle of the Somme  July 1st
1920 Navan Race Course founded.
30th  September: Trim RIC Barracks raided and destroyed. Trim RIC Barracks.
1921 9th February: Chandler Raid, Robinstown.
1922 An Uaimh adopted as the official name of Navan.
1923 Opening of Navan Hydro Electric Scheme.
1923 Boyne Canal abandoned.
1924 Navan Rugby Club formed, initially playing at the Agricultural Showgrounds.
1935 Pairc Tailteann opened on the site of the Agricultural Showgrounds
1938 Navan Carpets opened.
1939 Workman wins the Grand National. Owned by Sir Alexander Maguire, Athlumney House
1940 River Boyne completely frozen over in January.
1945 Hoggs Furniture started.
1947 Dublin to Navan railway closed for passenger traffic.
1948 Navan O'Mahonys formed from Navan Harps and Navan Gaels.
1949 Meath win first All Ireland Senior Football title.
1955 Navan and District Anglers formed.
1959 Navan Chamber of Commerce founded.
1959 Navan Drogheda railway closed for passenger traffic.
1961 Crannac Furniture founded.
1963 St. Mary's Credit Union founded. Navan to Dublin Railway closed.
1964 Navan Trade Fair started
1965 Simonstown Gaels formed
1970 The voters of An Uaimh changed the name to Navan 746 votes to 161.
1973 Navan Athletic Club formed.
1976 Tara Mines starts production.
1977 New Bridge at Kilcarn opened.
1981 Navan Shopping Centre opened.

2003 Navan Carpets closed in early 2003.

2007 Navan & District Historical Society founded.