Ballagh or Boyne Hill: Navan Parish.
Ordnance Survey Field Name Book 1835-1836.
Bealach, a pass.
Cnoc Boinne, hill of the Boyne.
Boyne Hill: Larkin's Map.
Balloghe: Inq. temp. Eliz.
Ballogh: Inq. temp. Car. 1.

This townland is bounded on the east by Kilcarn parish.

It is bounded on the west and south by Ardsallagh parish.

It is bounded on the north by the townland of Ballybatter or New Balreask. Its nearest market town is Navan, 1 3/4 miles away.

Boyne Hill, the residence of Lt. Col. T. Gerrard, is situated near the south east corner, and his demesne occupies nearly the whole townland. The Boyne forms its eastern boundary.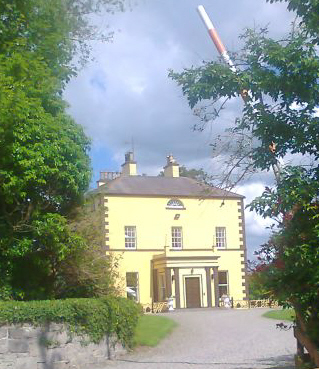 Boyne Hill House in 2012
Photo: © Navan & District Historical Society