Johnson, Sir William (Pioneer & Soldier)
1715-1774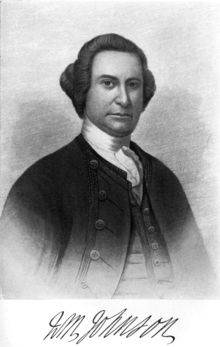 William Johnson
was a  pioneer and a soldier,
an Anglo Irish officer of the British Empire and friend to the Mohawk.
He was born in County Meath in 1715, the eldest son of Christopher Johnson of Smithstown and Ann Warren of Warrenstown.
As a young man he emigrated to the province of New York to manage an estate purchased by his uncle Admiral Peter Warren which was located amidst the Mohawk, one of the Six nations of the Iroquois League. The Mohawk population had dwindled to 580.
He became known as  " benevolent dictator " amongst the Native Americans because of his fairness and industry. He learned the Mohawk language, and he was trusted by them to argue their cause with the British.
His industry prevented the "Six Nations "  from going over to the French during the Anglo French wars. Thus he was made a major general in 1755. He was awarded a baronetcy and a grant of £5,000, after he defeated the French at the Battle of Lake George.
He was also granted 100,000 acres on the north bank of the Mohawk River for his services against the French in Canada in 1760.  It was here, in 1762, he founded the city of Johnstown and established a free school for white and Mohawk children there. The following year he built his house here, calling it Johnson Hall. (below)

He had numerous children by several European and Native American women and provided for them all.
He introduced a large number of Irishmen to settle in the district and opened it up for the development of agriculture. He made his fortune through trade. 

He died from a stroke in Johnstown Hall  in July 1774 after delivering an address to the Indian Council of the Six Nations. Over 2000 attended his funeral and he is buried beneath the altar  of St. John's Anglican Church in Johnstown, which he had built.
His home Johnstown Hall is today a National Historic Landmark.

Source: White Savage  - William Johnson and the Invention of America
Fintan O'Toole  2005