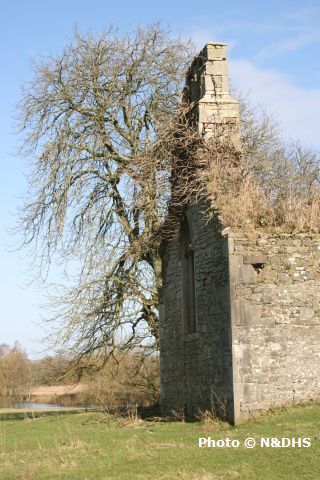 Although the castle dominates at Liscarton,
an interesting range of buildings
can be found here on this
beautiful site along the Blackwater
about 21/2 miles from Navan on the road to Kells.
Since the 17th century,
there has been evidence of a
ruined 15th century church
(pictured left)
with a fine carved window,
a corn mill, a weir, 2  castles,
a fortified gatehouse with evidence of a murder hole,
and eighteenth century stables and yards.
The name Liscartan has been translated as Cartan's Fort, which would seem to indicate that this was defensive site since at least the 12th century.  From some of the earliest references to the site, it would appear that the lands were part of lands granted to the original Abbey in Navan by the O'Rourkes of Breffni.
After the Norman Conquest the lands were included in the grant of the Barony of Navan made to Jocelyn de Angulo (Nangle) by deLacy.

Liscarton Castle is a 15th century building.  It originally consisted of 2 towers connected by a large hall.  One of the towers was reduced in height and converted into living accommodation around 1800.  The other tower is 4 storeys high.  Two carved heads and one carved dog's head can be seen in the stonework.  Its  last recorded owner was Sir Richard Talbot Bart. in 1633.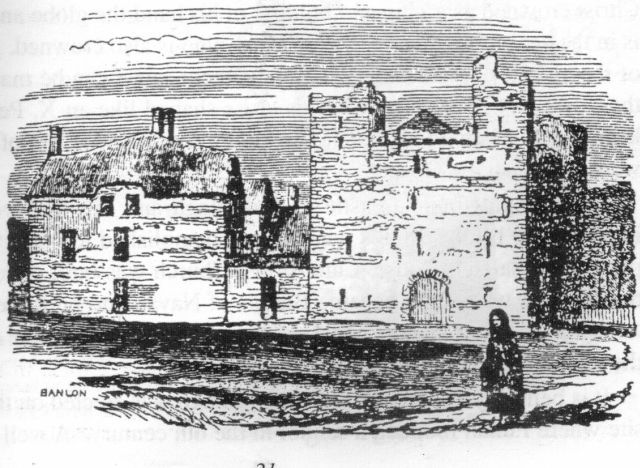 View of Liscartan c. 1850 by George Hanlon (note unique thatched castle on left)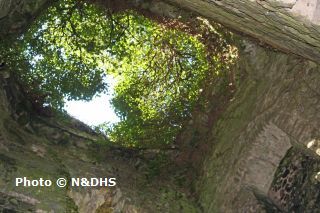 (left) View towards the sky through the
roofless 15th century tower at Liscarton.
Photo N&DHS (2013)

In the 15th century it was recorded that Jane Taafe had inherited lands at Liscarton.   In 1403 she sought permission to take scrub from Barfotstown wood in order to produce lime for the construction of a castle at Liscarton.  According to the artist and antiquarian George Victor Du Noyer, her husband built the manorial church the following year. Following Jane's death, the castle passed to Nicholas Rowe, a son of her first marriage to Peter Rowe.
The Civil Survey of the mid 17th century recorded Sir Robert Talbott of Carrtowne (Carton), Adam Missett of Bellewstown (Irish Papist)  as possessing lands at Liscarton.
["There being on the sd lands Two Castles, a Church, a Mill and a Weare. Civil Survey of County of Meath, Vol. V, Robert C. Simmington]
Robert Talbot was the brother of Richard Talbot, the Lord Lieutenant under James II, (1686).
At the end of the 17th century, Liscarton is recorded as the residence of William Cadogan, who defended Trim Castle during the 1641 Rebellion.  He was later High Sheriff of Meath and died in 1660.
In the 18th century, Lewis recorded that Liscarton was the birthplace of the first Lord Cadogan.  William Cadogan followed a military career, and fought at the Blenheim (1704) and Malplaquet (1709).  He was elevated to the peerage in 1716, eventually becoming Earl Cadogan.
In 1740 Isaac Butler referred to Liscarton as "a noble large fabrick of fine hewn stone at present in decay".
It appears that the Gerrard family of Gibbstown occupied Liscarton for much of the 18th century and the first half of the 19th century. Lewis records a Thomas Gerrard operating a substantial flour mill nearby.  A deed from 1841 records "....a dwelling house, corn mills, kilns, water courses and stores". The lease was made between Thomas and William Gerrard and James, Michael and Thomas Cullen. All were brothers of Paul Cullen, theologian, scholar and the first Irish Cardinal, who died in 1878.  Several letters from him were addressed from Liscarton Castle.
The Cullens operated the mill as a profitable enterprise for the rest of the 19th century.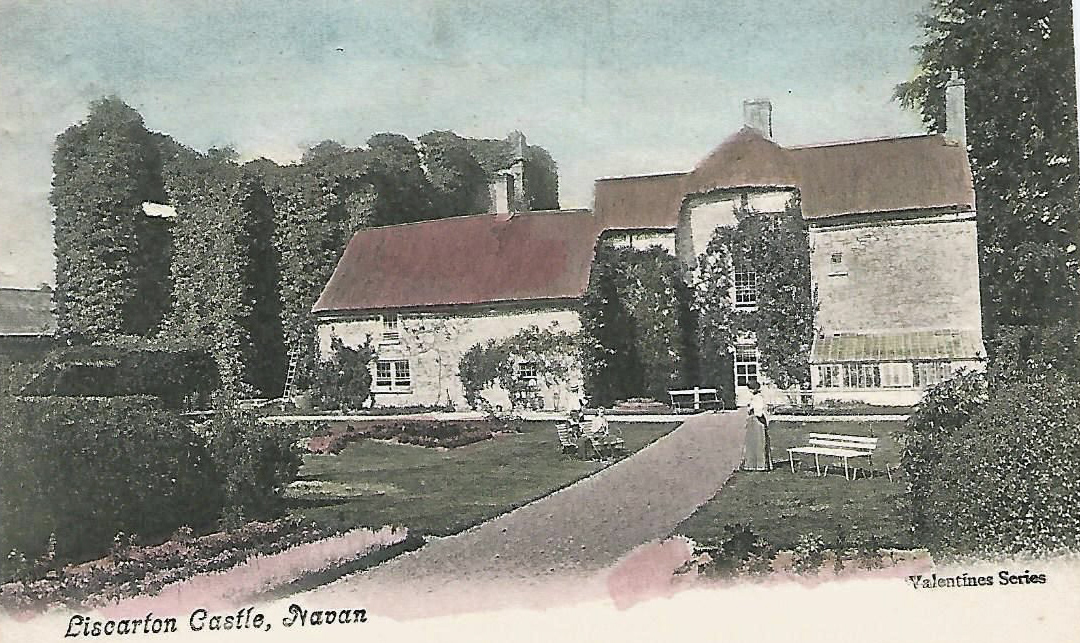 Liscarton Castle early 20th century, viewed from the rear. Note people on the lawn and the ivied outline of the medieval tower.

Next to Liscarton Castle stands the ruins of the manor church of Liscarton, pictured below in 2012.  It is a simple rectangular building measuring 51ft. by 17ft.  The walls are made of undressed limestone.  The east and west windows are identical in shape, and are pictured below.  The window beneath the bell tower, however is decorated with 3 carved heads.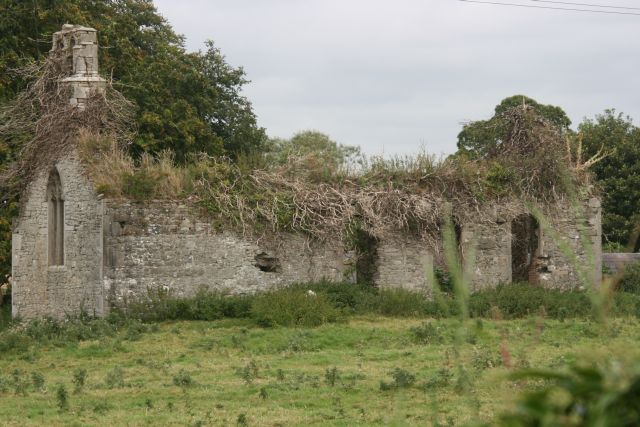 Medieval Church at Liscarton. Photo: © Navan & District Historical Society (2012)
According to Sir William Wilde, "the church is remarkable for the extreme beauty of its eastern and western windows (pictured below),  each of which consists of one great light.... an exquisite variety of tracery, in the decorated style of gothic architecture, fills the head of both windows, and the mouldings are deep and well executed.  Upon the exterior face may be observed well carved human heads projecting from the dripstone".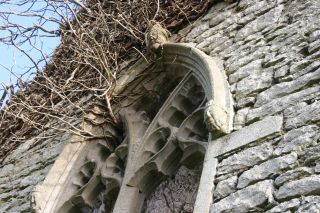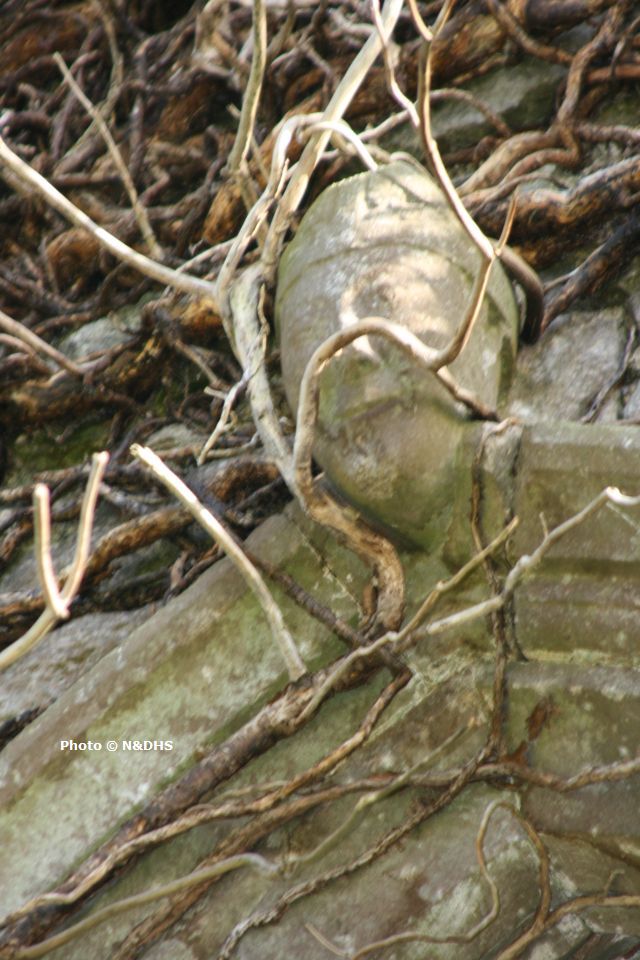 (above) The window on the medieval church.
The king's head, located at the top of the window is illustrated right.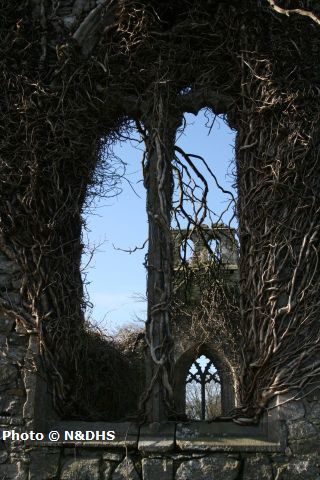 Pictured left,
is the view from the stone
tracery through the nave of the
15th century  church.
Sources:
The Buildings of Meath, Kevin V. Mulligan, The Fieldgate Press,  An Taisce, 2001
Navan by the Boyne, Noel E. French, (2002)
The Beauties of the Boyne and Blackwater, William R. Wilde, (first edition 1849)

********
Archaeological Inventory of County Meath, compiled by Michael J. Moore, (Dublin 1987)
p.30
189 - LISCARTON - OS 25:5:5 (15.1, 35.6) Not marked OD 100-200 N 8442, 6910
Tumulus - Circular mound (diam. 23m, H 2.5m) which has been partly quarried and planted with trees.   SMR 25:12      29/8/1985.

p.139
1443 - LISCARTON - OS 25:5:2 (11.0, 40.0) 'Church (in ruins)' OD 100-200 N8397, 6945
Church - Undivided nave and chancel church which may have been repaired in eighteenth century with insertion of large, round-headed windows, three in S wall, two in N. Doors, perhaps not original, towards W end of nave. Stairs in N wall and double-light windows in E and W walls original. Double belfry on W gable, perhaps added.  SMR 25:8     23/4/1969.

p.172
1748 - LISCARTON - OS 25:5:2 (11.8, 39.6) 'Liscarton Castle (in ruins)' OD 100-200 N 8403, 6951
Tower House - Three storey rectangular tower house with large corner towers at three angles.  Barrel-vaulted ground floor. Entrance to vaulted chamber and upper floors in E tower. Few windows on upper floors. Enclosing small courtyard with stone house (1806).   SMR 25:9   17/10/1984

1749 - LISCARTON - OS 25:5:2 (12.4, 39.0) Indicated OD 100-200 N 8411, 6945
Gatehouse - Situated c. 100m SE of tower house (1748) and sone house (1806), it is probably associated with former. Barrel-vaulted gate entrance with murder-hole. Stairs lead from entrance to first floor.  SMR 25:10    17/10/1984

1806 - LISCARTON - OS 25:5:2 (11.9, 39.5) 'Liscarton Castle (in ruins)' OD 100-200  N 8404, 6951
Stone House - Two storey rectangular house with projecting towers at each corner. Entrance at ground floor from courtyard which lies between house and tower house (1748). Long hall inside entrance with three small rooms in three of the towers. Large spiral stairs. anti-clockwise, in W tower and mural staircase at S angle give access to first storey. Square towers rise above first storey in each angle at what may have been parapet of main building. Probably early seventeenth century.   SMR 25:9     17/10/1984
*******
Liscarton Castle
is located north of Navan, just off the Kells road and on the banks of the river Blackwater. A castle dating from the 15th or 16th century it consisted of two towers joined by a hall.  One of the towers was later adapted to make a dwelling house.  A medieval church stands close by and a large farm building complex was erected near the house.  Liscarton Castle was held by Sir William Talbot in 1633. Sir William Talbot was father of Richard Talbot, Duke of Tyrconnell, lord deputy of Ireland under James II.
William Cadogan was born at Somerset in 1601. Member of Parliament for Monaghan from 1639 to 1649 Cadogan defended Trim castle during the troubles of the 1640s.  He was appointed governor of Trim Castle and also took charge of putting down rebels around Dublin.  He settled at Liscarton and was High Sheriff of Meath in 1658.  He died in 1661.  His son, Henry was a barrister in Dublin.  Henry died 1713/4.  Henry's son, William, became a noted officer in the British Army.  Born at Liscarton in 1672 William became an outstanding officer in the British Army.  A friend of John Churchill, 1st duke of Marlborough, Cadogan served with distinction in the War of the Spanish Succession.  He served in the Low Countries and fought at Blenheim.  In 1715 he was appointed to lead an army to put down the Jacobite rebellion.  In 1716 he was made Baron Cadogan and in 1718 he was made an earl.  A teapot which was filled from the bottom was named the "Cadogan Tea Pot" as Cadogan was the first to possess such an item.  A lidless teapot it had a funnel at the bottom for filling.  Cadogan was made commander in chief of the army after Marlborough's death in 1722.  He died in 1726 at Kensington, London.
In the early nineteenth century Liscarton was in the hands of Gerrard family.  In 1835 Liscarton was described: "The ruins of an old castle that originally consisted of two strong quadrangular towers connected by a hall. One tower still stands in a dilapidated condition. The hall has disappeared and the second tower shortened and thatched and made into the residence of T. Gerrard, the owner of the corn mill".  The Gerrards of Liscarton are buried in Donaghpatrick graveyard. Thomas Gerard of Liscarton died in 1763. Thomas Gerrard of Liscarton died 1784 aged 68.  William Gerrard his son died 1792 aged 39.  In 1814 Liscarton was the residence of Thomas Gerrard and was described as having considerable outworks, the only part then remaining was an arched gateway, about sixty yards from the main body of the building.
The lands of Liscarton belonging to Thomas Gerrard, William Gerrard and James Cullen were sold by the Encumbered Estates court in 1855. Thomas and William were described as gentlemen but James was described as merchant.  Liscarton was in the hands of Cullen family in the latter half of the nineteenth century.
In 1876 James Cullen of Liscarton held 745 acres in County Meath.  James was the son of Hugh and Mary Cullen of Leighlinbridge, Co. Carlow.  James Cullen was the younger brother of Cardinal Paul Cullen. Paul Cullen spent thirty years in Rome and was friends with Pope Gregory XVI and Pope Pius IX.  Elected Archbishop of Armagh in 1850 and then Archbishop of Dublin he became the first Irish Cardinal in 1867.  At the First Vatican Council Cardinal Cullen proposed the precise and accurate formula for the definition of Papal Infallibility.  The cardinal visited his brother"s home at Liscarton, staying there in April 1872 while recovering from a cold.  James Cullen died at Liscarton in 1886.  James Cullen married Kate Lynch and they had three sons.  Their son, Paul, became President of Castleknock College.  Their son, Hugh, succeeded to Liscarton.  Hugh married Mary Hester Colgan in 1888.  Hugh died in 1937 and was succeeded by his son, also Hugh.  Hugh served as an officer in World War I and was wounded.  His brother, Edward, was a chaplain who served at the front during the war.  Marrying in 1944 Hugh lived at Liscarton until his death in 1965 and the following year the property was sold.
Source: meath-roots.com
*******
Liscarton
The Parliamentary Gazetteer 0f Ireland, 1844-184, Vol. 2
Liscarton, a parish in the barony of Lower Navan, 2 miles north west of the town of Navan, co. Meath, Leinster. Length, north westward, 2 3/4 miles; extreme breadth, 7 furlongs; area, 1,303 acres, 2 roods, 1 perch. Pop., in 1831, 229; in 1841, 318. Houses 52.
The surface consists wholly of profitable land; and is, to a very large extent, included within Liscarton demesne.  The seats are Bachelor's lodge and Liscarton castle, the latter the fine residence of Thomas Gerrard, Esq. Liscarton castle is partly a modern residence, and partly the remains of an ancient military strength; and is alleged to have originally been a monastery.  An arched gateway, belonging to considerable outworks which defended it, stands about 60 yards from the main body of the building; and the foundation of the outworks themselves were not long ago traceable along the east.  The parish is traversed from end to end by the road from Navan to Kells.  Liscarton is a rectory, and part of the benefice of Ardbraccan, in the dio. of Meath.  The tithe composition is returned in cumulo with that of the other parishes of the benefice.  In 1834, the Protestants amounted to 14, and the Roman Catholics to 222.
The Lewis Topographical Directory was first published in 1837 in two volumes, with an accompanying atlas.  The first edition is available online.  A second edition was published in 1842.
Lewis relied on the information provided by local contributors and on the earlier works published such as Coote's Statistical Survey (1801), Taylor and Skinner's Maps of the Road of Ireland (1777), Pigot's Trade Directory (1824) and other sources.  He also used the various parliamentary reports and in particular the census of 1831 and the education returns of the 1820s and early 1830s.  Local contributors were given the proof sheets for final comment and revision.  The names of places are those in use prior to the publication of the Ordnance Survey Atlas in 1838.  Distances are in Irish miles (the statute mile is 0.62 of an Irish mile).
Liscartin, a parish, in the barony of Lower Navan, county of Meath, and province of Leinster, 2 3/4 miles (N.W.) from Navan, on the river Blackwater, and on the mail road from Dublin to Enniskillen; containing 229 inhabitants.  It comprises 1188 statute acres, as applotted under the tithe act, of good quality and chiefly in tillage. Liscartin castle, supposed to have been originally a monastic building, was the birth place of the first Lord Cadogan, to which family it still belongs; part of it now constitutes the residence of T. Gerrard, Esq., the proprietor of a large flour mill in the vicinity; the outworks of the castle were considerable, and a gateway still remains, about 60 yards distant from the main building. Bachelor's Lodge, the neat residence of John Wade, Esq., is also in this parish.  It is a rectory, in the diocese of Meath, forming part of the union of Ardbraccan; the tithes amount to £69. 4.7.  In the R. C. divisions also it is part of the union or district of Ardbraccan, also called Bohermeen.
*******
Slater's Directory, 1894
Liscartan, a parish in co. Meath, barony of Lower Navan, union of Navan, diocese of Meath, 2 1/2 miles west south west from Gibbstown station on the Midland Great Western railway, 2 1/2 north west from Navan, containing 4 townlands.  For Protestant purposes this parish is united to that of Ardbraccan.  Liscartan Castle, an ancient building modernised, is the seat of Hugh J. Cullen esq. J.P.  The area comprises 1,303 acres; the population in 1891 was 144.
Private Residents
Cullen, Hugh J. J.P. Liscartan.
Lowry, Joseph, Scallionstown.
Farmer:
McGlea, Edward.