N&DHS Publications:
Our Publications are sold from the society directly (email: navanhistory@gmail.com) or from shops in the Navan town and district:
Willie Fagan's at Blackcastle
Centra at Blackcastle,
Royal County Services, Academy St., Navan
The Solstice Arts Centre Railway St.
The Parish Bookshop at St. Mary's
and Supervalu in Johnstown.


Read: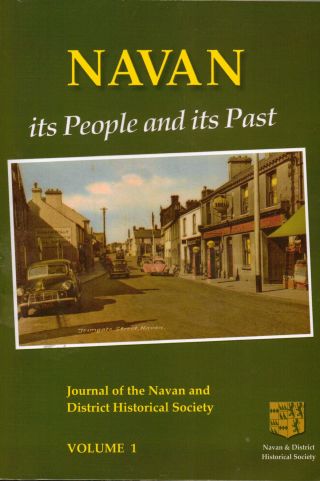 2. Navan - its People and its Past, Vol. 2
One copy left (hardback)
email: navanhistory@gmail.com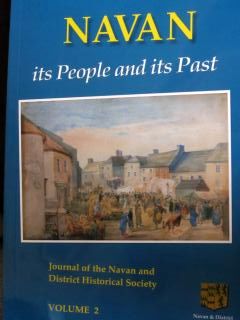 Donaghmore Medieval Church and Graveyard  by Cepta & Norman Dungan
Rathaldron Castle by Ciaran Mangan
Gussie Curtis' Forge in Old Cornmarket by Andre Devereux & N&DHS
The Role of Bread in Navan 1845-8 by Seán Condon
O'Reilly v. O'Reilly by John O'Grady
Cannistown Church & Headstone Inscriptions by Bernadette Murray
The Parnell Split in Navan & its Aftermath by  David Lawlor
Local Government in Ardbrccan Civil Parish 1803-14 by Seán Gallagher
Three Tavern Tokens from Navan  by Gerard Rice
The Sisters of Mercy and St. Joseph's by Sr. Enda Donovan
Navan and its people and WWI (part 1) by Ethna Cantwell
Elliott's Sawmills on the Blackwater by Richard Farrelly
A Few Memories from Behind a Navan Shop Counter by Paschal Marry
Navan's Roman Artefacts and W.F. Wakeman by Mairéad Crinion
Echoes along the Boyne – Rediscovering the Stackallen Lighters by Anthony Holten
Schooling at the Abbey by Michael A. Conneally
Housing the People –from O'Growney Tce. to St. Mary's Pk. by Peter Connell
Strange Creatures and Mixed Messages by Mary Deevy
The Beaufort Family by Noel French
More from the Schools Folklore
***


3. The Bridges of Navan.
Available from us
(email: navanhistory@gmail.com)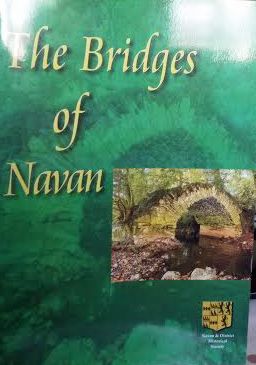 This all colour booklet describes the
history of 12 of Navan's bridges built over a period of 800 years.
It costs €5. An ideal present for anyone with an
interest in Navan.
4.  Navan - its People and its Past, Vol. 3
Under 20 copies left. email navanhistory@gmail.com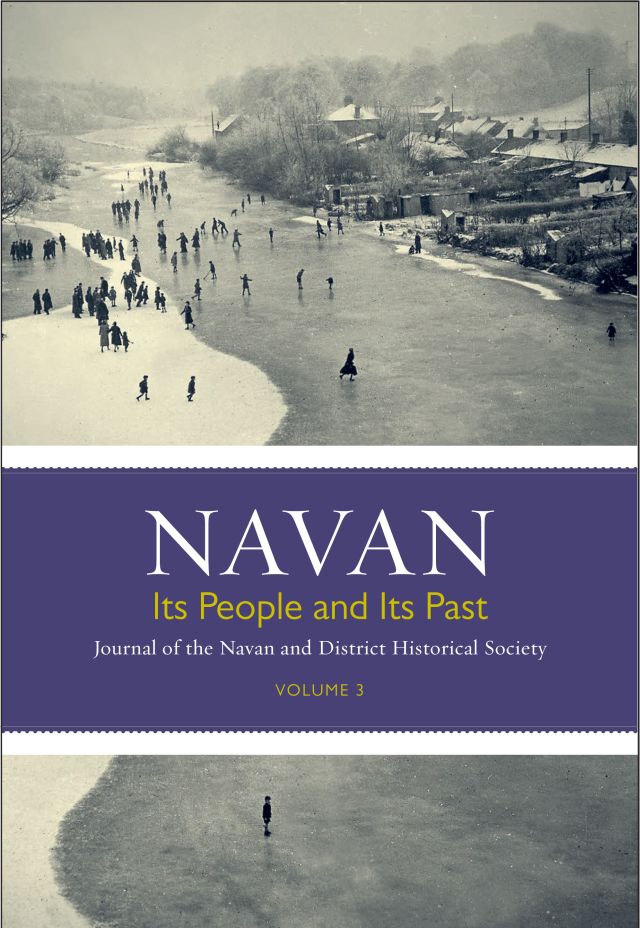 The Great Weir of Navan and the Boyne Mills by Anthony Holten
The Schools' Folklore 3
Reflections on Mattie Mulvany - Timberman at Elliott's Mill by Vincent Mulvany
Beauparc Copper Mine by Ciarán Mangan
Response to the Rising by Peter Connell
James Quigley, Navan's Doubtful Volunteer by Seán Condon
The Policing of Navan in the time of Co. Inspector Alexander Gray 1912-16 by Geraldine English
Navan and it's people during the Great War (part 2) by Ethna Cantwell
Balrath Windmill - the building, the time and the people by Paschal Marry
The Controversy surrounding Boy's Secondary Education in Navan by Jimmy Caffrey
The Memory of Change in Navan by Ann Reilly
The 1895 All Ireland Football Final and a Brief History of Navan O'Mahony's by Colin O'Brien
The Thompsons of Oatlands House by Gerry Mahon
Personal Ads from the Boston Pilot
Bishop Sheil by Noel French and Richard Farrelly
***
5. Navan - Its People and Its Past, Vol. 4
Around 30 copies left. Available in Tierneys, or from us (email: navanhistory@gmail.com)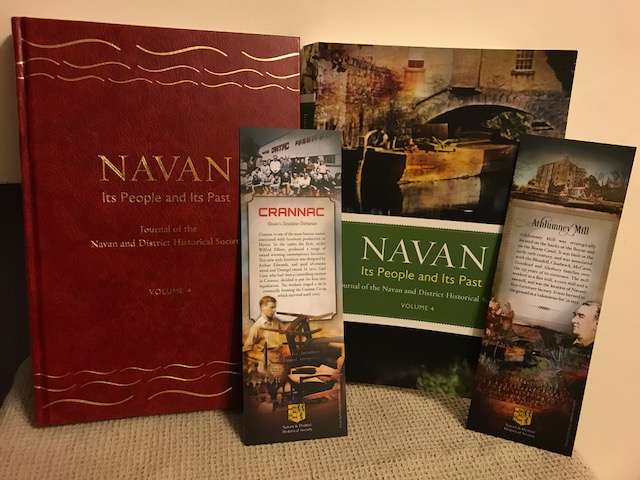 The Battle of Ashbourne, its Aftermath in Navan, Friday 28 April 1916, by Vincent Mulvany
Aspects of Navan's Industrial Heritage - A brief History of the Two Mills in Athlumney and the Factory Village, by Ethna Cantwell
James McCann 1840-1904 Nationalist MP True Reformer and Patriot, by Clare Ryan
Navan Industrialists at the Show,
Memories of Furniture Making in Navan in the late 1950's - early 1960's, by David Breslin
The Crannac Furniture Enterprise in Navan, by Ethna Cantwell, Mairéad Crinion & Noel French
Some Personal Memories of Navan in the 1940's and 1950's, by Ken Steenson
Navan in the 1960's, by Jim Gammons
The Beechmount Ballroon, by Gerard Smyth
A Snapshot of Navan in 1824 from Pigot's Commercial Directory of Ireland,
Continuity and Change - some family names in Navan over three Centuries, by Peter Connell
Dr. Phelan comes to Navan, by Sean Condon
True Stories from my Young Days - Remembering some of Navan's WWI Veterans, by Séamus Smyth
The Search for Guy Somerville Dion Gibney, by Mairéad Crinion
Mrs Russell & Mrs Molloy, by Shane Cahill
The Gaelic League in Navan - the early years 1901-1911, by Ciarán Mangan
A short history of the Baile Ghib Gaeltacht 1937-2017, by Harry McGarry
Proudstown Racecourse Navan - Horses, Races and People, by Cepta Dungan
Cousin Wilfrid: When Operation Shamrock came to Navan, by Jean O'Sullivan
Insurgency and Counter-insurgency in Royal Meath, by Ciarán McDonnell
Report on the Remains of Giant Deer, Megaloceros Giganteus, recovered from Randalstown, Navan, by Siobhán Duffy
40 Years of the Navan & District Licensed Vintners' Ball by Cepta Dungan
6. They Shall Grow Not Old - available from ourselves and the County Library Navan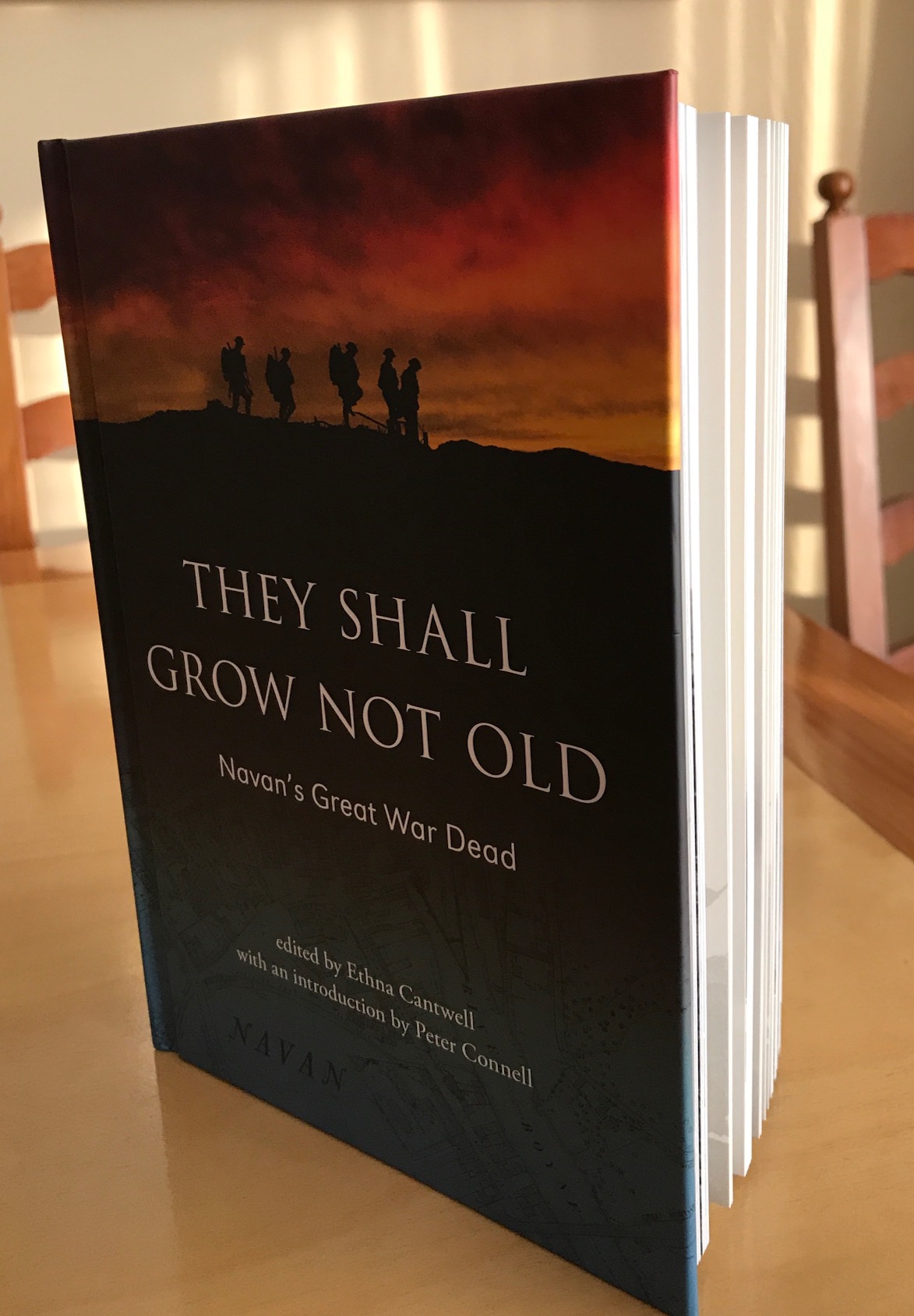 A collection of information and photos of the Navan men who lost their lives in WWI.  This book will be a valuable record for generations to come.  These men should not be forgotten.  Published to accompany the WW1 memorial to these Navan men, unveiled on on Friday 9th November 2018 at 11am in Watergate Street.
7. Navan - its People and its Past, Vol. 5
Limitd stock left - around 30 copies. Currently available in Tierneys Trimgate St. or from us - email: navanhistory@gmail.com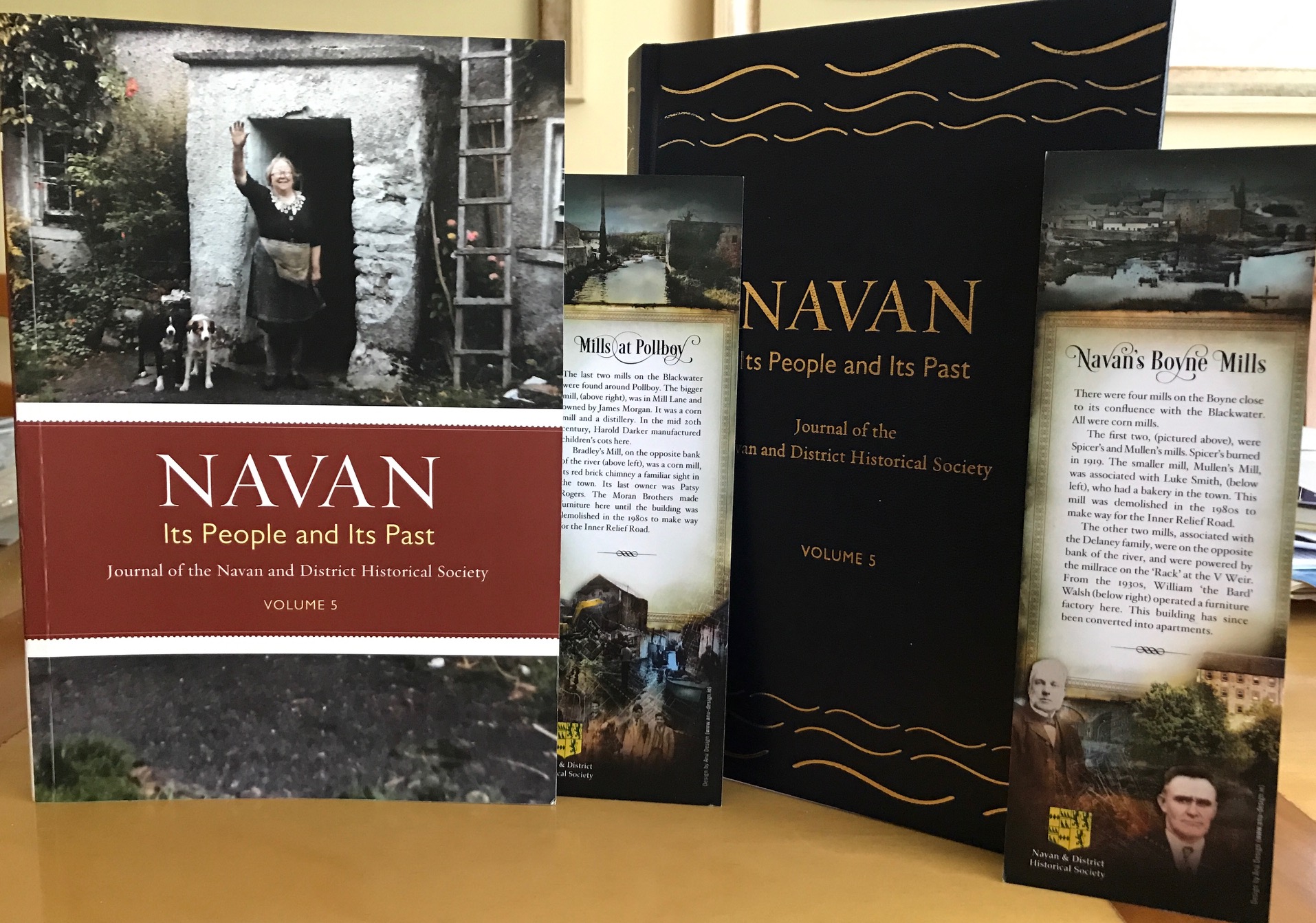 Vikings at Navan by Clare Ryan
Winnie McGoona of Donaghmore by Mairéad Crinion, Barbara Kennedy (née Johnson) & Bill Coffey
The Story of Thomas Reilly - Transported from Navan to New South Wales in 1838 by Hazen Cleary
The Great Flu Epidemic in the Navan Area 1918-19 by Peter Connell
Glimpses of Navan during the 'Troubles' 1919-21 by Ethna Cantwell
The Imprisonment of James Quigley 1920-1921 by Séan Condon
Navan Hurling Club - Meath's First Hurling Champions by Kevin Mallon
The CYMS Brass Band / Navan Pioneer Brass and Reed Band by N&DHS
The Navan Silver Band by Francis Duffy & Marlowe Casey with additional material by Tony Kavanagh
THe Distribution of Navan's Boyne and Blackwater Mills by Ethna Cantwell
Navan's HEP Station by N&DHS
Aspects of Navan's Industrial Heritage - Nash's Foundry by Richard Farrelly
The Glacial History of the Navan Area by Robert Meehan
Joe Reilly - A Memoir in his Own Words
Dr. Patrick Randles - Advocate for Children 1924-2017 by Cepta Dungan
Wilkinstown in mid 20th Century by Jim Gammons
Award Winning Crannac Furniture
Alexander Reid & Bailis Townlands and their Landlord Mr. Arthur McKenna by Mairéad Crinion
On the River Nanny's Northern Ridge from Brownstown to Navan, Dynasties, Graveyards,
Cemteries & Ledger Stones by Paschal Marry
Fragments from World War I by Ethna Cantwell
*******
8. Navan - its People and its Past, Vol. 6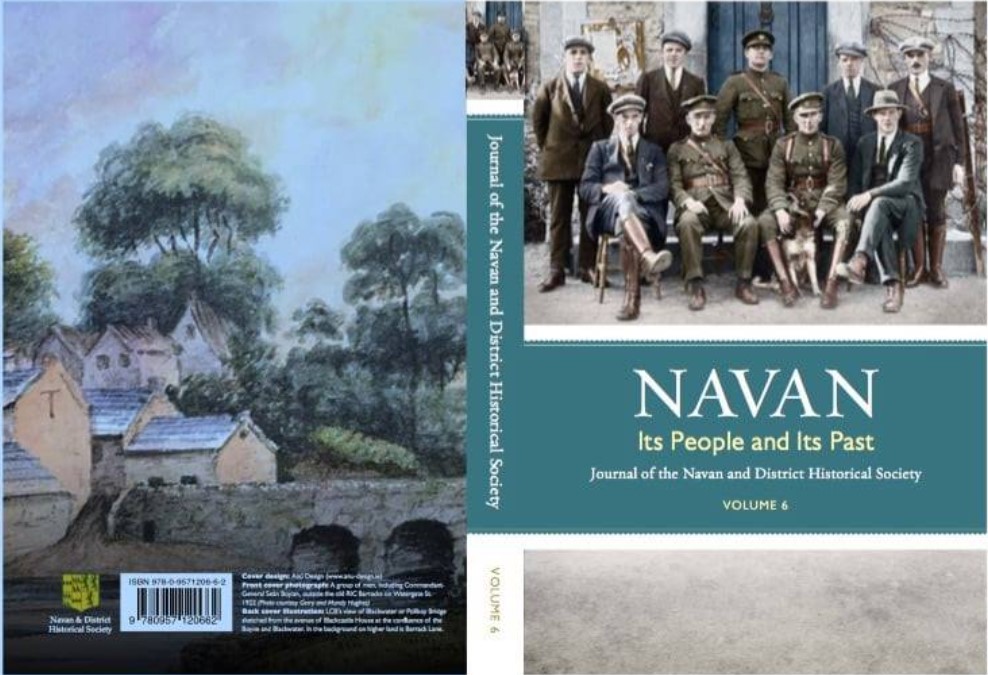 Contents of Volume 6:

The South Wales Borderers in Navan
by Ultan Courtney
Some Key Events in Navan & District 1919-22 by N&DHS
Murder at Donaghmore and the Hanging of Joseph McManus by Peter Connell & Norman Dungan
The Wallace and Carty Families of Navan Town by Emma Laffey
The Imprisonment and Court Martial of James Quigley in 1916 by Seán Condon
Further Aspects of Navan's Industrial Heritage, Mason's Farm Impelments by Mairéad Crinion
Memories of growing up in Academy Street by Barbara Prendergast (née O'Daly)
Bishop Francis Murphy of Academy Street
John P. Timmon 1859-1941 by N&DHS
Transport in Navan in 1900 by Clare Ryan
Madeline Spicer 1889-1959 by Ethna Cantwell
A History of the Town of Navan by Fr. Gerry Rice
Dunmoe Castle - Aspects of its History by Kevin Traynor
Millers of Dunmoe Mill by Bernard Rowe
Louisa Catherine Beaufort 1781-1863, A Forgotten Artist by David Breslin
Navan and its Relief Committee During the Great Famine 1846-47 by Peter Connell
The Story of two Bronze Pins by Dan Ahern and N&DHS
Stackallen Cotton Mill and the Grimshaw brothers by Hilary Tulloch
A Leinster Dream - WWI poem by T. Curtis
In Far Foreign Fields - The Battle of Jutland Memorial Park in Thyboron, Denmark by Ethna Cantwell
Other Publications of Local Interest:
St. Mary's Church of Ireland Navan Bicentary, An Illustrated Guide, Robert Dier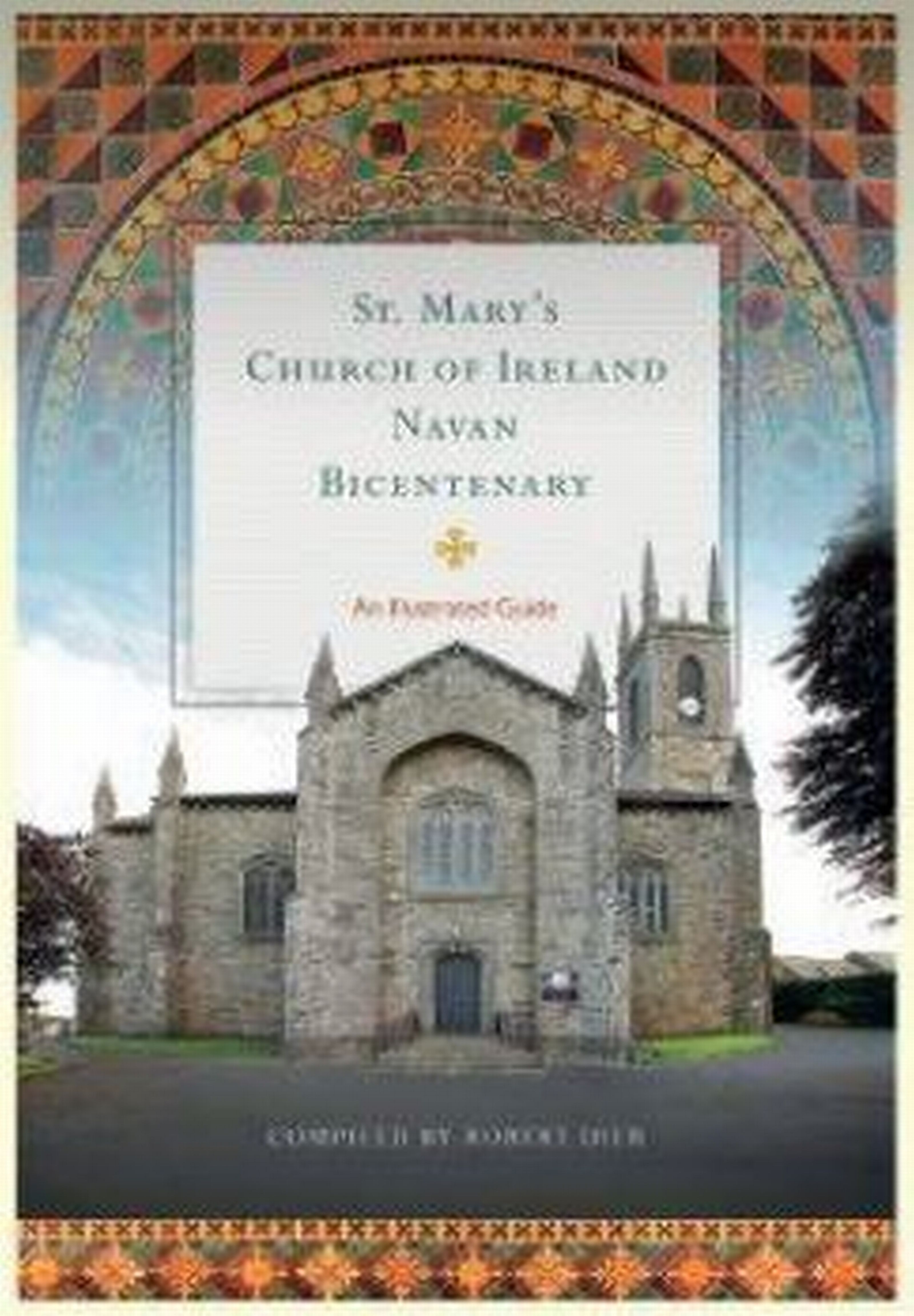 ***
Books relating to the Decade of Commemoration 1913-23:
Eamon Duggan, Counsel to the Revolution, Peter Connell in association with Mary Hayes, (2021)
Politics and War in Meath, 1913-23,
Oliver Coogan, (reprint), (2013)
The Old IRA in Meath, Owen McFadden, (2015)
1916 Meath and More, Noel French, (2016)
The Meath War Dead, 1914-18, Noel French, (2011)
They Shall Grow Not Old - Navan's Dead of the Great War ed., Ethna Cantwell (2018)
The Tin Hats - The South Wales Borderers in Meath 1920-22, Ultan Courtney

(2018)
Mapping the War of Independence in Meath, Ultan Courtney
Hugh de Lacy, Noel French (2022)
The O' Growney Memorial, Gill, 1904
Beauties of the Boyne and Blackwater, William R Wilde, 1849, (reprinted 1978)
Changing forces shaping a 19th century town, Peter Connell, 1978
Guide to National and Historic Monuments of Ireland, Peter Harbison, 1992
Skryne and the Early Normans, Elizabeth Hickey 1994
A History of Meath County Council 1899-1999, Denis Boyle 1999
Norman Kilcloon, Rev. Gerard Rice 2000
The Diocese of Meath in the Eighteenth Century, Patrick Fagan  2001
Navan By The Boyne, Noel French  2002
The Bend in the Boyne, Geraldine Stout Cork University Press
The Making of Meath - The  County's Natural Landscape Histor, Robert Meehan Meath Co.Co. 2012
Mapping Meath in the early 19th Century, (Larkin's map 1812), Arnold Horner, Wordwell in assoc. with Meath Co.Co.
The Struggle for Páirc Tailteann Michael O'Brien  (1994)
Treasures of the Boyne Valley,
Peter Harbison 2003
The Land and People of County Meath 1750-1850, Peter Connell 2004
(Rioche na Midh, 2005, page 217-219: Review of above)
The Diocese of Meath under Bishop John Cantwell, Paul Connell  2004
(Riocht na Midhe, 2005, pp 212-217:  Review of above)
Navan - Now and Then, Navan Rotary 2005
The Landed Gentry and Aristocracy Meath, Art Kavanagh  2005
The Establishment & Consolidation of the Rathcairn Gaeltacht, Andy Ennis 2005
Royal Tara Golf Club, 1906-2006
The Book of Tara, Michael Slavin Wolfhound Press 1996
Religion and Reformation in the Tudor Diocese of Meath, Brendan Scott 2006
Meath Voices; Tommy Murray: 2006.
Divine Right? The Parnell Split in Meath, David Lawlor 2007
Where Toll Roads Meet, Anthony Holden  2008
On Ancient Roads, Anthony Holten 2011
A Meath Anthology, ed. Tom French
The Meath War Dead, 1914-18, Noel French 2011
History of St. Mary's Navan Credit Union
St. Mary's Church of Ireland, Kilmessan, Mary Gannon. 2011
The Boyne Currach, Claidhbh Ó Gibne 2012
The Field Names of County Meath, ed. Frances Tallon, compiled Joan Mullen 2013
Charles Tisdall of Co. Meath, Marion Rogan Four Courts Press 2014.
They Shall Not Grow Old: Navan's Great War Dead, Ethna Cantwell: 2018.
The Tobacco Fields of Meath, Liam Nevin www.TheAuthors Friend.com
A History of Williamstown, Kells, Liam McNiffe
Meath - Studies in Local History, Liam McNiffe ed. Costello Print Navan
Buildings of Meath - A Selection of Protected Structure
s, Kevin. V. Mulligan Fieldgate Press 2001
Meath Holy Wells, Noel French,  pub. Meath Heritage Centre Trim 2012
The Bective Abbey Project, Co. Meath. Excavations 2009-12. Geraldine Stout, Matthew Stout.
2016.
*******
Early Navan Newspapers
Meath Chronicle Centenary Publication:
The Meath Herald started on the 15th February
1845.
It was printed in Kells by Thomas Kelly Henderson. It had very little local news and more world news. It cost four pence which was a prohibitive price at the time.
The Meath Reporter was founded in 1887.  It was a Parnellite newspaper.
Sinn Fein, The Oldcastle Monthly Review was the first paper to use the title Sinn Fein.  It started in 1902.  The founders were Paddy Bartley, Prospect House, Mountnugent, Liam Sheridan, Drumleery, Michael Grace and Charlie Fox, Oldcastle.  It cost one penny and the annual subscription was one shilling and six pence post free to any part of Ireland.  At the bottom of page one it its boast was "Printed on Irish Paper with Irish Ink."  It lasted two years.
The Irish Peasant started on 17th January 1903 and was Navan's first newspaper.  Its founder was James McCann, Ardsallagh House, Navan.  He was a Dublin stockbroker and nationalist Member of Parliament.
It continued as a local paper until December 1905.  W.P. Ryan became editor and he converted the Irish Peasant into a national paper.  In mid week it had a national edition and a local week end edition.  It ceased publication in late 1906 and was succeeded by The Peasant and in 1908 by The Nation.
The Meath People was founded in the 1860s by a Mr. O'Reilly with offices in Academy Street opposite the County Infirmary.  It had eight pages and cost four pence.  The full run, which lasted 6 years Aug. 1857-28th Nov 1863 is available on microfilm in the National Library Dublin.
The Meath Courier followed soon after.  It was founded by Mr. McCarthy and cost three pence.  Its office was in Academy Street.  No copies survive.
The Navan Independent succeeded The Meath Courier. It was printed by Mr. Kelly in the Market Square.  It lasted two years.  No copies survive.
The Meath Advertiser was printed in Farrell Street, Kells.  The owner and printer was Mr. Wilson.
The Meath Chronicle itself.  Founded in 1897.  It is still serving County Meath and is based in Navan itself to this day.  Weekly publication and is owned by Cletic Media Group.