Our Society's Publications:

Read: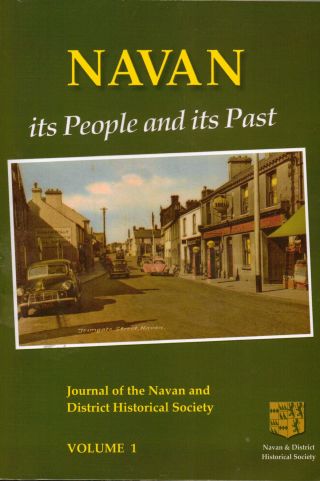 *******************************************
2. Navan - It's People and It's Past, Vol. 2. Currently available in shops or from us.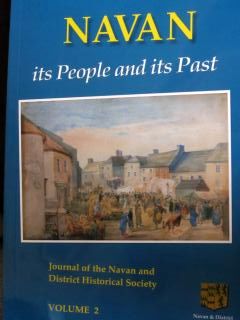 Donaghmore Medieval Church and Graveyard  by Cepta & Norman Dungan
Rathaldron Castle by Ciaran Mangan
Gussie Curtis' Forge in Old Cornmarket by Andre Devereux & N&DHS
The Role of Bread in Navan 1845-8 by Seán Condon
O'Reilly v. O'Reilly by John O'Grady
Cannistown Church & Headstone Inscriptions by Bernadette Murray
The Parnell Split in Navan & its Aftermath by  David Lawlor
Local Government in Ardbrccan Civil Parish 1803-14 by Seán Gallagher
Three Tavern Tokens from Navan  by Gerard Rice
The Sisters of Mercy and St. Joseph's by Sr. Enda Donovan
Navan and its people and WWI by Ethna Cantwell
Elliott's Sawmills on the Blackwater by Richard Farrelly
A Few Memories from Behind a Navan Shop Counter by Paschal Marry
Navan's Roman Artefacts and W.F. Wakeman by Mairéad Crinion
Echoes along the Boyne – Rediscovering the Stackallen Lighters by Anthony Holten
Schooling at the Abbey by Michael A. Conneally
Housing the People –from O'Growney Tce. to St. Mary's Pk. by Peter Connell
Strange Creatures and Mixed Messages by Mary Deevy
The Beaufort Family by Noel French
More from the Schools Folklore
**********************************


3. The Bridges of Navan.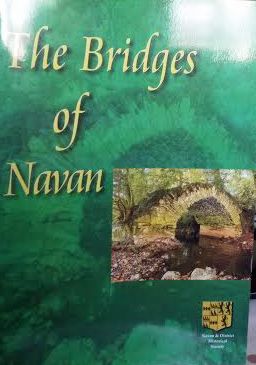 This all colour booklet describes the
history of 12 of Navan's bridges built over a period of 800 years.
It costs €5. An ideal present for anyone with an
interest in Navan.

~~~~~~~~~~~~~~~~~~~~~~~~~~~~~~~~~~~~~~~~~~~~~~~~~~~~~~~~~~~

Oliver Coogan's seminal work Politics and War in Meath 1913-1923 .
Available in Meath County Library Navan and selected outlets.  €15


Other Publications of Local Interest
The O'Growney Memorial, Gill 1904
Beauties of the Boyne, William R Wilde (orig. pub. 1849) 1978 (reprint)
The Waters of the Boyne and Blackwater, Cyril Ellison

Changing Forces Shaping a 19th Century Irish Town, Peter Connell 1978.
Politics and War in Meath 1913-1923, Oliver Coogan 1983
Guide to National and Historic Monuments of Ireland, Peter Harbison 1992
Skryne and the Early Normans, Elizabeth Hickey 1994
A History of Meath County Council 1899-1999, Denis Boyle 1999
Norman Kilcloon, Rev. Gerard Rice 2000
The Diocese of Meath in the Eighteenth Century, Patrick Fagan  2001
Navan By The Boyne, Noel French  2002
The Bend in the Boyne Geraldine Stout Cork University Press
The Making of Meath -The  County's Natural Landscape History Robert Meehan Meath Co.Co. 2012
Mapping Meath in the early 19th Century (Larkin's map 1812)  Arnold Horner  Wordwell in assoc. with Meath Co.Co.
Treasures of the Boyne Valley,
Peter Harbison 2003
The Land and People of County Meath 1750-1850, Peter Connell 2004
The Diocese of Meath under Bishop John Cantwell, Paul Connell  2004
Navan - Now and Then, Navan Rotary 2005
The Landed Gentry and Aristocracy Meath, Art Kavanagh  2005
The Establishment & Consolidation of the Rathcairn Gaeltacht, Andy Ennis 2005
Royal Tara Golf Club, 1906-2006
The Book of Tara Michael Slavin Wolfhound Press 1996
Religion and Reformation in the Tudor Diocese of Meath, Brendan Scott 2006
Divine Right? The Parnell Split in Meath, David Lawlor 2007
Where Toll Roads Meet, Anthony Holden  2008
On Ancient Roads, Anthony Holten 2011
A Meath Anthology, ed. Tom French
The Meath War Dead, 1914-18, Noel French 2011
History of St. Mary's Navan Credit Union
St. Mary's Church of Ireland, Kilmessan, Mary Gannon. 2011
The Boyne Currach, Claidhbh Ó Gibne 2012
The Field Names of County Meath, ed. Frances Tallon, compiled Joan Mullen 2013
Charles Tisdall of Co. Meath Marion Rogan Four Courts press 2014
The Tobacco Fields of Meath Liam Nevin www.TheAuthorsFriend.com
A History of Williamstown Kells Liam McNiffe
Meath - Studies in Local History Liam McNiffe ed. Costello Print Navan
Buildings of Meath - A Selection of Protected Structure
s Kevin. V. Mulligan Fieldgate Press 2001
Meath Holy Wells Noel French  pub. Meath Heritage Centre Trim 2012
Riocht na Midhe 2015; Page 320. Review of;Marion Rogan; Charles Tisdall of County Meath, 1740-51; Maynooth Studies in Local History, Four Courts Press, 2014, 68pp.                   isbn: 978-1-84682-515-6   Euro8-95.
Riocht na Midhe 2015; Review of; Anthony Holton; Of Other Days; Lulu Press, 2014, 404pp isbn 9781291705348     Euro19-70.
Primary
Tithe Applotment Books 1830s
Ordnance Survey Field name Books 1836-1837
Valuation 1850s Grifffith Valuation available online
Folklore Commission Schools Survey 1937-1938  (on microfiche in Meath Co.Library Navan)
Navan Workhouse and Board of Guardian Records (in Meath County Library Navan)
Meath Chronicle Centenary Publication
''The Meath Herald'' started on the 15th February 1845. It was printed in Kells by Thomas Kelly Henderson. It had very little local news and more world news. It cost four pence which was a prohibitive price at the time.
''The Meath Reporter'' was founded in 1887. It was a Parnellite newspaper.
Sinn Fein, The Oldcastle Monthly Review was the first paper to use the title Sinn Fein. It started in 1902. The founders were Paddy Bartley, Prospect House, Mountnugent, Liam Sheridan, Drumleery, Michael Grace and Charlie Fox, Oldcastle. It cost one penny and the annual subscription was one shilling and six pence post free to any part of Ireland. At the bottom of page one it its boast was "Printed on Irish Paper with Irish Ink." It lasted two years.
''The Irish Peasant'' started on 17th January 1903 and was Navan's first newspaper. Its founder was James McCann, Ardsallagh House, Navan. He was a Dublin stockbroker and nationalist Member of Parliament.
It continued as a local paper until December 1905. W.P. Ryan became editor and he converted the Irish Peasant into a national paper. In mid week it had a national edition and a local week end edition. It ceased publication in late 1906 and was succeeded by "The Peasant" and in 1908 By "The Nation.
"The Meath People" was founded in the 1860s by a Mr.O'Reilly with offices in Academy Street opposite the County Infirmary. It had eight pages and cost four pence. The full run, which lasted 6 years Aug. 1857 - 28th Nov. 1863 is available on microfilm in the National Library Dublin.
"The Meath Courier" followed soon after. It was founded by Mr. McCarthy and cost three pence. Its office was in Academy Street. No copies survive.
"The Navan Independent" succeeded "The Meath Courier." It was printed by Mr. Kelly in the Market Square. It lasted two years. No copies survive.
"The Meath Advertiser" was printed in Farrell Street, Kells. The owner and printer was Mr. Wilson.
Some Recent Books of Meath Interest
March into Meath-In the Footsteps of 1798,   Eamon Doyle.
Letters from Abroad: The Grand Tour Correspondence of Richard Pocock & Jeremiah Milles, Rachel Finnegan.
Meath Towards a History, Margaret Conway.
The Meath War Dead: A History of the Casualties of the Great War, Noel French.
Riocht na Midhe Index 1955 -2007.
https://mahs.ie/files/Author-index-1955-2007.pdf