Navan Male Voice Choir
In the spirit of reviving traditional Latin motets and Gregorian plainchant the Navan Male Singers was formed in 1979.  They sang their first Mass in the recently built St. Oliver's Church at Blackcastle on Sept 9 1979, and have been associated with the church ever since.
They adopted "For Our Pleasure" as their motto, and branched out into secular male voice singing.  Entering their first competition, the Finglas Choral Festival in 1980, they took first prize in the sacred music section.  Following this success they founded the Navan Choral Festival in 1980, and built it up over the years before handing the reins on to the present Festival organisers.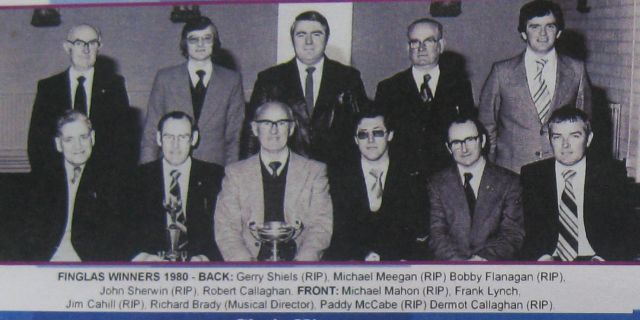 Over the years the Navan Male Voice Choir has competed with distinction in Wales, Limerick, Sligo, Bangor, New Ross, Navan, Howth , Kilcoole and Carrickmacross festivals.  They have sung at a number of live RTE Masses, representing the Meath Diocese at Lourdes in 1987, 1989, and 1991.
They sang at RTE's "Up for the Match" on the eve of the 1987 All Ireland Final.  They have performed at the National Concert Hall, the Pro Cathedral, Knock Shrine and a host of other venues.  The choir occasionally teams up with the local Tara Ladies' Choir for competitions and concerts and for the special Christmas Mass (of St. Cecilia) in St. Oliver's Church.
(Below) RTE  St. Patrick's Day 1991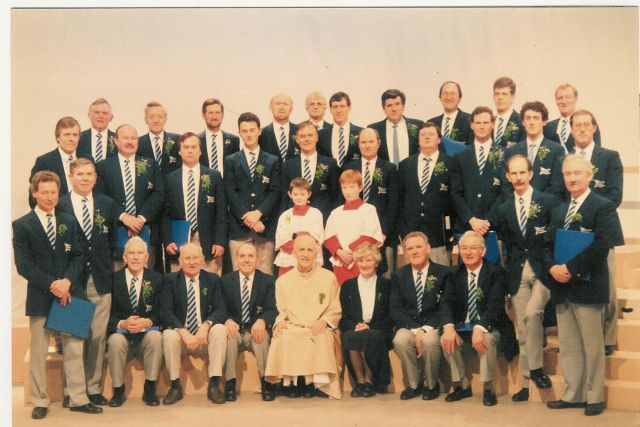 Photo courtesy Brian Meegan
Back Row: l-r Seán Reily, Stanley McDonagh, Alan O'Hare, Paul Keary, Michael Meegan,
David Harrison, Séamus Reilly, Robin Byrne, Terry Bellew,  Martin Reilly.
Middle Row: l-r James Russell, Hugh Kelly, Ernie McBride, Trevor Fitzherbert, Ken Toner, Kevin Toner, John Doyle, Gerry Duffy, Pat Rooney, Vaughan Williams,  Ritchie Brady.
Front Row: l-r (seated) Stephen Markey, Hughie Smith, Vincent Bradley,  Fr. Séamus Heaney, Sr. Ciarán Egan, John Reilly, Paddy Cunningham. (standing front right) Michael Moran, Frank Nelson.
(below) Music from the Navan Male Voice Choir 's CD "Adoramus Te"
Source: Richard Brady