Mary Anne Cruise of Rathmore & Cruicetown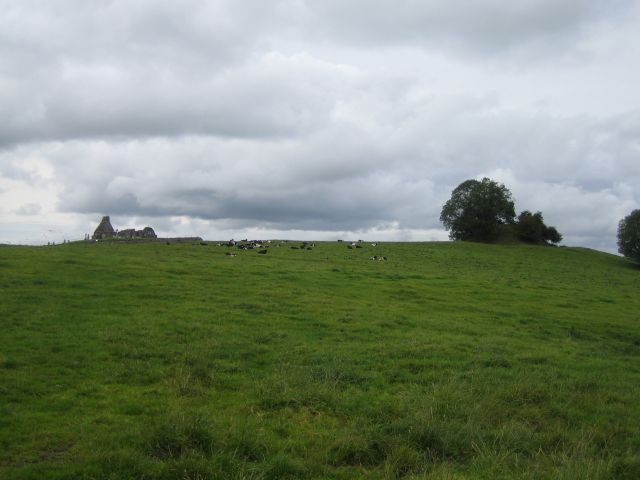 (above) Cruicetown Motte (with trees, right) and Medieval Church. Photo: © N&DHS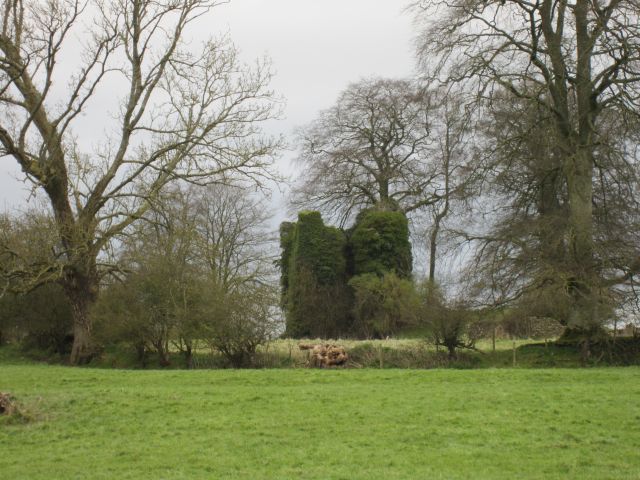 Rathmore Church and Castle (pictured below) are on the N51 from Navan to Athboy.

Mary Anne Cruise
The Cruises came to Ireland in Strongbow's train and settled in County Meath in the 12th century where for some 500 years they held extensive posessions, especially along the northern edge of the Pale between Nobber and Athboy.
Rathmore Castle
In the 15th century the head of the family was Sir Christopher Cruys (the original spelling ) and he owned Rathmore, Moydorragh and Cruicetown Castles and estates.  He married late in life and was very happy with his young wife, but his nephews (who lived at nearby Robertstown Castle (pictured below) and Brittas Castle) were very angry as they had expected to inherit all his property.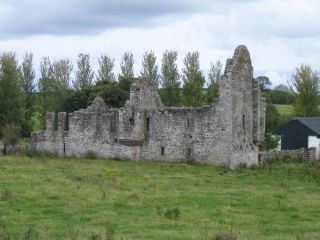 So they planned to murder them one evening as the husband and wife were walking up the long straight avenue by Cruicetown Lake to the Castle on their return from a few hours' visit to nearby Moydorragh Castle.
When attacked, Sir Christopher ordered his young wife to run to the Castle for help while he stood with his back to a tree and fought the ruffians with a sword till he fell riddled with wounds.
Robertstown Castle Photo: © N&DHS
The assassins then chased Lady Cruys (who was expecting soon to become a mother), and she only gained sanctuary by a second, for when the great oak door of the castle slammed, it caught and tore her mantle streaming out behind her as she ran.  She immediately summoned her servants and sent them out to help their master, but he was beyond their aid and so they bore his body back to the castle.  Sir Christopher had given his life to save his wife and coming child.
That night Lady Cruys had her husband buried by torchlight in Cruicetown Graveyard which is in the next field to the castle, and she had the report spread at the funeral that she was seriously ill, and not likely to survive the night.  But when the funeral was being celebrated, she gathered all the Cruicetown plate and jewels and had them sunk in strong chests in the little lake by the avenue.  She had herself placed in a coffin with holes bored in it so that she could breathe, and taking all the Cruicetown family deeds with her, set out in a melancholy procession to Rathmore Castle.  On arriving there, she collected all the Rathmore plate and had it placed in the coffin and buried the next day in the nearby graveyard as herself.  But in reality she and her old nurse set off secretly on horseback for Dublin and set sail for London, carrying all the deeds for Rathmore and Cruicetown.
Soon after arriving in London, Lady Cruys gave birth to a daughter whom she called Mary Anne.  For several years they lived on the proceeds of the jewels brought from Ireland, but when all was sold they became very poor, and had to subsist by washing clothes in the River Thames while they lived in a hovel on the river bank.  Some years later, Lady Cruys' health failed greatly, and Mary Anne had to beetle the clothes alone.

One day, while thus engaged, and singing as she worked, a song in Irish naming all the places owned by the family in County Meath, Sir Thomas Plunkett, son of Lord Killeen, passed over the bridge on his way to the Inns of Court as he was a lawyer.  He understood the words of the song and spoke to the singer who told him who she was and brought him to her sick mother.  Lady Cruys showed him all the family deeds of Rathmore, Cruisetown and Moydorragh.
Later Sir Thomas married Mary Cruys and on being appointed Lord Chief Justice of the King's Bench in Ireland they both returned to this country, first of all paying a visit to his father Lord Killeen (an ancestor of the present Earl of Fingal), and while at Killeen Castle they erected a cross in Killeen Church commemorating this bridal visit.  This Cross is still to be seen with ecclesiastical figures carved on it, and the names "Thomas Plunkett and Mary Cruys", but unfortunately no date.
Sir Thomas Plunkett, with the help of the Cruys deeds, managed to get back the Rathmore and Cruicetown property for his wife and they chose to live in Rathmore Castle.  They dug up the plate buried in Rathmore graveyard and raised the chests that so many years before been sunk in Cruicetown Lake.  This pair established a long dynasty of Plunketts at Rathmore, near Athboy, County Meath.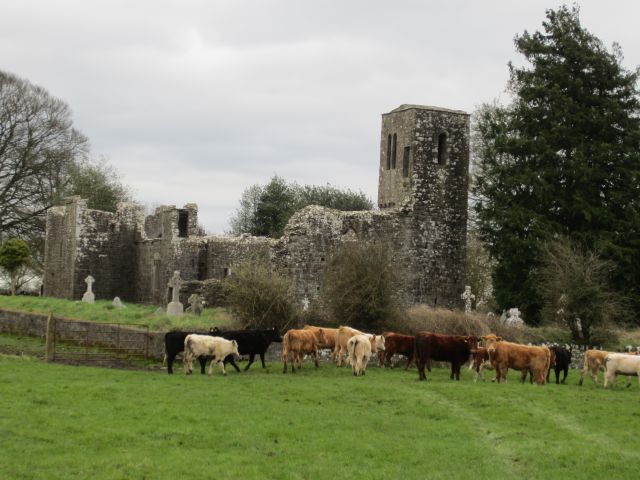 (above) Rathmore Church Photo: © Navan & District Historical Society
Note: This Church is dedicated to St. Lawrence, and is the manor church of Rathmore, and is the third of the Plunkett churches of Meath - the other two being those of Killeen and Dunsany.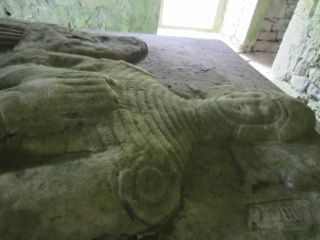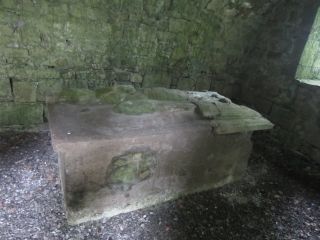 (above) Effigies in Rathmore Church (all photos © N&DHS)
Some 80 years ago, a Mrs. Markesey (wife of the then Rector of Castletown Kilpatrick, Co. Meath), came across an old blind man in Navan who knew a few stanzas of  "The Song of Mary Anne Cruys" which he sang in Irish.  She made a paraphrase in English and published  in the Trinity College Magazine, as her husband was a Divinity Graduate of that University.  I went to the Trinity College, Dublin, Library and read her article in an old dusty magazine and now append:

A Fragment of Mary Cruy's Song:
Ah ! Blessed Mary ! hear me singing,
On this cold stone, mean labours plying
Yet Rathmore's heiress might I name me
And broad lands rich and many claim me
Gilstown, Rathbeg; names known from childhood.
Fair Johnstown, hard by bog and wild wood.
Rathaffe - Blackwater near it floweth.
And Harton, where the white wheat groweth.
Kilskeer, with windows shining brightly,
Balbreast, abundant daisies showing,
Full pails and churns each day bestow
Thee, Ballycred too, memory prizes;
Old Oristown to mind arises.
Caultown, near bogs, black turf providing.
Rathkenny in its Baron priding.
The twelve Poles, Amarbregia follow,
Kilmainham of the woody hollow.
Cruisetown with lake by sunbeams greeted,
Moydorragh gay mid fair woods seated.
Still could I speak of townlands many,
Three score along the banks of the Nanny 
Twelve by the Boyne, if it were pleasure
To dwell on lost and plundered treasure.

*******
Source:
Beryl F.E. Moore M.B. MA