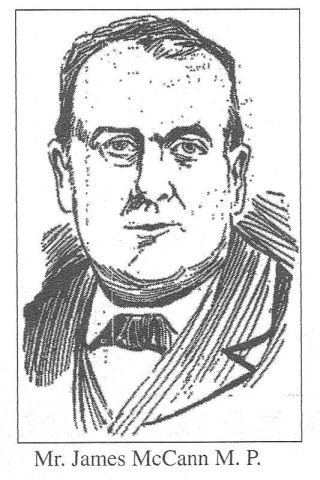 Navan
It's People and It's Past.
Journal of the
Navan and District Historical Society.
Volume 4.
Page 33.
James McCann.
James McCann (1840-1904) was a Dublin stock broker, a Nationalist M.P. at Westminister and a champion of rural reform in Ireland.
He was born in Channon Rock Co. Louth, reared among tillage farmers and millers, and taught by the Christian Brothers in Drogheda.
In the 1890s he sold his stocks and shares and bought land in Co. Meath.  He became owner of the old Russell Estate at Ardsallagh, and of a great part of the town of Navan.  He devoted much of his time to schemes aimed at the betterment of the peasants and workers in the Boyne Valley.

He divided up his estate into smaller tillage farms, moving away from pasture and beef farming.  At Teltown, he divided a ranch into small holdings.  He built a number of model cottages there, with proper water supply and other amenities. Ultimately, the McCann holdings passed into the ownership of the occupiers.

He established a Bacon Factory in Navan, (at Athlumney) having as its symbol the Round Tower at Donaghmore (below left).
He converted the flax mill to woodworking and sawmilling by founding the Navan Sawmill and Furniture Factory. These enterprises employed 70 men between them.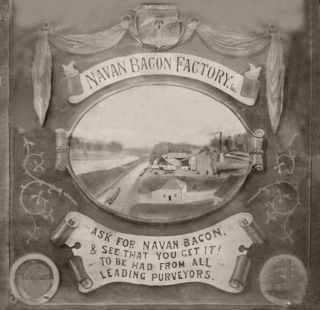 He found enterprise crippled at every turn by high transport costs. Transport reform became a passion, and with this in mind he opened up canal communication with Drogheda by taking over the Boyne Canal and attempting to make it pay.
In 1902 he established a dry dock at Navan between the canal and the river, where 3 lighters were built.[1] Goods were carried free of toll and at very low rates on the Navigation for the first time, a development which aroused favourable comment at Westminister.

In 1900, he was elected Nationalist M.P. for the Stephen's Green division in Dublin.  He spoke there in 1901, on the railway question.  The rates on transport of agriculural produce, he said, were higher in Ireland than anywhere else in the world.  He complained that the Railway Companies bought up all competition in order to maintain a private monopoly.  His words fell on deaf ears.  He felt there could be no true well being for the people until the over-riding political problem was settled.  He called Ireland "an inverted pyramid", where the interests of the many were subordinated to the profits of the few.

On 17 January 1903, the year before he died, he started a local newspaper for Navan called the Irish Peasant. It had its own stand on issues of national interest.   In 1905, it became a national weekly costing 1 penny per copy.
It promoted the cause of the tenant farmer.  It also promoted secular education.  This upset the clergy, especially Cardinal Logue.  The paper failed because Cardinal Logue threatened to forbid it.  He called it "poisonous and anti- Catholic".  The Irish Peasant closed in 1906 and its print works was later acquired by the Meath Chronicle.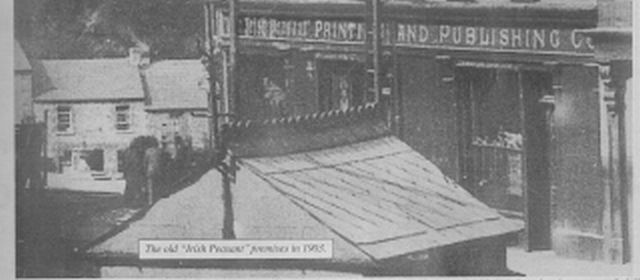 (above) The old Irish Peasant Print Works in 1903
James McCann was a "homely and hearty character" (deBlacam).  He was good company, delighting in hospitality and laughter.  He was a deeply spiritual man, reading a chapter of the "Imitation of Christ" every morning before settling out for business.
His family life was a happy one.  He was married with 5 children, 4 boys and 1 girl.  His only daughter entered the Poor Clare Convent in Ballsbridge where she later died, his eldest son became a Jesuit, Arthur, who inherited the land from his father died at Ardsallagh, Thomas who pre-deceased his father and John, the youngest became a business man in Dublin.

James McCann died in Dublin on 16 Feb 1904. The Meath Chronicle, reported :
"The townspeople (of Navan) of every rank united in deploring the loss of one who by his benevolence and public spirit had conferred upon them substantial and lasting benefits."
The meeting of the Board of Guardians adjourned without transacting any ordinary business. Resolutions of condolences were passed by Navan Urban Council.  A special train was laid on from Navan to Dublin to take 700 mourners from Navan to pay their last respects at Glasnevin Cemetery.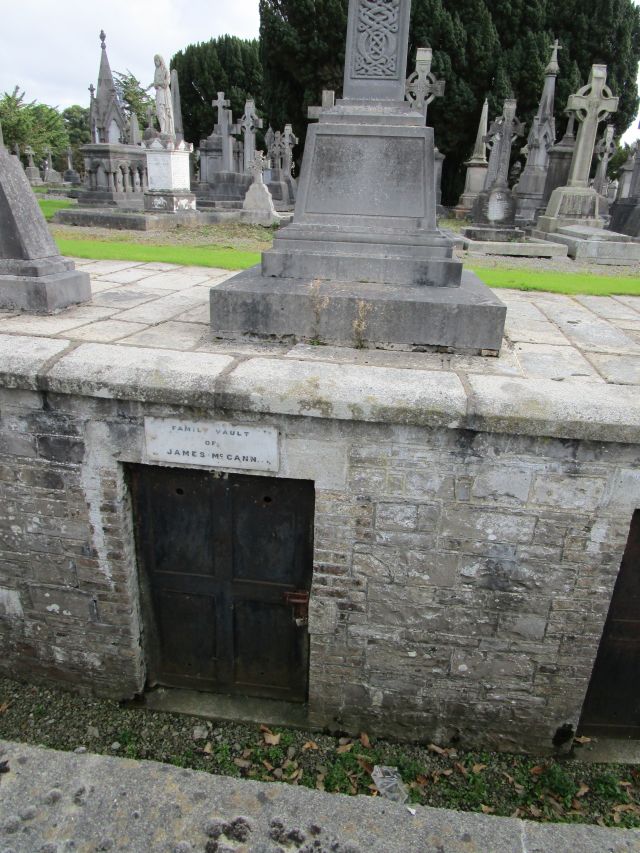 (above) The McCann Family vault in Glasnevin Cemetery (Photo ©N&DHS)
*******
Riocht na Midhe, 2016, page 212
Remebering Irish Civilian Mobilisation during the First World War, Clare O'Nelll. Belgian Refugees.
" A group of eighty refugees arrived in Dublin Port on 20 October 1914.  Among those who met the refugees on arrival and made arrangements for them were Mr. and Mrs. John McCann.  John McCann was the son of the James McCann M.P. who had built a business empire in stock brokerage that he used to purchase extensive properties in County Meath, including the estate at Ardsllagh. John's brother Arthur had inherited the estate at Ardsallagh and John lived at Simmonscourt Castle in Dublin."
James McCann M.P., Obituary
The death took place this afternoon at his residence Simmons Court Castle, near Dublin of Mr. James McCann M.P., for the St. Stephens -Green Division of Dublin.  Mr. McCann had only been ill for a few days and his death was quite unexpected.  The head of one of the leading firms on the Dublin Stock Exchange, Mr. McCann was for many years one of the most prominent and best known figures in commercial and financial circles in Ireland.
At the general election of 1901 he contested the St. Stephen Green Division in the Nationalist interest, and captured the seat from Mr. James H Campbell, K.C., the present Solicitor General for Ireland and a junior member for Dublin University.  Although nominally a member of the Nationalist Party, Mr. McCann took no active interest in politics, and was seldom or never seen at Nationalist meetings or on Nationalists platforms.
He was chairman of the Grand Canal Company of Ireland, which largely by his efforts attained greatly increased prosperity.  Mr. McCann was actively interested in many schemes for economic and industrial improvements in Ireland.  Some years ago he acquired the controlling interest in the waterway between Navan and Drogheda, through a portion of which he made a canal.  He made this into a free waterway, and, as a result of the transit facilities which he offered the farmers for the carriage of their produce the trade of this district steadily improved.  He recently acquired an estate which made him practically the landlord of the town of Navan.

He began a boat building industry at Navan, in connection with his canal scheme, and established a bacon factory, which is at present dealing with 500 pigs per week.  He was also engaged in the erection of saw mills in this neighbourhood, and proposed to divide a portion of his estate into small farms of about five acres for the purpose of cultivation.  His efforts to promote industries in the district were greatly appreciated, and were very successful in providing employment.  So recently as January 27 he was entertained at a public banquet by the people of Navan in recognition of the benefits which he had conferred upon the district.
From The Times, 17 February 1904

Sources:
James McCann A Pioneer of Rural Restoration, Aodh de Blacam
Studies  - An Irish Quarterly Review, Vol. 34, No. 133., Mar. 1945, pp. 95-105

Navan by the Boyne, Noel French 1986 edition
The Waters of the Boyne and Blackwater, Cyril Ellison  Blackwater Press
Meath Chronicle, -  100 Years of Life and Times in North Leinster

Meath Chronicle Archives
[1] For the story of the Navan Lighters see
Echoes along the Boyne - Rediscovering the Navan Lighters pps. 181-196
in Navan, Its People and Its Past, Vol. 2, Journal of the Navan & District Historical Society, 2013.