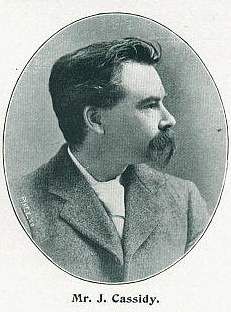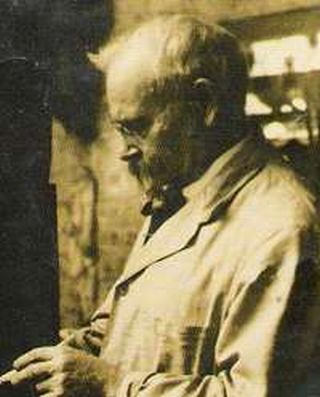 John Cassidy - towards the end of his life
John Cassidy, Sculptor, was born in Littlewood Commons Slane circa 1860.
He was the son of a middle class farmer.
Aged 20, after a period in business in Drogheda, he moved to Dublin for work, studying art at night, and won a scholership to study in Milan. After 2 years in Italy he moved to Manchester, where he stayed for the rest of his life.  He studied at Manchester School of Art and later specialised in modelling.
He gave demonstrations in modelling from life at the Manchester Jubilee Exhibition of 1887 and through commissions that arose from this work he was able to set up professionally as a sculptor.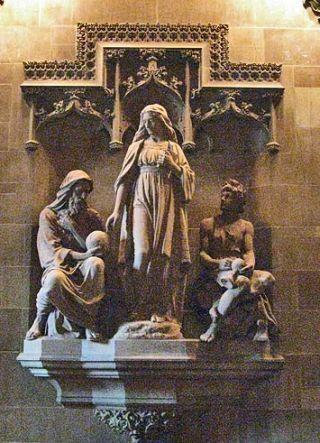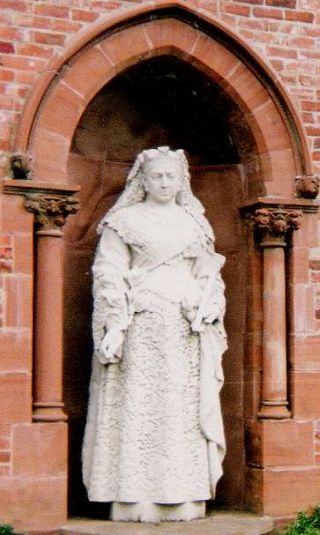 (above left) "Theology directing the Labours of  Science and Art" and (above right) Queen Victoria in the Shankill Cemetery Belfast.
His works were exhibited at the Royal Academy and at various other British Galleries. The King Edward V11 statue in Whitworth Park, Manchester, statues in Aberdeen Bolton and Belfast and public war memorials in several Lancashire towns were among his many public commissions.
John Cassidy made a cast of the head of Francis Ledwidge, his friend and fellow Slane man.  It was understood by the Slane Development Association to be in the keeping of Manchester University  Museum.  But in 1957, (18 years after Cassidy's death) a message was sent from Frank Walton, Asst. Registrar of the University:
"I have bad news for the people of Slane.  We are not able to locate any cast of Cassidy's in the University Museum, or anywhere in Manchester.  He was well known here and we have many examples of his work.  But we cannot trace the cast of Ledwidge."
Source: Meath Chronicle Centenary Publication p.191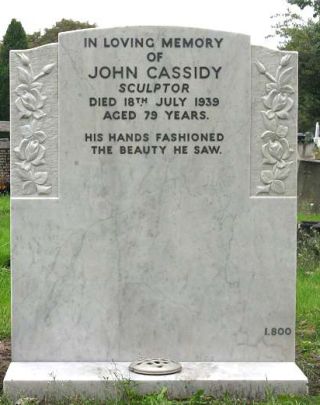 He died in Manchester on 19th July 1939
and is buried in Southern Cemetery
Manchester.
To mark the 150th anniversary of
John Cassidy's birth, his grave was
restored by the
Slane Historical Society.