O'Reilly, Rev. Eugene (Priest & Social Reformer)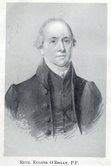 Fr. Eugene O'Reilly 1768-1852 parish priest of Navan, was an extraordinary man of vision.
Educated in Lille (France) he entered Maynooth in the year of its   foundation in 1795.  He worked in Navan from his ordination until his death in 1852 - a period of over 50 years.
During this time, he was curate, founder and headmaster of the first Catholic secondary school in the town, and parish priest from 1827 -1852 ( after the death of Bishop Plunkett ).
He built the present St. Mary's Church (1839) and the Parochial House (1845).
He saw the great need for the education of the poor of the town. He applied for grants for the setting up of a boys' school and the payment of teachers, eventually setting up seven national schools in the parish.
He invited the Loreto (1833) and the Mercy Sisters (1853) to Navan and they set up schools for girls.
He introduced Sodalities to Navan and also the Society of the St. Vincent de Paul.
He loved music and poetry and compiled a prayer book with hymns which he himself had composed. (Unfortunately this has been lost). In politics, he was a follower of Daniel O'Connell, and a supporter of the Tenant Right League. He was an Indefatigable champion of the poor of the town.  He set up co-operative workshops to employ poor girls of the town - making lace and weaving cloth for gingham gowns.
When the agent for the Duke of Bedford had 120 cabins knocked in the Brews Hill / Chapel Lane area of the Navan (leaving about 600 homeless), he protested to the Duke "If other noblemen should follow Your Grace's example, Navan would cease to be a town".
He died on Sunday 12th December 1852, aged 84.  The following day his remains were removed to the church which he had built, where he lay in state until Tuesday.  Shops and other businesses closed as a mark of respect.  He is buried in the crypt of St. Mary's Church. His memorial bust can be seen in the church today (see below) - donated by "the generosity of the Duke of Bedford and the affection of his friends".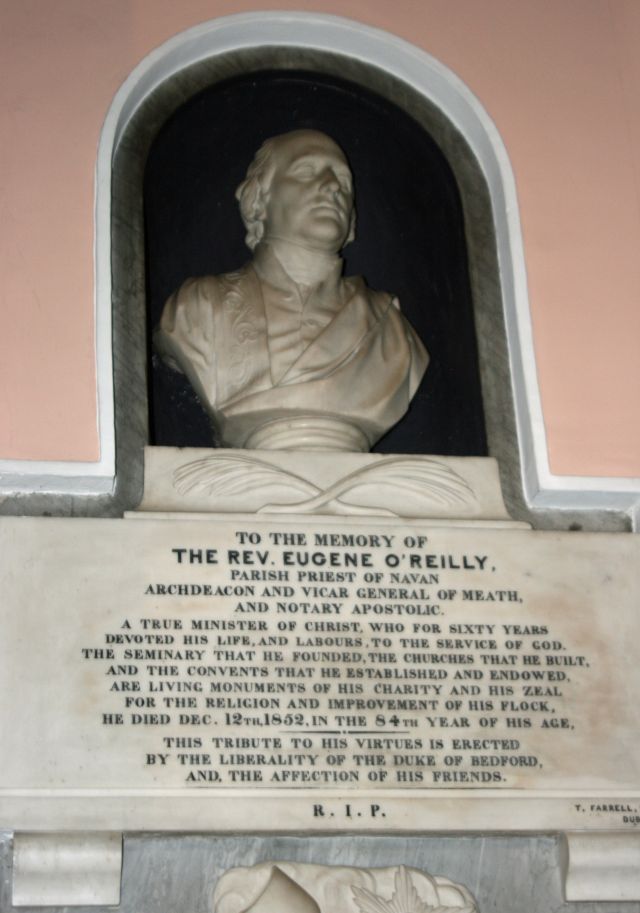 Sources: The Diocese of Meath  Ancient and Modern,  Vols. 1-3, Dean Anthony Cogan
Navan Parish - A Celebration of our Faith History  Jubilee Year 2000