See also Dormstown Auxilliary Workhouse
Durhamstown: Ardbraccan Parish
Baile an Dormaigh, Durham's Town.
Durhamstown: John O'Donovan
There being in ye said Towne one Castle and a stone house.
Civil Survey 1654-56
This townland is situated in the north end of the parish. It is bounded on the north by the parish of Martry.
It is bounded on the east by the townlands of Grange and Ardbraccan.
It is bounded on the west by the parish of Martry.
It contains 1,027 acres and 12 perches statute measure, and is all under cultivation.  It is the property of the Earl of Essex, and it is held under a lease renewable for ever by Nicholas Codington, Esq., of Oldbridge, near Drogheda, at the yearly rent of 3 pence per acre.
The whole townland is again held under a lease renewable for ever from Nicholas Coddington, Esq., at the yearly rent of 6 shillings per acre by William Thompson, Esq., of Oatlands House.  In this townland, Mr Thompson retains 60 acres attached to Oatland House, and sublets the remainder to under tenants as follows:- 73 acres under a lease of 3 lives or 31 years, 84 acres under a lease renewable for ever, 105 acres under a lease of 2 lives or 31 years, and the rest of the townland in farms of from 1 to 50 acres, at a yearly rent of from £1- 7 shillings to £2 per acre.
The soil of this townland is good loam, and produces per acre:- 12 barrels of wheat, 16 barrels of oats, 56 stone of flax, or 360 bushels of potatoes. The tenants purchase their bog at £1-1 shilling per perch. The County Cess is 1 shilling and 2 pence per acre per half year. Beside Oatland House, the residence and demesne of Mr. Thompson, there is a neat house near the east side of the townland, known by the name of Robertstown.
Doramstowne: Civil Survey 1654-56.
It is bounded on the south by the townlands of Neillstown and Ongenstown.  There is an old castle in tolerably good repair situated about the centre of the townland.
There is a schoolhouse about a quarter of a mile south of Oatlands House, on the side of the road from Navan to Kells.  It is supported by a few private subscriptions.  The Master and Mistress have a free house and garden and £20 per year.  The average number of scholars is 20 boys and 15 girls.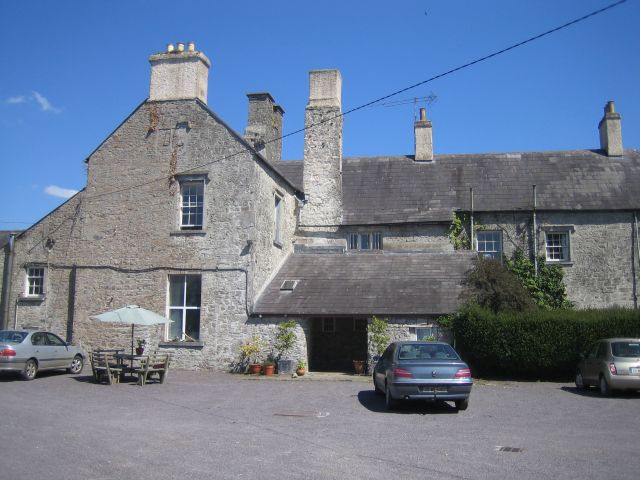 Durhamstown Castle  2011 Photo: © Navan & District Historical Society
Durhamstown is located in the civil parish of Ardbraccan, to the west of Navan.  Durhamstown has been spelled differently over the centuries including 'Dormstown', 'Durmstown' and 'Dorreanstown'.  One of the two most populous townlands in Ardbraccan civil parish, the population peaked at 713 in 1851. Described as an old fortified residence in 1837, Durhamstown Castle is reputed to be one of the oldest inhabited houses in Meath.  Mulligan described Durhamstown as comprising of an early two storey stone house with a series of vaulted compartments on the ground floor.  Parts of the building date to the fifteenth century.  The square tower consists of four-storeys with the ground floor having four vaulted chambers with inserted windows.  The original castle is believed to have had another storey which was knocked as a result of a fire.  A 19th century single storey wing was added to the north of the old house.  The original building is of medieval origin and is probably a tower house of the fifteenth century.
The building is reputed to have been in the hands of Walter Devereux, 1st Earl of Essex, in the sixteenth century.  For his zeal in suppressing the northern insurrection in 1572 he was created Earl of Essex. He offered to go to Ulster and establish a colony there.  At that time Ulster was completely under the dominion of the O'Neills, led by Brian MacPhelim O"Neill, Turlough Luineach and Sorley Boy McDonnell.  Initially Devereux was compelled to entrench himself at Belfast against the O"Neills.  In October 1574 he treacherously captured MacPhelim at a conference in Belfast and had him and family members executed in Dublin.  He also massacred several hundreds of Sorley Boy's following, chiefly women and children, who had hidden in the caves of Rathlin Island.  While in Ireland he is said to have come into ownership of a large estate including Durhamstown Castle. Returning to England in 1575 he was determined to retire but Elizabeth persuaded him to be Earl Marshall of Ireland.  Three weeks after he arrived back in Ireland he died of dysentery.  The Earls of Essex continued to hold lands in the Navan area until at least the nineteenth century.
In 1598 the name Dorren or Derran is recorded at Derranstown, this is probably Durhamstown. Thomas Jones became Bishop of Meath in 1584 and ruled the diocese for twenty one years.  During his time in Meath he succeeded in acquiring for himself much of the property of the confiscated monasteries.  Dean Swift described him as "that rascal Dean Jones."  Residing at Ardbraccan he virtually gave away or claimed all the lands which had been confiscated from the monasteries.  Anti-Catholic in his stance, Jones was held responsible for the execution in 1591 of a Catholic schoolteacher, Michael Fitzsimons, whose property at Forrowes in Meath later came into his ownership.  In 1605 Thomas was elevated to Archbishop of Dublin and Lord Chancellor.  Bishop Jones's son, Sir Roger, managed to hold onto this alienated property including the lands which had belonged to the monastery at Navan.
Roger Jones, of Durhamstown, was made Baron Jones of Navan and Viscount Ranelagh in 1628.  Sir Roger Jones of Durhamstown married Frances, daughter of Sir Gerald Moore, Viscount Drogheda.  Roger Jones was Member of Parliament for Trim from 1613 to 1615 and in the 1640 commanded the royal army in Connacht.  His son, Arthur, married Catherine Boyle, daughter of the Great Earl of Cork, one of the biggest landgrabbers of the sixteenth and early seventeenth century.  Catherine was the older sister of Robert Boyle, the devisor of Boyles Law. Arthur was involved in the administration of Ireland and made a huge amount of money as he managed to obtain the entire tax take for Ireland in return for a lump sum to Charles, which was said to have been used to pay for his mistresses.  Arthur's son, Richard, was Vice Treasurer of Ireland in 1674 and Paymaster General to the Army.  William of Orange made him a Privy councillor in 1691.  He was involved in a political row with the Earl of Essex.  The Viscounts Ranelagh had their seat at Monkstown, Co. Dublin and continued to hold property in the Navan area into the nineteenth century.  In the 1780's Gaynor Barry was in residence at Dormstown.  Mr. Gibney is recorded as owner in 1802.
The Roberts family became associated with Durhamstown through Rev. John Roberts who was rector of Rathcore from 1802 to 1826.  John Roberts was the son of the Venerable John Roberts, archdeacon of Merioneth and lived at nearby Oatlands.  His son Thomas Lewis Roberts and family were in residence at Durhamstown in 1837. The house and yard were re-developed in the middle of the nineteenth century. Few Irish people realise the influence of Ireland on the development of the game of croquet. Some of the modern rules of the game of croquet were produced by local gentry who lived at Durhamstown and two neighbouring estates in the 1850's.  The game later spread from Ireland to Britain.  In 1876 Thomas L. Roberts of Dormstown held 505 acres of land in Meath county.  Thomas died in 1880 and he was succeeded by his son John Richards Roberts who married one of the Everards of Randlestown.  In 1911 gentleman farmer, John R. Roberts, his daughter, Maud, sister Anna and two female servants were in residence.  The house had sixteen rooms and sixteen outbuildings including two stables, a coach house, a harness room, a cowhouse, a dairy, a piggery, a fowl house, a barn, a turfhouse, a potato house, a workshop, a shed and a forge.
Source: meath-roots.com.
*******
A History of Durhamstown Castle
1270. First recorded Deed of Sale in 1270 between 2 Normans; Theobald le Boitilier & Archibald de Valle".
1420. The present building dates from this time.
1511. First known owner was a Dorram/Dorream. From which the Castle gets its name. The Dorream family are recorded here in 1511 by Christopher Cusack in "Gentlemen of Meath.
1539. During this period, St Mary's Abbey was confiscated under Henry V111; Durhamstown Castle was appropriated for the Protestant Bishops sometime around this period of upheaval.
1590.  Memorial to Thomas Jones in St. Patrick's Cathedral, Dublin.  The Bishop of Meath, Thomas Jones, who resided in next door Ardbraccan, at this time, owned Durhamstown Castle and we know from the records, that he left it to his son, Lord Ranelagh, Sir Roger Jones; who was Lord President of Connaught.  The Bishop of Meath, Thomas Jones, was witness & reporter to the Crown on negotiations between the Crown Forces and the O'Neill's.  He was known to be close to Robert Deveraux, The Earl of Essex – Queen Elizabeth's lover. (Later, executed for mounting a rebellion against her.) Letters are written – copies of which are in the National Library – from Deveraux to the Queen both from Ardbraccan & Durhamstown ("the Castle nearby").
Roger Jones, 1st Viscount Ranelagh (before 1589 – 1643) was a member of the Peerage of Ireland and lord president of Connaught.  He was Chief Leader of the Army and Forces of Connaught during the early years of the Irish Confederate Wars.  In addition to Viscount Ranelagh, he held the title Baron Jones of Navan. Jones was the only son of Archbishop of Dublin and Lord Chancellor of Ireland, Thomas Jones, and his wife Margaret Purdon.  He was knighted at Drogheda on 24 March 1607.  In 1609, he married Frances Moore, the daughter of Sir Garret Moore, eventual 1st Viscount Moore of Drogheda.  Jones was a member of the Parliament of Ireland for Trim, County Meath from 1613 to 1615.
In 1620, he was named to the privy council of Ireland.  He was the Chief Leader of the Army and Forces of Connaught and was Vice President of Connaught from 1626.  In 1608 his father became involved in a bitter feud with Lord Howth, in which Roger also became embroiled.  His reference to Howth as a brave man among cowards was enough to provoke his opponent, a notoriously quarrelsome man to violence.  In the spring of 1609, Jones, Howth and their followers engaged in a violent fracas at a tennis court in Thomas Street, Dublin, and a Mr. Barnewall was killed.  The Lord Deputy of Ireland, Sir Arthur Chichester, an enemy of Howth, had him arrested immediately, though he was never brought to trial.  On 25 August 1628, Jones was created Baron Jones of Navan and 1st Viscount Ranelagh by King Charles I.  He was made Lord President of Connaught on 11 September 1630 to serve alongside Charles Wilmot, 1st Viscount Wilmot.  Jones was killed in battle against Confederate forces under the leadership of Owen Roe O'Neill in 1643.
1649. An uncle, Colonel Michael Jones, was the military Governor of Dublin at the time and supported Cromwell's landing at Ringsend, after the Battle of Rathmines.  Troops assembled at Durhamstown to fight on Cromwell's side.  When they marched on Drogheda they laid the place waste and murdered all before them.  They brought the severed heads of the Royalist Commanders to Dublin.  The Jones' generally seem to have been a blood thirsty lot; and were known to be unrelenting in their enforcement of the new credo.  Michael Jones even had his own nephew executed. Roger Jones' son, Arthur was also embroiled in huge controversy when, as Chancellor of the Exchequer, he was supposed to have diverted all the taxes to pay for the King's Mistresses.
1750. From this time onwards we think the Thompsons lived here.  One of the Thompsons was said to have died from septicaemia as a result of an apoplectic rage caused by his Irish labourers refusing to knock down the Church of Durhamstown.  He is alleged to have grabbed the shovel & attempted the work himself ; only for the shovel to bounce back & bury itself in his leg, or in some recordings it hacked off his leg; which subsequently became septic and "he died miserably from his wounds" But the stones & spire were taken to build Ardbraccan Church.
1840. One of the Thompsons married a Roberts from Oatlands just at the back of Durhamstown, and they lived here up until 1910.
Source:
www.durhamstowncastle.com