Paddy O'Brien
(d. 26th June 2010, aged 79 years)
Friend and Mentor to young people in Navan for over half a century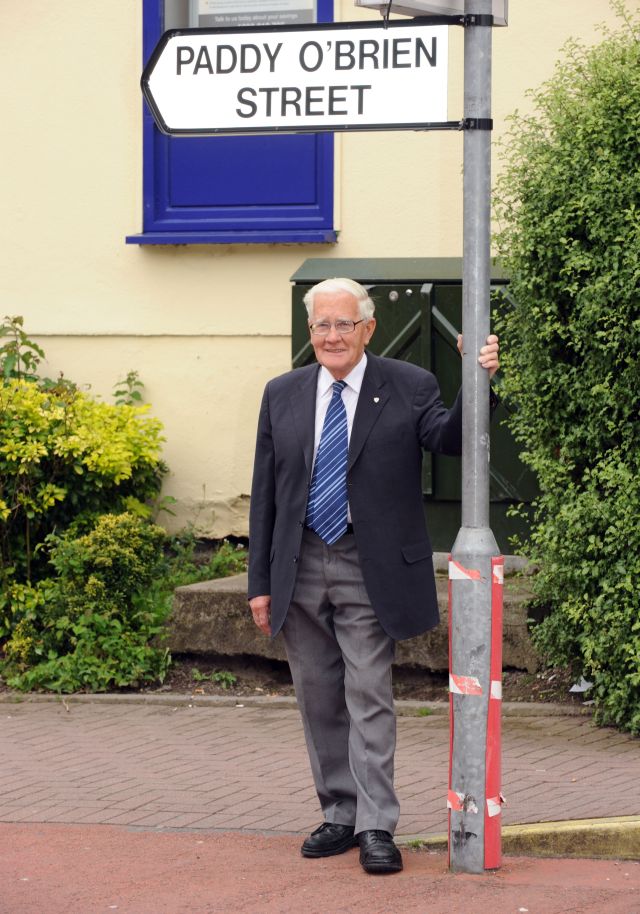 Paddy O'Brien was involved with Navan De La Salle from the early fifties. He was elected secretary of the club in 1955, a position he held for twenty five years.  He continued his involvement with De La Salle in various positions; Vice-Chairman, coach, mentor, working with a number of De La Salle Brothers attached to the Old Abbey Schools (now demolished) and later Scoil Mhuire.
Following the departure of the De La Salle Brothers from Navan in 1976 and their resultant loss to the club he was instrumental in keeping the club going with the help of a very loyal committee, continuing to further hurling and football in the town, with very good results.
The De La Salle Club,  was the nursery for Navan O'Mahonys, and it was agreed in 1989, that the two should amalgamate.  Conscious of the fact that De La Salle was unique in so far as they had no grounds of their own and no training facilities to cater for their players, he spearheaded the amalgamation of the De La Salle club with O'Mahonys and was successful in getting the unanimous support of the committee and all the members for this move.  He was anxious that the outgoing De La Salle committee should form the first O'Mahonys Juvenile Committee with full autonomy so the O'Mahonys Juvenile Section started with outstanding success in January 1989.  Since its inception, the O'Mahonys Juveniles have enjoyed unparalleled success in both hurling and football.
From 1989, Paddy held positions of Chairman, Vice-Chairman, Football Officer, PRO, Mentor, and Coach.  He also served as Secretary of the Meath Juvenile Football Board for two years and Vice-Chairman for three years, and also selector with Meath under 14 footballers. Paddy served as club delegate to Meath Juvenile and Minor football and hurling boards, and Meath Committees for over five decades.  He received the Meath Hall of Fame award in 1995.  He helped out with the gates and finance at Páirc Tailteann since the late forties.  He also helped with stewarding, gate collections and cash handling at Croke Park, and many other Leinster venues.
Some of the inter-county players he coached included Joe Cassells, David Beggy, Finian Murtagh, Donal Smyth, Shane and Niall McKeigue, Stephen Bray, Stephen MacGabhann, Mark Ward, Cormac McGuinness, Gary O'Brien and Kevin Reilly, and under 17 International Rules players David Murtagh, Barry Regan and Kevin Reilly.
He took part in many courses involving coaching, first aid, sport for all, administration, leadership and I.T.  He acted as grounds committee co-ordinator for the club and ran the club website. He is well-remembered travelling on his bike to all the matches around the town before he learned to drive at the ripe young age of 60.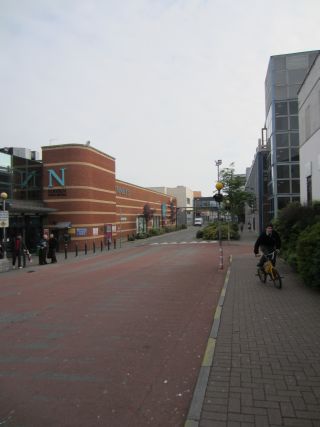 Navan Shopping Centre launched a competition in early summer 2009 to choose a name for the street linking Abbey Road and Kennedy Road.
Members of the public presented a number of names and a shortlist of the most favoured was presented to the judging panel.
These names included Pierce Brosnan (Parade /Street, Bond Street) ;
Andy Brennan (Street/Way/Parade)
after the late former
Navan Town Councillor and Mayor;
Paddy O'Brien (Street/Way and Olympic Street/Way/Parade).
The committee unanimously selected
Paddy O'Brien Street
as the winner in recognition of the services he had
provided to the town for over 60 years.
He always believed in the old proverb
"Mol an óige agus tiocfaidh sí".
Source: O'Brien Family
*******
Postmaster in Navan 1985 -1995
Paddy O'Brien as he was known far and near in County Meath, or Pádraig M. O'Briain, officially returned to Navan as Head Postmaster, after a short sojourn in Kells. During O'Brien's time in charge in Navan the mails section was transformed. Navan became a major transit area for all mails in the north east.
County sorting of mails was introduced and mails for Monaghan, Cavan, Louth as well as Meath were processed at Navan Forwarding Office. When Paddy retired in May 1995 after forty nine years service, he had almost literally grown with the postal service in Navan which was now at its peak.
During Paddy O'Brien's time as Head Postmaster the Post Office moved to a new office on Kennedy Road. This office was built on a greenfield site and was opened for business on 27th November 1989. Senator Fergal Quinn, Chairman of An Post performed the official opening.
Source: Navan Postal Area in the 20th Century, Liam McCarthy