The Times, 26th Dec 1887 ~
The Meath Hunt is the most exciting topic of the day. Numerous letters are published expressing indignation at the correspondence between the Master and Bishop Nulty, and all declaring their determination not to submit to such degrading terms. The action of the committee in calling a special meeting to consider the correspondence is commended. The following letter from the Master presents the matter in a different light, and affords another illustration of the danger of holding "strictly private" communications upon public questions with persons connected with a party who made a boast and a merit of publishing confidential documents and have spies, detectives and informers everywhere:-
"To the Most Rev. Dr. Nulty, Roman Catholic Bishop of Meath.
Brownstown, Navan, December 24th 1887
My Lord,-I observe with regret that a recent private letter of mine addressed to your Lordship, has been made public, and has, through some misunderstanding, been used in such a way as to convey a meaning I certainly never intended and which I entirely repudiate. Let me remind you of the circumstances under which this letter was written.
A convention was lately held in Navan, representing, as I believe, a small minority of the people of Meath, at which it was resolved to put a stop to hunting by the use of poison. It is said that the main reason put forward for the resolution was that the Lord Lieutenant was at the time hunting in Meath......
I am, my Lord, Your Obedient Servant,
J.O Trotter.
The Times, 29th Dec 1887 ~
A thoroughly representative convention of the National League was held at Navan, and after a careful inquiry resolved unanimously to recommend the farmers and occupiers to put a complete stop to hunting over their lands. As the safest, the quietest and the most legal expedient to give effect to this resolution, the convention further advised the farmers to poison their lands after having given due legal notice of their intention to do so.....
The Times, 22nd Oct 1894 ~
Hunting....Mr. John Watson-nine days a fortnight -Navan.
Meath Chronicle
6th February 1909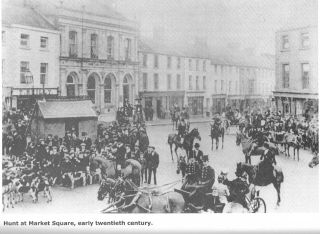 A very interesting ceremony took place at the Russell Arms Hotel, Navan, on last Monday. For the first time in many years the Meath Hounds met in the town and the Urban Council availed of the occasion to present an address and silver hunting horn to the Master, The Earl of Fingall.

The following members of the Council were present: Messrs. John Spicer (Chairman), J.P. Timmon (Vice Chairman), James Sheridan, E. Gilsenan, L. Reilly, J. Quinn, Christopher Farrell, J. Keappock, J. Finnuncan, E. Gilsenan, E. O'Reilly.

Mr. Spicer read the following address from the Urban Council:-

My Lord- By an unanimous vote of the Urban Council of Navan, it was decided on behalf of the town, to thank your Lordship, and also congratulate you on your undertaking the Mastership of the Meath Hounds.

We, the Urban Council, have only the authority to speak on behalf of the townand people of Navan, but we venture to do so on behalf of the farmers of Meath and the people generally, and especially of the labouring population,whose interests we are considering.

Hunting is not only a fine sport, but encourages people - wealthy people - to come and dwell amongst us here in Meath, and we venture to assure your Lordship that visitors to our county ,will be well and respectfully received by the people. Hunting circulates money amongst all classes of the community, but above all, it gives considerable employment to all labouring classes.

The Meath Hunt Committee, in appointing your Lordship as Master of the Meath Hounds, has acted entirely in accordance with the wishes of the people of Meath. You are from your high station the right person for the position. You are the chief representative of one of the greatest and oldest families in Ireland, and besides you reside here in our midst.

We, my Lord, on behalf of the town of Navan, respectfully ask your Lordship to accept this hunting horn as a small token of the high regard and esteem in which you are held by the people of Navan.

Our hope is that for a long number of years you will live to use it and conduct the hunt over the plains of our Royal County.

 

Signed on behalf of the Navan Urban Council.

John Spicer, Chairman.

James Lawlor, Town Clerk.

 




Source: Meath Chronicle Archives