St. Mary's Musical Society
These pictures, courtesy of Kevin Toner, show members of the cast of the Gilbert and Sullivan Musicals The HMS Pinafore and The Mikado, which were staged by St. Mary's Musical Society in 1957 and 1958. The Musical Director was Fr. Herbert.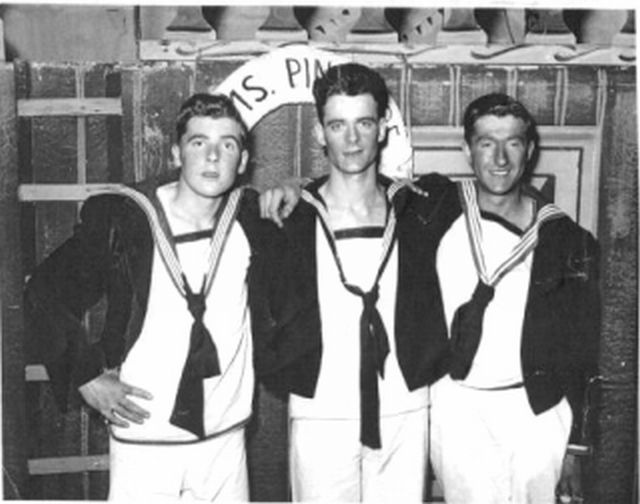 Sailors on the HMS Pinafore (left to right) Séamus Reilly, Kevin Toner and John McCullagh.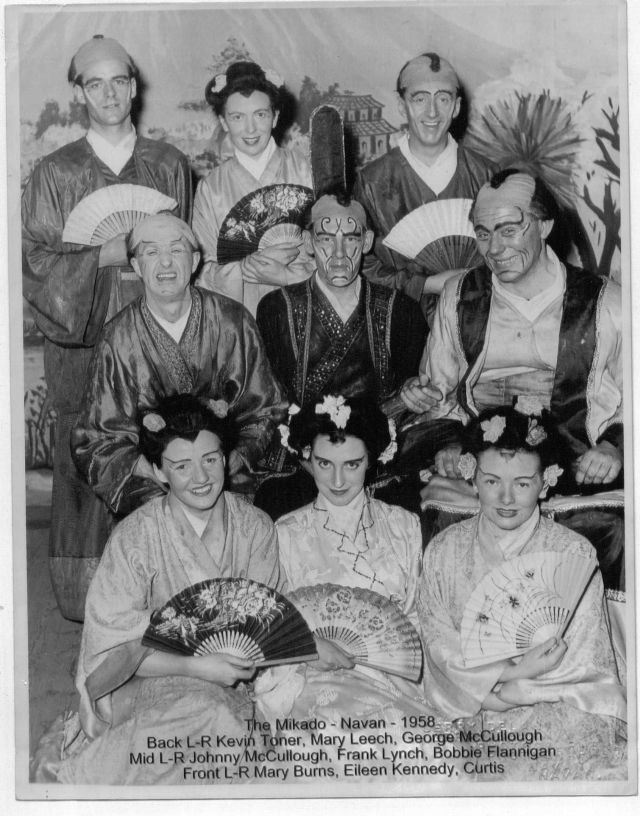 The Mikado 1958 and the missing  name of the "Little Maid" front right is Evelyn Curtis.
St. Mary's Operetta group's production of the "Mikado" was launched in the CYMS Hall, Navan where it won the approval of a very large and most enthusiastic audience.
...Pride of place in an outstanding cast goes to Miss Eileen Kennedy, who as Yum Yum was charming in personality, appearance and voice.
The leading male role of Nanki Poo was played with assurance and style by Mr. James Cahill, whose tenor voice was equal to every demand.
The main funsters were Mr John McCullagh as Ko Ko (Lord High Executioner) and Mr Robert Flanagan as Poo Bah (Lord High Everything Else)
As two of the Three Little Maids, Misses Anne Fitzpatrick (Pitti Sing) and Evelyn Curtis (Peep Bo) had an appealing charm which was enhanced by their sweet singing and natural acting.
Miss Terry Pope played the difficult role of the jealous Katiska most convincingly. Mr Francis Lynch gave a performance of outstanding dignity as the Mikado of Japan.  Production by Miss Eileen Clancy, of the Rathmines and Rathgar Musical Society Dublin was expertly conceived and executed.
Mrs Madge Marsh (asst. producer) Mrs J. Clarke (wardrobe mistress), Mrs N. McKenna and Mrs Thomas Byrne (make-up), Mrs M.Flynn (chorus mistress) and Messrs M.Mahon and F. Lynch (committee work).
The scenery, painted by Mr Jack Davis Flower Hill Navan, evoked very favourable comment.  His second act set, depicting Ko Ko's garden with a volcano in the distance was brilliantly done, creating an illusion of spaciousness on the stage.
The costumes were supplied by Messrs Ging Dublin; Mr George Donohue Navan was in charge of the lighting, and Mr James Halton was an efficient stage manager.
A sincere word of thanks and congratulaions must go to Fr. Herbert, who, as musical director, laid the foundation of success. He was the key figure during the months of strenuous  rehearsal and to him is due the ultimate credit for shaping the talent under his control in the various spheres into an attractive unity.
From the Meath Chronicle Archives.