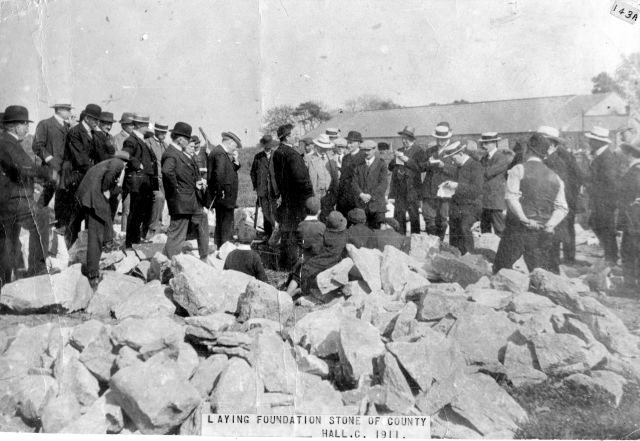 Laying of foundation stone for the County Hall, Navan, 1911
The only person identified is Jim Quigley, County Surveyor, in the middle of the picture, facing right. He is left of the four youths sitting down.
You can see the railway building in the background.
The Times, 18 May 1910 ~ Engineering Contract List.
Meath- Navan--County Council- Design for new county offices.
Back Row: Left to Right: John E. Duffy, County Accountant. Birdie O'Dwyer, Clerk. E.J. Duffy, County Surveyor. Con Corcoran. Kevin Oakes, Engineer's Clerk. J Gerrard. Thomas H. Leech, Surveyor. C. Mangan.
Front Row: Mary Ann O'Connor, Clerk. Con Bourke, County Secretary. Pat Weldon. Charles Lacy.
Click the link for Local Government during the War for Independance. Con Corcoran and Pat Weldon are mentioned: Local Government.