Mary Lavin 1912-1996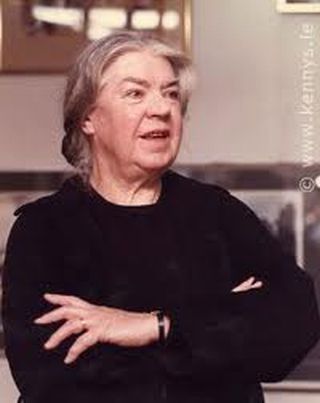 Mary Lavin was a short story writer and novelist, born in Walpole, Massachusetts, in 1912, to Thomas and Nora Lavin nee Mahon.  Her father was from
County Roscommon and her mother
was from Athenry, County Galway.
The family returned to Ireland and settled in
Bec
tive
where Thomas managed a hunting estate for
Charles Bird by whom he was employed in America.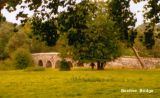 Bective Bridge

(above right)

which gave Mary Lavin the title for her first book of short stories.
Educated at Loreto Convent in Dublin and at University College, Dublin, Mary proceeded to take an M.A. in English for which she presented a thesis on Jane Austen.  She later spent two years as a teacher of French in her former Loreto school.  She married a Dublin lawyer, William Walsh, and they came to live at Abbey Farm, Bective.  There were three children of the marriage.  William died in 1954 and in 1969 Mary married Michael Scott whom she had first met when a student at University College, Dublin.
Lord Dunsany
was her friend and mentor.
Her first published short story Miss Holland appeared in Dublin Magazine in 1939.  Her output of short stories is very extensive and she ranks with O'Connor and O' Faolain in her mastery of the art.
She was awarded the Katherine Mansfield Prize in 1961 and the Guggenheim Fellowship in 1959 and 1961. U.C.D. conferred an Honororary Doctorate on her in 1968.
In 1992 she was elected a Saoi by the members of Aosdána having obtained "singular and sustained distinction in literature".  To become a Saoi is one of the highest honours to be attained in Irish cultural life.
Tales from Becive Bridge, 1943,
The House in Clewe Street, 1945,
Mary O'Grady, 1950,
The Becker Wives, 1971,
The Shrine and Other Stories, 1977.
The Irish University Review, Autumn 1979 was devoted fully to her work and a complete list of her writing appears therein.