See also: The Corporation and Local Government in Navan 1469-2014
Navan's Mace and Seal
Navan has a pair of silver Maces and a Seal, now on display in Collins' Barracks Dublin.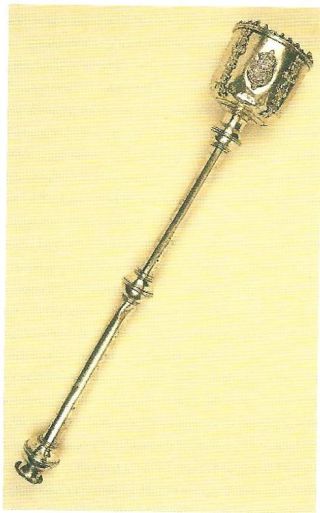 Illustrated left,
is one of the silver maces,
which was made by
Andrew Gregory around 1660-1
for the
Corporation of Navan.
Illustrated below, in black and white,
is a close up of the top of the maces.
The C and R relate to King Charles ll, restored to the English Throne
in 1660-1.
The maces would have been borne in procession by the
Portreeve (mayor)
Burgesses and Freemen of the town.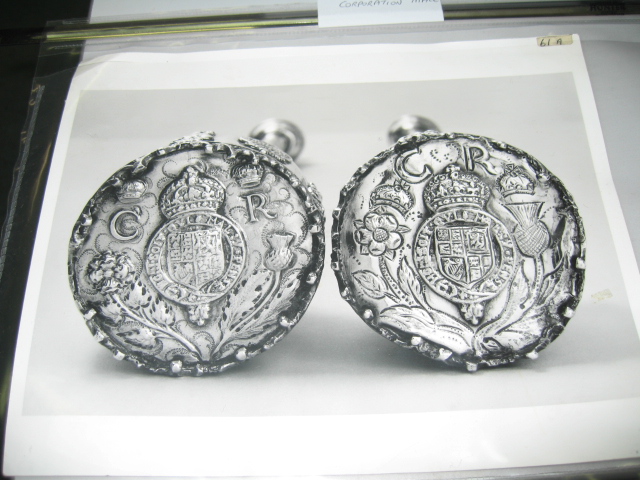 Pictured below is the pair of Maces where you can see some idea of their size.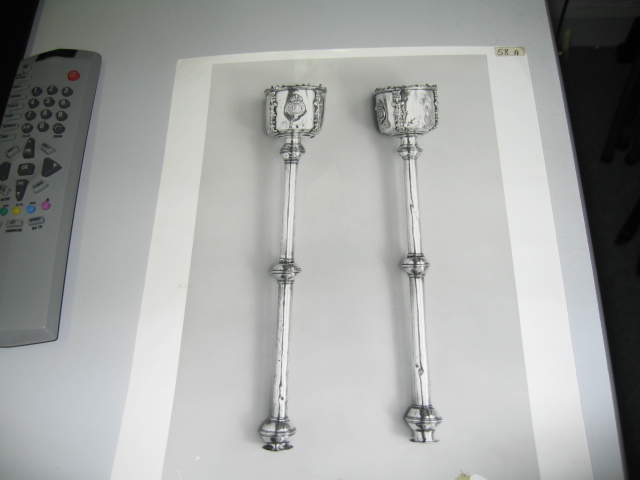 Pictures: Courtesy of the Los Angeles County Museum of Art and the
National Museum of Ireland Collins' Barracks (colour image)
The Navan Seal and pair of Maces were sold by the Metge family of Athlumney to William Randolph Hearst, the newspaper magnate, in the 1950's.  (The Metge family was in possession of Navan's Seal and Maces because it was one of the controlling families in Navan Corporation in the late 1700s).  The Hearst family in turn, donated the Seal and Maces to the Los Angeles County Museum of Art.  Today, thanks to the  efforts of John Bruton and John Teahan, they have been returned to Ireland, and are now on display in the National Museum of Ireland, Collins Barracks, Dublin.
The Navan Seal (pictured below) was granted to the town by King Charles ll after his restoration to the Monarchy.
The design of the seal seems to be based on the crest of the Cowan family.  It consists of an arm emerging from a bank of clouds holding a heart.  It also contains three symbols of the restored royalty - a crown, a harp and a rose.  The motto which is written all round these enclosed symbols says " Restaurato Carlo Secundo Respiramus " which is the Latin for  "We rejoice in the restoration of Charles ll ".  The crest on the Seal is an adaptation of the Cowan family crest.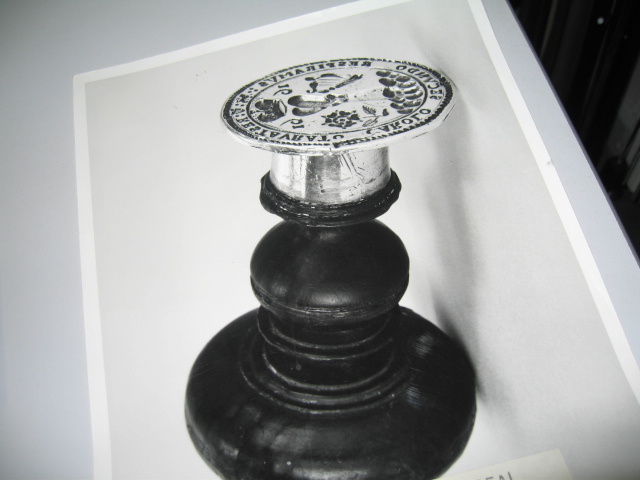 The seal (pictured above) is dated at 1661 when Charles ll was restored to the throne but it may date from 1673 when Charles granted Navan a new charter with many additional rights.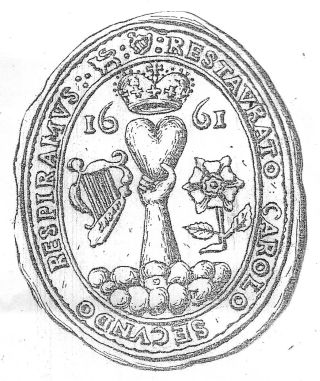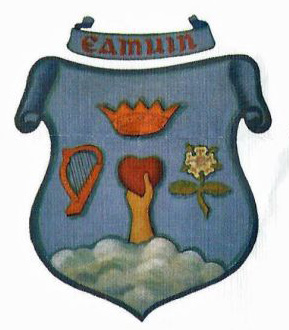 The Town Council of Navan, since 2014 Navan Municipal District, adapted the Navan Seal for its logo which is illustrated above right.
Sources:
The Journal of the Royal Society of Antiquaries of Ireland, Series VI, Vol. L, part ll, 31 Dec 1920, p.179
Navan by the Boyne, Noel French, 1986 pps.40-41
Treasures of the Boyne Valley, Peter Harbison,  Gill & McMillan in association with the Boyne Valley Honey Co., 2003 p.50