Cannistown Church


Photo: © Navan & District Historical Society
About a mile from the Boyne and close by the road from Ballinter to Navan, in the townland of Kennastown.

The ruins of an old church called Teampall Baile Cheana, or Kennastown Church are pictured above.  It is believed to be on the site of an early Christian monastery founded in the 6th century by St. Finian of Clonard.  The present church was probably built in the 12th century by the Nangles, the Anglo Norman family to whom Cannistown was granted by Hugh de Lacy. This was the parish church from the 13th century, and was dedicated to  St. Brigid.  It was largely rebuilt in the 15th or early 16th century, but some original features remain.
It consists of a Chancel and Nave. The chancel is where the altar was placed and it dates from the 13th century. It is 24 feet long by 15 feet wide inside.
The nave, (pictured below left), the main part of the church, is where the congregation worshipped.  It is 41 feet 2 inches long by 17 feet 8 inches wide, and is of later date.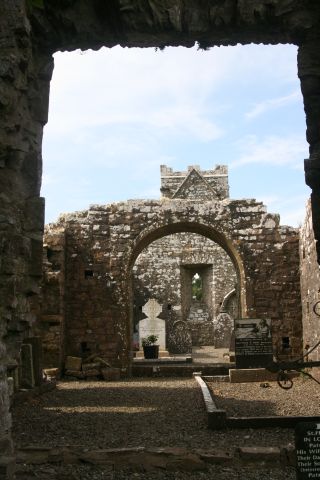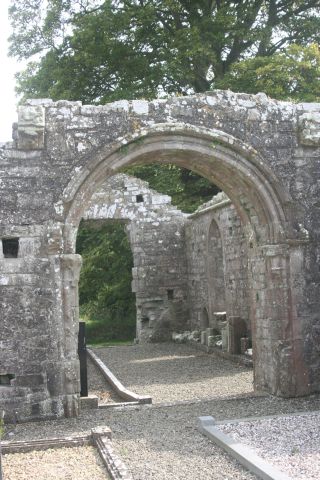 Photo: © Navan & District Historical Society
The arch (above right) which leads into the chancel is a fine example of Anglo Norman architecture and it is really well preserved.  Carved stones on each side of the arch show three dogs attacking an otter or a fox, (below) and an image of three figures, the central one of which is holding a staff - this could be a representation of the arrest of Christ.
Cannistown Church did not survive the Reformation.  Bishop Montgomery recorded in 1612 that " the chancel was repaired, but the church (is) in ruins".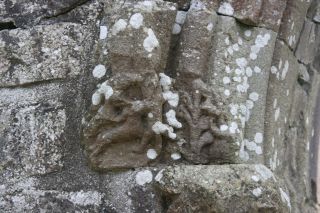 Photos: © Navan & District Historical Society
*******
Ordnance Survey Field Name Book 1835
Baile Ceana, Kenna's town.
Kennastown: John O'Donovan.
Cannistown: Rev. R. Thompson.
Kennesstown: County map.
Kennonstown: Survey and valuation Report 1824.
Kennanstowne: Down Survey Map.
Kenanstowne, with a church and some few cabins thereon: Civil Survey 1654 - 1656.

This is a central townland.  It is bounded on the north by the parish of Navan.


It is bounded on the east by the parish of Navan and the townland of Ardsallagh.

It is bounded on the south by Bective parish.

It is bounded on the west by the townland of Williamstown or Bawn.

It contains 665 acres 1 rood 14 perches, statute measure, all under cultivation.  It is the property of the Rev Joseph Preston of Ballinter, Agent, Mr. Patrick Clarke, Attorney, Dublin.  The land is let on leases of 2 lives or 21 years, at a rent of 45 shillings per Irish acre.  Size of farms, from 4 to 40 acres.  Soil, stiff yellow clay with limestone bottom.
It produces but middling crops of wheat, oats and potatoes and bad crops of flax.  The road from Trim to Navan runs along the east side.  In this townland are the ruins of an old church.