Notes on the R.I.C. in Navan in 19th century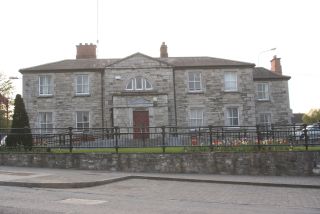 Photo: © Navan & District Historical Society
This building in Watergate Street, now Navan Municipal District office, was formerly the RIC Barracks and Garda Station.
Up to 1820, the police enjoyed relative peace in the town.  The extension of the Boyne Navigation to Navan in 1800 had an impact on the town's economy.  Navan came alive on market days with cattle milling through the streets and country people selling butter, eggs, fowl and pigs.  But as agricultural prices fell after the Napoleonic Wars, the national economy was hit by recession.  There was an influx of peasants and labourers into Navan which was barely capable of supporting its own population.  The police were often called upon to quell disturbances.
The poverty of the town is revealed in the case of the Brews Hill evictions.  The Duke of Bedford ordered a survey to be taken of the Brews Hill and Chapel Lane area of his estate.  It was found that the middle man - Rev. Andrew Hamilton had 34 yearly tenants, who had a further 47 sub tenants.  A police constable reported finding 7 families living in one room.  Father Eugene O'Reilly, Parish Priest of Navan, refuted the claim that the Brews Hill area had been " a receptable of villany and nursery of crime and disease."
In the mid 1800s a notable feature was the appearance of many alleys branching off the main streets.  In these alleys were the miserable huts of the poor.  It was down these alleyways that police on horseback rode keeping the peace.
The police were involved in crowd control when Father Matthew, the apostle of total abstinence, came to Navan in 1840.  In returning from Market Square to Academy Street the press of the crowd was so great that he was compelled to escape into a house for some time.
The Garda Siochána took over the Royal Irish Constabulary Barracks in the early 1920s.  The Gardai moved to their present location, in 1978.  This was the home of the De La Salle Brothers.
In 1983 Navan Town Council restored the barracks building and it is now the office of the Navan Municipal District.