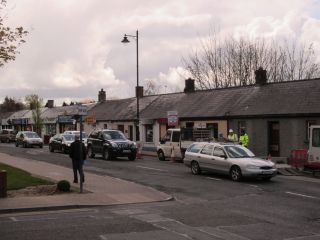 Railway Street runs from the
railway gates to the
Trimgate Street and Brews Hill junction.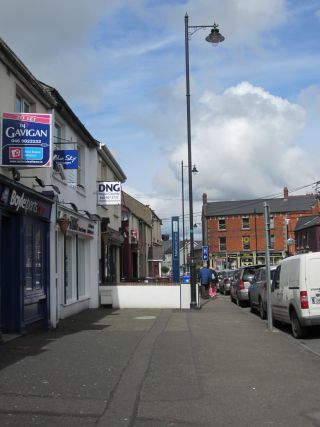 Part of what is now known as Railway Street was once called Chapel Lane (right)
This is the section from the roundabout at the Solstice Arts Centre to Trimgate Street.
In the 18th century, during the  Penal times it led from the town to the little mud wall chapel at Leighsbrook where the town's Catholics worshipped.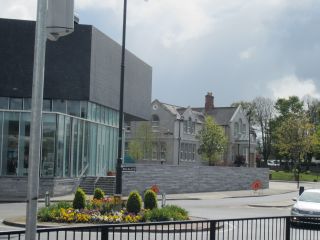 (left) The Solstice Arts Centre Railway St.
with Meath Co.Co. buildings in
the background.

Pictured below is the old railway station.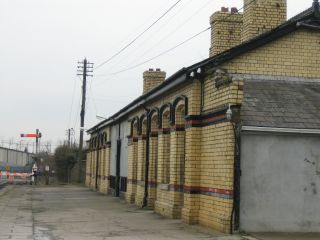 The railway line from Broadstone,
Dublin to Kilmessan and Navan was opened in 1862 and to Kingscourt in 1875. This line was used by Gypsum, Kingscourt until the 1990's.
There was a platform at Proudstown to facilitate racegoers attending Proudstown Park Racecourse.
This second station was where Garvey's Cash and Carry is, on the Carriage Road. The station building was demolished in the 1970s.  Part of the platform remains.
(see link Railway Stations)


After World War 2 in 1945 use of railways both for passengers and freight declined. The Oldcastle, Navan to Dublin line via Kilmessan closed for passengers in 1949.  By 1963 the line was completely closed and the tracks taken up.
This same line from Dublin to Dunboyne is at present under construction for reopening in?  When will it reach Navan again?

In the early 1900s the Great Northern Railway, the GNR which ran the Drogheda Navan line, published an official railway guide. Navan is described as as a town, straggling and uninteresting.

Photos: © Navan & District Historical Society