Plunkett, Bishop Patrick J.
Bishop Patrick J. Plunkett, 1779-1827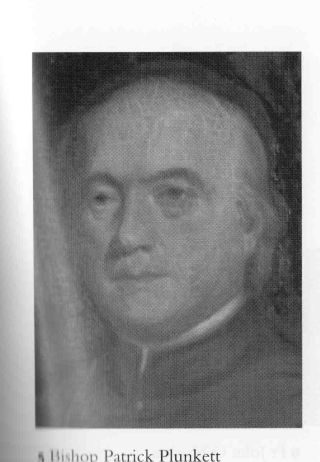 Patrick Joseph Plunkett was born in 1738 in Kells where his uncle was parish priest.  His parents had him articled to a Dublin merchant who sent him to Paris as if to represent his business interests but, in reality, to study for the priesthood.
Academically able, he was ordained in September 1764. Further study brought him to a degree of Doctor of Divinity, he became almoner (distributor of alms) to a leading French family and he was appointed a professor and joint superior of the Irish College of the Lombards.

The positions he held, his personality, polished manner, friendliness, sincerity, great learning and concern for his students, earned him the favour of the Archbishop of Paris and the French Court and on their recommendation he was appointed Bishop of Meath, a position he was somewhat reluctant to take up.  His consecration took place in February 1779.
En route to Ireland, the ship carrying his possessions was attacked and robbed by the famous American privateer John Paul Jones.
On arrival in Meath, he set up his episcopal residence in Navan where he was inducted as parish priest in 1781.

As bishop he had two main aims.  First to revitalse the Church, demoralised through the effects of the Penal Laws and second to establish a system of education by which his people would free themselves from a position of ignorance and servitude and which would develop the practice of their religion  The diaries that he kept make known how, in a caring and conscientious way, he set about achieving these goals. 

His labours can almost be compared to those of St. Paul. For almost fifty years, up to twenty of these riding on a horse from place to place, he visited each parish annually, examined personally the children put forward for confirmation and preached at all visitations.
He corresponded with the clergy and gentry of his diocese, with his episcopal colleagues and with the presidents of the Irish Colleges in Europe.  On his return to Navan after his travels around the diocese he carried out his duties as parish priest, hearing confessions regularly and preaching up to three times on Sundays and feastdays.
Under the direction of his secretary, Father Peter O'Reilly, he had a church built on the site of the present St. Mary's Church, between 1790 to 1795.  About 1800 the Bishops income was £362 while the average income of the parish of Navan was £110 per year. 

During parish visitations, Bishop Plunkett encouraged his pastors to attend to the education of their young people with the result that by 1793, the diocese of Meath was covered with private schools.  A long cherished aim was to establish a diocesan school which would provide students for the "learned professions", and for the priesthood in the newly opened Maynooth College in 1795.  From 1794, he was collecting funds for this purpose and early in 1802 he informed his clergy that he had "obtained a lease forever of a house and piece of ground contigous to the town of Navan, for a diocesan academy and seminary". St Finians "Academical Seminary" opened in the same year with Father Eugene O'Reilly, a curate in Navan, as President. (link St. Finians College).

Bishop Plunkett restored the Catholic Church in Meath as a vigorous element in the lives of the people and made it a respected force in society. He is buried under St. Joseph's altar on the Trimgate Street side of St. Mary's Church. His burial was on the gospel side of the church which predates the present St. Mary's.
Source: History of the Diocese of Meath Ancient and Modern, Dean Anthony Cogan