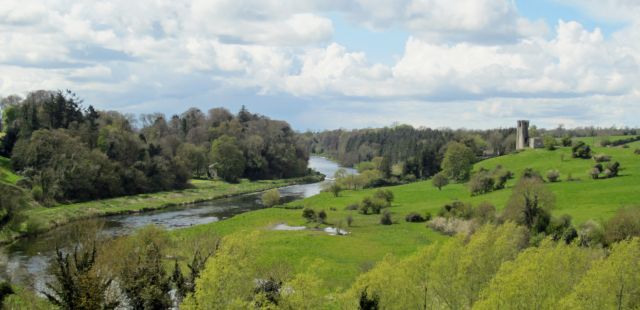 Dunmoe Castle viewed from Ardmulchan  (photo ©N&DHS)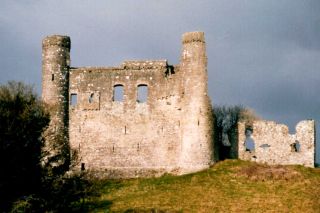 Dunmoe Castle
commands a
spectacular location
on high ground overlooking
the
River Boyne.
The present structure has all the characteristics of an Anglo Norman keep c. 15th -16th century.  It was originally a rectangular shaped edifice with a tower at each corner.  Two of these towers have crumbled away, as has the entire back part of the castle.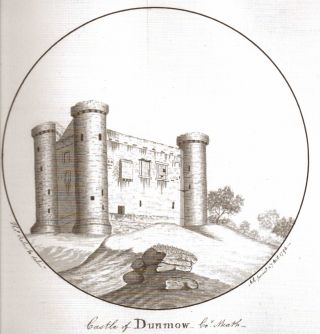 (above) 18th cent. drawing of Dunmoe by Austin Cooper, and (top of page) the castle as it stands today. (Note the window with what appears to be broken glass in the Cooper drawing in what was probably the main living room on the first floor.)
Tradition has it that a souterrain or underground passage leads from it to the opposite side of the Boyne.

Oliver Cromwell is reputed to have taken a passing shot at in from the opposite side of the Boyne, but did not think it worthy of further notice.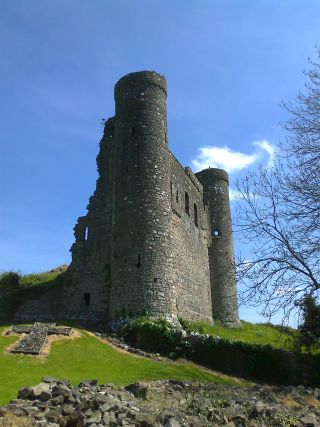 Its last lord was d'Arcy, whose name is usually associated with it. George d'Arcy, it is said,
entertained King James
on the night before the Battle of the Boyne and
King William on the night after it.
This change of loyalty or pragmatic self interest
inspired the couplet:

"Who will be king, I do not know,

But I'll be d'Arcy of Dunmoe."
Besides the castle, lie the ruins of a medieval chapel
(below right) which contains the mausoleum of the d'Arcy family.

Its font is in St. Oliver's Church in Navan.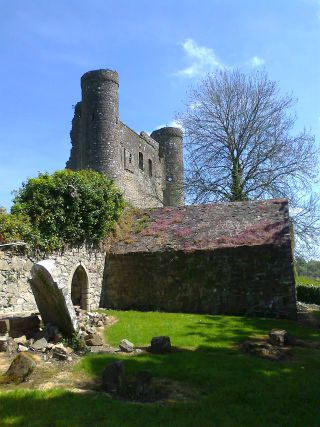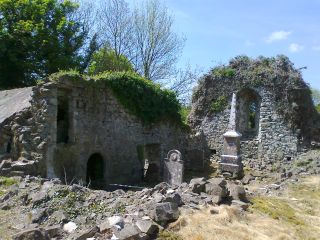 Sources:
The Beauties of the Boyne and Blackwater, William Wilde, Dublin 1849
Cooper's Ireland, Peter Harbison, The O'Brien Press Dublin 2000
Photos: © Navan & District Historical Society
~~~~~~~~~~~~~~~~~~~~~~~~~~~~~~~~~~~~~~~~~~~~~~~~~~~~~~~~~~~~
Archaeological Inventory of County Meath, compiled by Michael J. Moore, (Dublin 1987),
p. 135
1394 - Dunmoe - OS 25:7:3 (69.8, 45.1) 'Church (in ruins)' OD 100 - 200 N 9011, 7019
Church - Nave and chancel possibly divided. W. wall and part of S wall with mural staircase to rood loft survive (L. c. 17m, W 6.8m) Two doorways in S wall towards W end. Burial vault added. Font (1561) now at Navan.  SMR 25:18     16/10/1984

p.151
1561 - Blackcastle OS 25:6:6 (44.0, 33.5) Not marked OD 100-200 N 8745, 6894
Font - In St. Oliver Plunket RC church is the plain font (Roe 1968, 115) which was once at Dunmoe Castle (1394) SMR 25:38      17/12/1985

p.171
1735 - Dunmoe - OS 25:8:1 (69.8, 45.1) 'Dunmoe Castle (in ruins)' OD 100-200 N 9015, 7020
Castle - Rectangular structure with circular towers at the angles, only two of which survive. Ground floor buried but was vaulted and had a loft. Stairs in SW tower which has key-hole gun loop.  First floor has large windows.  Two-storey gables building with over at fround floor arrached to E may be eighteenth century. Church (1394) nearby. SMR 25:18    16/10/1984.
Dunmoe.
The Parliamentary Gazetteer 0f Ireland 1844-1845 Vol.2.
DUNMOE, or Dunmow, a parish, formerly in the barony of Morgallion, but now in that of Lower Navan, 2 miles north north east of Navan, co. Meath, Leinster. Length, 2 miles; breadth, 1 1/2; area, 976 acres. Pop., in 1831, 112; in 1841, 111. Houses 17. The surface lies on the left bank of the Boyne, and is traversed by the road from Navan to Slane. Dunmoe castle was originally built by De Lacy; it was fortified in the 17th century, and defended, in 1641, for the royalists, but was surrendered in consequence of a stratagem; and it was repaired while James 11. was in Ireland. The existing pile is oblong, with flanking circular towers, in the style of the ancient Norman keep This parish is a rectory and part of the benefice of Stackallen, in the dio. of Meath. Tithe composition, £81 10s. In 1834, the Protestants amounted to 9, and the Roman Catholics to 103.