O'Reilly, John Boyle (Writer)
John Boyle O'Reilly, 1844 -1890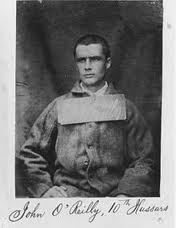 Born in Dowth Castle between Slane and Drogheda,
County Meath in 1844, John Boyle O'Reilly was the son of a William David O'Reilly and Eliza Boyle.
His father was a  teacher at the Netterville Institute.
At the age of eleven he began working as an apprentice printer with the Drogheda Argus for two shillings and six pence per week.
Later he went to England to work on the Guardian.
In 1863 he returned to Ireland and became a member of the Fenian movement.
After meeting with the Fenian leader
John Devoy he joined the 10th Hussars, the
Prince of Wales regiment with the intention of infiltrating it, and stirring mutiny among its members 30% of which were Irish.
His activities were discovered in 1866 and he was arrested and imprisoned in Arbour Hill Military Prison. (left)
He was court martialled for treason and sentenced to death.  This was later commuted (because of his youth) to life in prisonment, later reduced to twenty five years penal servitude.  After working on the notorious Dartmoor Chain Gang he welcomed the news that he was to be transported to the Penal Colonies in Australia.  On the voyage, O'Reilly with other political prisoners created a remarkable journal called "The Wild Goose " which contained many of O'Reilly's poems. 

Shortly after his arrival in Fremantle in 1868 he planned to escape to America and was successful.  He owed his escape to Fr. Patrick McCabe, whose parish O'Reilly wrote "extended over hundreds of miles of Bush, and whose only parishoners were convicts and ticket of leave men." His escape was spectacular and is a story in itself ending with his arrival in Philadelphia , aged 25, penniless and friendless on 23rd November 1869. From Philadelphia he went to New York, and toured the towns of New England giving lectures and reciting poems.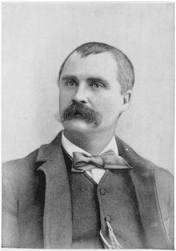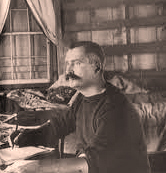 E
ventually in 1870, he secured a post on The Boston Pilot the newspaper of the Irish Americans in Boston, and for a while he acted as war correspondent during the Fenian invasion in Canada.
After a fire destroyed the Boston Pilot it was rebuilt with the owners being Archbishop Williams and John Boyle O'Reilly.
During these years he raised enough money to finance and mastermind an attempt to rescue his Fenian compatriots from their prison in Fremantle.
Six of them escaped on the whaling ship The Catalpa.
In 1873 he married Mary Murphy of Charleston Ma., a Journalist,  with whom he had 4 daughters
During his years as editor of the Pilot he became a powerful advocate for the rights of workers and  the civil rights of African Americans.  He retained a strong commitment to Ireland working clsely with Charles Stewart Parnell and Michael Davitt.
The University of Notre Dame in Indiana conferred on him the degree Doctor of Laws.  He had always dreamed of returning to his beloved Dowth but as he was an escaped convict the British Government refused him permission to enter the country.
During the summer of 1890 O'Reilly accidently took an overdose of medicine and died.
He is buried in Hollyhood Cemetery Boston and a memorial (a huge boulder, pictured below ) was erected over his grave.  Below right, is the monument to John Boyle O'Reilly which can be found on the Fenway in Boston.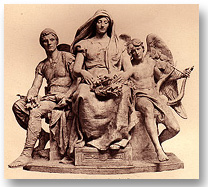 The red rose whispers of passion
While the white rose breathes of love
Oh the red rose is a falcon and the white rose is a dove
But I send you  a cream white rosebud
With a flush on its petal tips
For the love that is purest and sweetest has a kiss of desire on the lips.
From In Bohemia, 1886
Other works include Moondyne a novel based on his experiences as a convict in W. Australia,
Songs from the Southern Seas - a collection of poetry (1873), as well as countless editorials on social and political isssues.
John Boyle O' Reilly was a favourite poet of President John F. Kennedy, who often
U2 in their album "Rattle and Hum" dedicated their song "Van Diemen's Land " to John Boyle O'Reilly

Sources :
From the Earth a Cry, (2011), Ian Kennelly, Collins Press
Fanatic Heart a life of John Boyle O' Reilly, (1997), University of Western Australia