History of Navan, Ontario, Canada
NAVAN back in the early 1800s was surrounded by forest, which, over the years was cut down to make way for farming and manufacturing of potash.  Samuel R. Calvin, one of the first settlers in Navan, bought property at the corner of Smith and Trim, from the Crown in 1808.
Michael O'Meara came from Navan, County of Meath, Ireland in 1840.  He was instrumental in giving this settlement a name because when he established the first Post Office it required a name. He quickly responded "Navan" after his hometown.  The building was located on the site of Rathwell farm east of the current village with G.G. Dunning as the first Postmaster.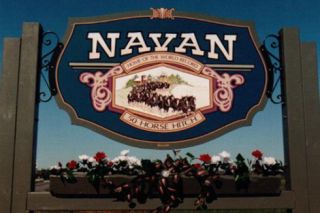 Navan, Ireland is a lovely little town on the Boyne River, located about 30 miles northwest of Dublin.  The town is home to the Mission of St. Columban's, the Proudstown Park Racecourse, the Meath County Fairgrounds and the Kilcairn Bridge.
Links with Navan's Irish roots have been cultivated over the last 30 years by inviting keynote speaker at celebration at Anglican's Church 75th Anniversary and visits of other Navan, Ireland residents.  Several families from our village have ventured to our namesake in Navan, Ireland who received a strong Irish welcome and made some great friends.
Two streets in Navan have been replicated in our village by using Trim Road and Fairgreen Avenue. Not to mention our own St Mary's Anglican Church was named after not one, but two St. Mary's Churches - a Catholic and Church of Ireland in Navan, Ireland.
Back to our history, there were many families who help Navan grown from the mid 1800s to the early 1900s.  Here are just a few names - note many of the residents of today are ancestors of these brave people: Samuel Walsh, Ralph Wilson, McDonald, Herman D. Visser, William Lough, Jackson, Cork, Alexander McDermid, James Hamilton, Lewis Burns, Sidney Smith, Richard A. Bickerton, George Lancaster, James, Francis and William McCullough, James McWilliams, Lowrie, Ronan, Foster Nelson, Pillar, Helmer, Malcolm McKinnon, Sparks, William Shaw, George Kemp, Horace Kinsella, John Dagg, William Clarke, John Savage, Charles McFadden, J.T. Bradley just to name a few.

In 1860 the first Church to be build was a Presbyterian, which was build by John O'Meara (Michael's son) along with Mr. McDonald an English carpenter.  The church was located east of the village by the graveyard (still there today) on land donated by Jessie Wilson whose husband was accidentally killed while logging trees to build the church. In 1925 the Presbyterian and Methodist Churches joined to form the Union Church (now Navan-Vars United Church).

Now the little village has grown to over 500 homes, which is a wonderful blend of rural and urban environments.  Businesses that have operated within the village over the years are: CPR Railway Station, Shoemakers, Doctor offices, Piano teachers, Veterinarian practice, Royal Bank, Post Office, general stores, carriage makers, blacksmiths, grain mill, cheese factory, pool room, barber, telephone exchange system, milk delivery, equipment sale/service and garages.