Navan RFC was founded in September 1925 (the first two season's minutes were unearthed by Mr. Paddy Tehan).
It played first in the Showgrounds (now Pairc Taiteann).  Later it depended on friendly landowners, and several sporting farmers let fields out for winter Sundays.
Among the Founder Members were W.M.Kirk, (sometime Headmaster of the Preston School), Nat Lacy, Matt and Charlie Crinion (Central Hotel Navan & Neptune Bettystown) Jack Finegan, J. Gibney and Bobby Byrne.
Few played rugby in those days.  In country towns it was sometimes taken as a symbol of
class distinction.  Despite this, Navan won the Midland Cup in 1928.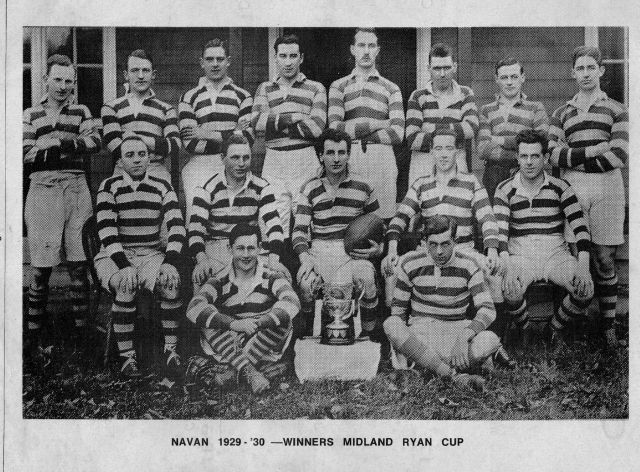 Back Row: l-r N.Campbell, Jack Davis, Nat Lacy,  Fred Hodgett,   William Maxwell Kirk,
Jim Gibney("The Sledger"), Charlie Crinion,  Jack Finegan.
Middle Row: l-r   Bobby Byrne, Bob Branagan,  P.J. ("Pappy") Russell (captain),
J.J. Dorris, John Duffy,
Front Row:  l-r    Matty Crinion  and Paddy McNally.
1925 to 1941 : The pitch in the Navan Showgrounds was rented from the Meath Agricultural Society (it was also rented by Navan O Mahonys GFC – as well as Navan Cricket Club ; Cricket was a bigger game than rugby for years -Richie Healy's father played it during his escapades in 1920/21).
Sept 1929 : ' Boys ' team established (sub was 2 shillings). Problems with youngsters climbing over the Showgrounds walls without paying, and damaging the shed roofs (the Secretary's red brick office features in early rugby and football team photos).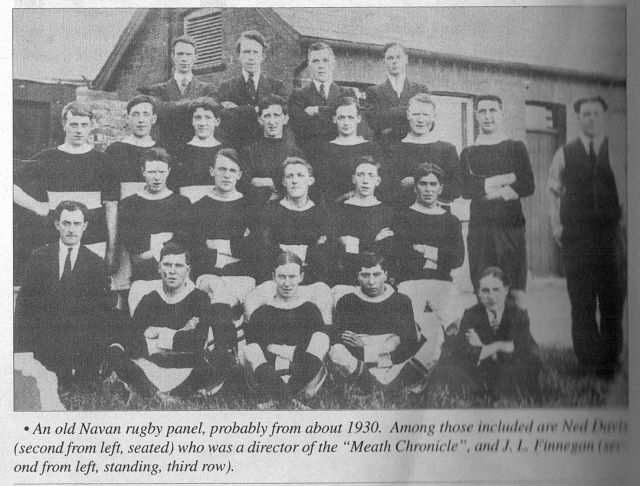 May 1930 : With the ' splitting ' of the Leinster Junior Cup in 1924/25 into the Metropolitan Cup (for clubs within 18 miles of the GPO) and Provincial Towns Cup (the Towns trophy is the original Junior Cup which started in 1883) . The Towns Cup was run in ' zones ' (for travelling purposes apparently) . Navan was in the ' Midlands ' Zone (there was a Zone Cup called the Midland Ryan Cup) . They beat Cavan and Longford in the preliminary rounds, and beat Balbriggan in the Final (staged in Mullingar) . This was the first Senior trophy won by Navan RFC .
Sept 1935 : Schoolboy sub was 5 shillings (Seniors was 10 shillings).
November 1936 : North East and North West Areas trial games for Leinster Juniors played in Navan (Showgrounds) in December 1936 . The ' North Leinster ' Zone trial was held in Athlone (because of the paucity of rugby teams in Connaught at the time , Athlone – playing as Shannon Buccaneers – won the Towns Cup in 1934/5 and 1935/36).
June 1940 : The Navan Showgounds was rented jointly with Navan Town Association (Soccer) club.
May 1954 : Offer by Joe Carolan to sell a pitch on ' Moat Road '(at £ 125 per acre).
Oct 1955 : CYMS hall used for indoor training on Tuesday . InterCounty game between Meath and Westmeath.
Jan 1956 : Ambrose Cassells proposed a Meath Rugby Football Association (there were 3 Co Meath games in 1956/57).
1957/58 : Navan won the North Leinster League.
July 1961 : purchase of 4 acres 2 roods at Balreask Old (for £660 – development costs were £1500) . Trustee Tom Marsh subscribes £ 25 towards the cost. Navan Pitch and Putt apply for use of grounds.
September 1963 : Architect Joe O Daly engaged for clubhouse – cost £ 10,570.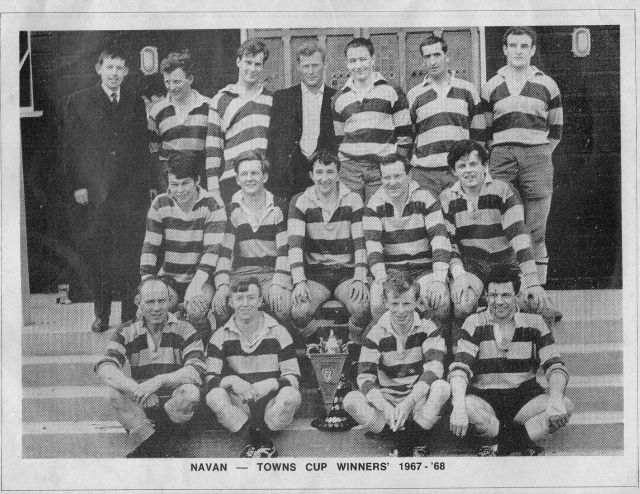 Back Row: (l-r)  Paddy Tehan (Secretary), Eamonn Curley, Dave Petrie, Tommy Farrell, Karl Bormann,  Mick Foley and Chris Barry.
Middle Row:(l-r) Radley Searle, Mick Chamberlain,  Bernard Reilly,  Robert Dier,  James Lacy
F
ront Row: (l-r)  Dick Brady,  Pete Hogan,  Frank Crinion and Ernie Jameson.
July 1974 : application for use of pitch and tennis courts (they were then on the car park) by Miss Gibney (Balreask Montessori School).
Sept 1976 : request from Simonstown GFC for use on tennis courts.
~~~
Three men singled out for special mention in the 1969 Commemorative Programme are:
Dr. Dermot Dorgan
Dr Dorgan was a devotee of rugby football and a pillar of the Navan Club. The following tribute is paid to him by Barry O'Reilly.
When Navan Rugby Club lost its President last year, it lost its staunchest supporter. For over 30 years his familiar figure in dark top coat and Homburg Hat was to be seen like a Meath Sherlock Holmes haunting the touch lines in good weather and bad.  In our early days when it was hard to raise a dozen players, he never missed a game.
The old lady of 90 who remarked of him "Ye needn't be looking for him on saturdays; he's away to the rugby" had a valid point.
Like the great but modest gentleman he was, Dr Dorgan did  good by sealth. He treated rugby injuries with expert diagnosis. When Life's attack, mental or physical had penetrated your defences, he was right behind you, a good full back, never hurried, never flurried, full of confidence, ready to dispatch your trouble straight into touch.
Ambrose Cassells
Ambrose , an outstanding Provincial player, missed more  representative honours through his fanatical devotion to Provincial Rugby. He captained, coached, held together  and encouraged the Navan sides of the 1950s and early1960s . One remembers his influence on young players, his spartan coaching schemes (at a time when coaching was almost derided in provincial rugby- sure farmers are naturally fit!) and his great hearted enjoyment of sport.
Paddy Tehan
Paddy has been Secretary of the Rugby Club for the past 10 years. Many would ascribe most of our progress today to his ability, his energy, his talent for organisation.  Suffice it to say that the Club owes him a great debt of gratitude for all he has given it.
~~~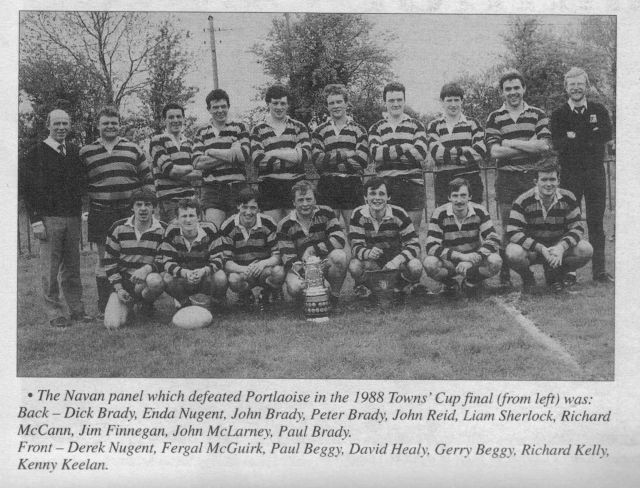 ~~~
CLUB HONOURS
All-Ireland Provincial League Championship Round-Robin: 2009

All-Ireland Junior Cup: 2008

Leinster League Div 1: 2001, 2009

Provincial Towns Cup: 1964, 1966, 1968, 1988, 1990, 1991, 1999, 2000, 2007, 2008

Provincial Towns Plate: 1963, 1967, 1987

Provincial 2nd's League: 1963, 2008

Provincial 2nd's Plate: 1999

Anderson 3rd's Cup: 1985, 1987

Oval Cup: 1968

McGowan Cup: 1961, 1963, 1964, 1965, 1966, 1968, 1969, 1981, 1988, 1991, 1995, 1996, 2001, 2002, 2003, 2004, 2005

Ladies All-Ireland League Div 3: 2003

Harry Gale U20 Cup: 1980, 1981, 1983, 1985, 1996, 2007

McGee Cup: 1972, 1980, 1982, 1983, 1992, 1993

Housdon Trophy, Enniskillen: 1972

Jenkinson Cup: 1976, 1983, 1986, 1996, 2001

Kettle Cup: 1985, 1986, 1995, 1996, 2001

Presidents Plaque: 1988, 1991

Michael Dunne Cup: 1997

Sleepers Cup: 1997, 1999
PAST PRESIDENTS
1925-27 - T.C. Crinion

1927-35 - J.L. Finnegan

1935-38 - Dr. D. Dorgan

1938-41 - J.J. Callanan

1941-42 - A.L. Wade

1946-47 - Dr. D. Dorgan

1947-48 - J.L. Finnegan

1948-49 - A.L. Wade

1949-50 - P. Lyons

1950-51 - W. Kealy

1951-69 - Dr. D. Dorgan

1969-74 - G.C. Finnegan

1974-75 - C.A. Connell

1975-77 - J.T. Nugent

1977-81 - E. Jameson

1981-83 - P. Tehan

1983-86 - J.T. Nugent

1986-87 - C.A. Connell

1987-89 - T. Boyle

1989-91 - J. Lacy

1991-93 - B. Coyle

1993-95 - J. McGowan

1995-97 - M. Murray

1997-99 - T. Byrne

1999-01 - P. Brady

2001-03 - B. Faulkner

2003-05 - M. Connelly

2005-07 - D. O'Flynn

2007-08 - M. Brecknell

2008-09 - P.R. Brady

2009-11 - M. Gavigan
PAST CAPTAINS
1925-26 - F. Hodgett

1926-28- W.M. Kirk

1928-32 - P. Russell

1932-34 - P. Crinion

1934-36 - T. Burns

1936-37 - T. Gallen

1937-38 - F. Walsh

1940-41 - B. Steen

1946-47 - J. Meany

1947-48 - N. Finnegan

1948-49 - B. O'Reilly

1949-51 - N. Finnegan

1951-52 - T.A. Cassells

1952-53 - L.J. Noonan

1953-54 - C.A. Connell

1954-55 - T.A. Cassells

1955-56 - P. Clarke

1956-57 - J. Gibney

1957-58 - P. Geraghty

1958-59 - G. Thompson

1959-60 - G. McNamara

1960-61 - A.L. Wade

1961-62 - A.P. Brady

1962-63 - G.J. Davis

1963-64 - M.J. Fitzsimons

1964-65 - E.E. Gibney

1966-67 - D. Brady

1967-68 - B.A.P. Reilly

1968-69 - T.J. Kelly

1969-70 - P.Hogan

1970-71 - RVM Dier

1971-72 - M. Foley

1972-73 - D. Brady

1973-74 - P. Hogan

1974-75 - T. Hickey

1975-76 - F. Kilmartin

1976-77 - L. Finlay

1977-78 - M. Kerr

1978-79 - F. Fahy

1979-80 - L. Finlay

1980-81 - L. Finlay

1981-82 - J. McGowan

1982-84 - B. Faulkner

1984-85 - J. Finnegan

1985-86 - B. Farrell

1986-87 - R. Kelly

1987-88 - D. Healy

1988-89 - G. Beggy

1989-90 - J. McLarney

1990-92 - P. Brady

1992-93 - P. McEvoy

1993-94 - J. Brady

1994-95 - F. McGuirk

1995-96 - L. Sherlock

1996-97 - M. Gavigan

1997-98 - T. Mullen

1998-99 - C. Moffatt

1990-00 - J. McCartan

2000-01 - J. Ward

2001-02 - H. Nicholson

2002-03 - K. Brazzil

2003-04 - O. Henry

2004-05 - C. Reilly

2005-06 - D. King

2006-07 - B. Smyth

2007-08 - B. Smyth

2008-09 - S. Donnelly

2009-11 - J. Duffy
Sources:
Navan Rugby Football Club - Programme to Commemorate the Formal Opening of the
Extension to the Pavilion, by Mr J.W.S. Irwin
President of the I.R.F.U. Sunday 21st December 1969

www.navanrfc.ie/about-navan-rfc.html
Meath Chronicle Centenary Book 1997